Elitefts™ SS Yoke Bar Padded Box Squat w/ Chains
Elitefts.com™ Founder and CEO Dave Tate Performs a set of SS Yoke Bar Padded Box Squats with Chains only 6 months after total hip replacement.  Dave works up to 335 pounds with 10 chains per side using the Elitefts™ SS Yoke Bar.
The benefits of performing box squats with the elitefts™ box squat pad is you will get the recovery and explosive power benefits from separating the concentric and eccentric contrition while still requiring more tension needed that using a hard box squat box.
Ten chains per side makes the total weight of the bar at the top about 735 with over 50% chain weight.  Remember, the shorter the range of motion (due to Dave's hip replacement) the more chains that may be required due to differencetial in the amount of links resting on the ground.
The elitefts™ SS Yoke bar is a great addition to any weight room for its unique ability to reinforce posture and upper back tightness and its versatility with injured athletes or lifters with inhibited range of motion
---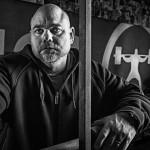 Loading Comments...