In the End There Can Be Only One — My First Highlander Challenge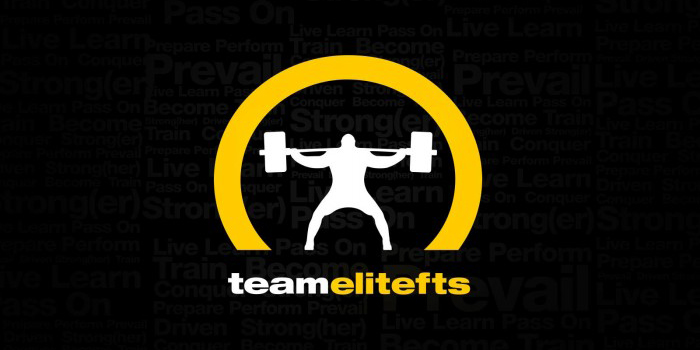 This past weekend I made the trip down to Brute Strength Gym in Norfolk, VA to compete in my first Highlander competition. Note: that is Highlander, not Highland Games. Highlander is a hybrid of strongman and highland games, featuring two or three events from each sport in a typical competition. In the case of this particular competition, the events were:
Weight Over Bar (56 pounds for HW, 42 pounds for LW and Masters)
Caber Toss
Keg Toss (21 pounds, 27 pounds, 32 pounds, 35 pounds over a 16' bar for all classes)
Braemar Stone
Atlas Stone Shouldering Series (170 pounds, 200 pounds, 220 pounds, 230 pounds, 250 pounds)
As anyone who has been following my training log since August knows, I jacked up my left knee pretty badly doing a really heavy tire flip in a strongman competition, so badly that I had to withdraw from the competition for the first time in my career. I've had two different PTs, whose judgment I trust, look at it and I've been rehabbing it while also trying to train for this competition and Maryland's Strongest Man. Unfortunately, my knee is not quite back up to where I need it to be to do MD Strongest, but it has healed up enough for me to throw things, which was awesome for some many reasons.
As anyone who has sustained a major injury can attest to, coming back from it and competing again can be substantially more stressful, mentally challenging, physically challenging, and yes, even scary than you are used to. One big plus for me was that I did not have to flip any tires, which I have still not done since the injury. I'll do it again, but I want to get my knee back to where I have no doubts about it first. The fact that this highlander competition featured four events that I have not had much training in and have never done in competition before made it a little easier on me mentally because I had no benchmark against which to compare my performances, but also a little more stressful because I had almost no idea what to expect since I had only had the chance to train three of the events one time several weeks back. So my primary goal going into this competition was to have fun and not do anything to screw my knee up again.
I drove down the morning of the competition by myself because I was well under the cutoff for lightweight of 231 pounds and I did not want to shell out the cash for a hotel room with no one to split it with. My friend and training partner, Nick O'Brien, was supposed to compete with me, but he recently moved to California to take an assistant S&C coaching position at Fresno State. When I arrived for weigh-ins, I was informed there were no weigh-ins since all but one of the HWs had dropped out so the classes were just open and masters. I started to warm up inside since we would be competing outside and even though it has still not gotten very cold yet where I am, November mornings are not exactly balmy. After I got warm, I headed outside to warm up for the first event, weight over bar. While trying not to make a complete ass of myself due to my noob status with throwing things, I heard the familiar twang of a southwestern Virginia accent offering some tips to another competitor, and that was how I met Chad Clark. In addition to being a HG athlete himself, Chad promotes highland games in and around SWVA and was very helpful in showing me how to suck less on the three HG events. I talked with him for a while after the competition while we were trying the different chilis in the chili cookoff that followed and it reminded me again that I need to get down to his neck of the woods to visit some old friends at Virginia Tech.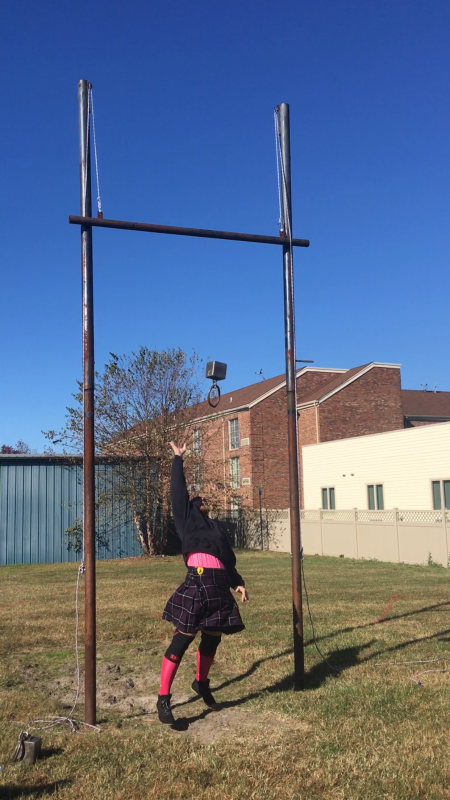 Weight Over Bar
We got the show rolling pretty soon after that and started off with weight over bar. From throwing the 42 in warm-ups, all I could tell was it was a little easier than the 56, which I had been using the few times I trained it. My best throw with 56 is 12' so I opened at 10' with the 42-pound weight. This turned out to be a pretty good decision since I cleared the bar but threw the weight way back behind me so I probably would have missed anything much higher. I made my second throw at 12' and while I corrected myself and didn't throw it straight back, I threw it almost straight up and while it was high enough, I wasn't sure it was going to be back enough to go over the bar, but it did. My head shaking in the video coming off that throw shows that I still thought it was crap. Finally, on the 3rd throw, I hit it half way decently and cleared 14' with the 42-pound weight to finish up with a win in that event. I definitely had more height than I needed, so hopefully I'm getting better and my height with the 56 will start moving up some.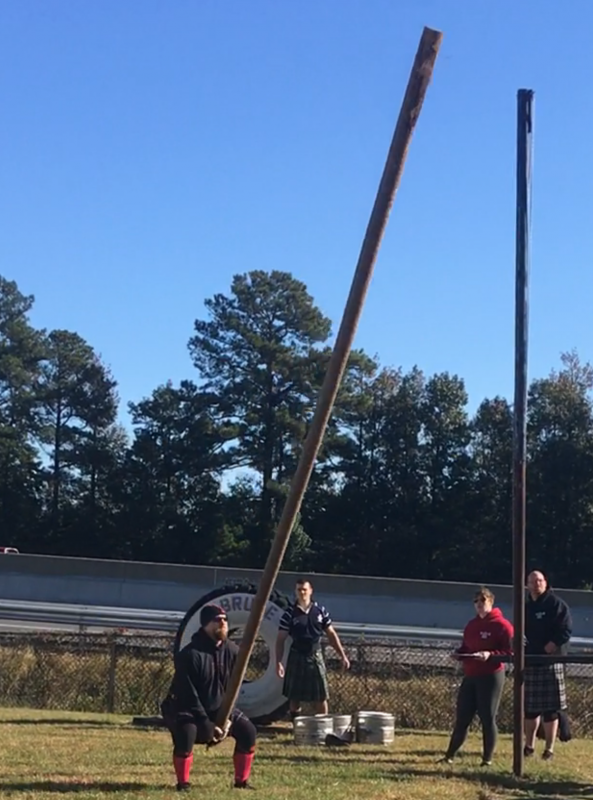 Caber Toss
The next event was the caber toss, which I had trained all of one time ever in my life. I tried a couple warm-up turns and the first one was terrible, but the second landed pretty close to 12:00 so I stopped there. FYI on scoring the caber, a perfectly straight flip that lands in the same plane from which it was released after turning over is the best score you can get and is "12:00." Deviation from this results in scores of 12:30, 1:00, etc., in either direction and depending on the judges it'll determine how exact they call your score. Tim Stallings, who was judging the caber for us, said he had once been scored at 12:05 (and he was still understandably a little salty about it!). Chris Parker was the only athlete in my class who also scored 12:00 so we both had to take another turn. We tied again on 12:00, and tied again at 11:30 on our 3rd turns. We moved up to a heavier caber after tying three times at which point I completely shat the bed and scored 70 degrees (when your score is in degrees instead of time, you did not do a good job). Chris scored 11:00 with the heavier caber to give him the event win. Chad was just putting on a clinic with the caber in the masters class, almost landing it horizontally on his flips which were all at 12:00.
Keg Toss
Next up was the keg toss event. This is not too uncommon in strongman, but I have never done it and had only trained it once before. We had to throw four kegs over a 16' bar. You chase down your misses and can continue until time runs out. My one experience with this I had thrown over 14' rather than 16', and it was apparent by my misses in warm-ups. When I was up in the rotation, the best score to that point had been two of the four kegs. I got the first two, 21 pounds and 27 pounds, over without too much trouble, but then missed on the 32-pound keg. Thankfully it went almost straight up and I didn't have to run far to get it and reset. It cleared the bar on my second try and then I took my time a little more, moving on to the last keg since I was in the lead and didn't want to blow it. I cleared the bar and finished up the event in 1st place.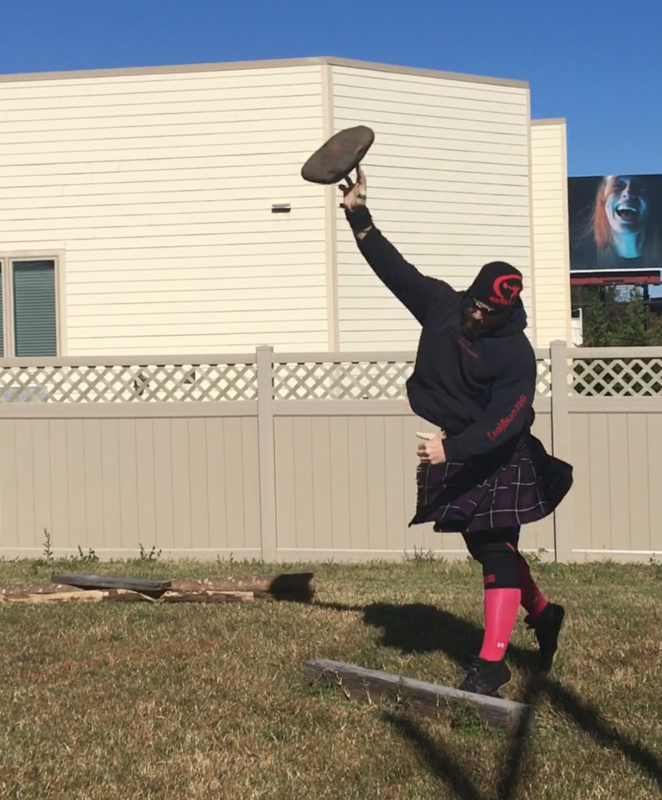 Braemar Stone
The 4th event was the Braemar stone, which is similar to throwing the shot put, except no spin or glide is allowed to add momentum to the throw and it weighs around 24 pounds. The shape varies based on the shape of the rock. The stone at Brute was oblong and flat on one side like a boat and that's what it felt like I was trying to throw. I threw shot in high school and sucked at it, badly. And like the previous two events, I had only trained this once and it was so bad we didn't even take measures. I took a single warm-up throw and it felt pretty bad so I stopped there. For my first throw, I have no idea what I did or how I did it but I launched the stone 25.8' and ended up flying off the side of the throwing area (fortunately not over the trig/toe board, which is a scratch) and landing on the cabers. This throw would stand up to all the rest and win the event for me, which was good because I scratched on my second and my third was several feet shorter than my first. Chris finished second in the event only 0.1' behind me at 25.7'. He was much better and consistent with his throwing than I was.
Atlas Stone Shouldering Series
Last, but not least, was the atlas stone shouldering series. This was the only event out of the five in the competition that I had much experience and confidence going into it. I had trained heavier shouldering series with three and four stones and reps with by heaviest 18" diameter stone at 280 pounds. The first stone was 16" diameter I think, which everyone was able to get, but as always with atlas stones, the increase in diameter threw a wrench in the works for a lot of the athletes. One guy in my class, Roman Sharp, had hit four of the five stones but was not able to finish the 5th one. I felt good about getting all five, but it still added some pressure knowing that I needed four to tie and five to win. I one motioned the first stone and ran through the others without a problem, shouldering all five stones in a little under 23" for the event win and overall win. Chris finished up in 2nd and Roman in 3rd in the open and Chad won the masters class.
This competition was a helluva lot of fun and I highly recommend it to any and all strength athletes who want to try something different or who are interested in trying highland games, but don't have access to or can't afford all the implements to train for a full games. I bought a couple of the implements and I will be working to buy or make the rest in the near future since I really want to do a full highland games competition now, even more so since I just found out from one of my cousins that our great grandmother was instrumental in starting up the Grandfather Mountain Highland Games in North Carolina back in the 1950s. I know Brute Strength Gym is working with the Virginia Tattoo Arts Festival to have a Highlander competition at their next event at the Scope Arena in Norfolk in April of next year, so mark your calendars boys and girls!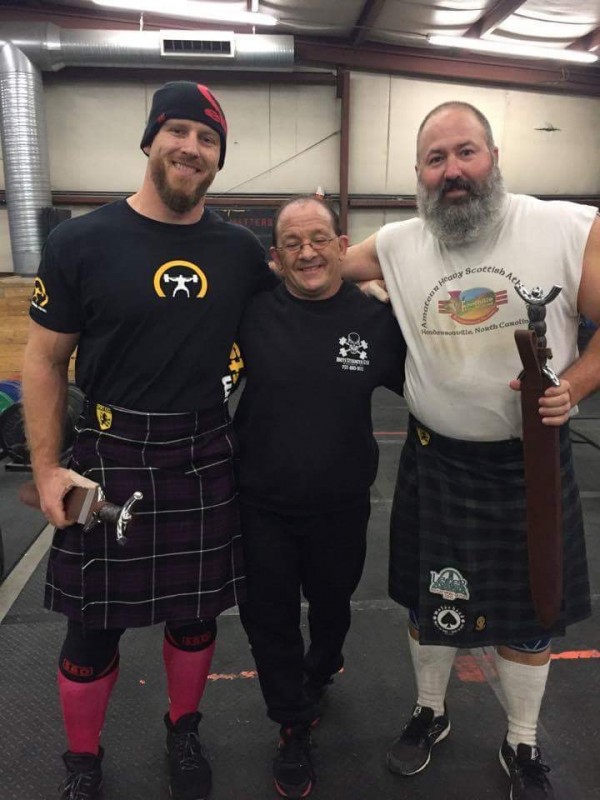 Many thanks go out to everyone at Brute Strength Gym for hosting and running this competition, especially Stella, Chad, Stephanie, Fish, and Bryan, and Tim Stallings as well for judging. This was a great competition for me on many levels. It was my first time trying any throwing events and I loved it. It was my first competition back after injuring my knee and everything held up well with only one minor instance of doing something dumb that hurt it on the Braemar stone attempt that I scratched. It was a welcomed relief from several weeks of studying for and taking PT school exams (even though I had to study the rest of the weekend after I got home on Saturday for an exam on Monday morning). Thanks also goes out, as always, to my amazing girlfriend, my friends and training partners, Dave Tate, and everyone at elitefts (especially Ronda — Chad is your biggest fan!).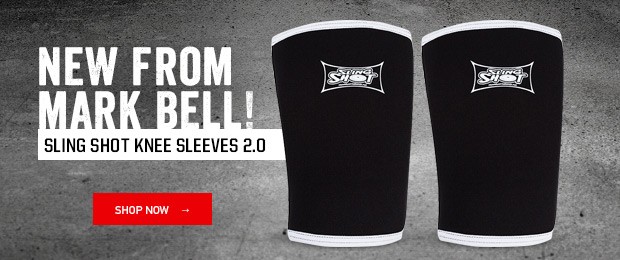 Loading Comments...