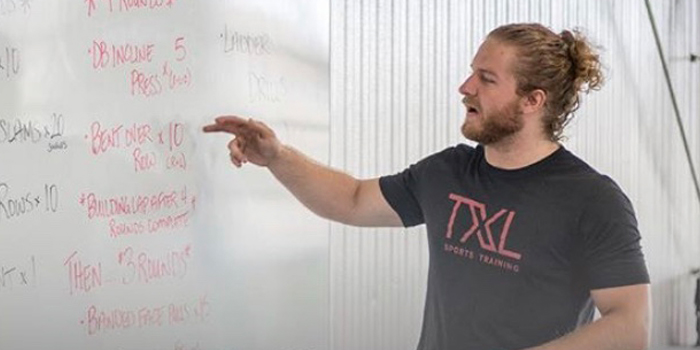 Becoming a collegiate level strength and conditioning coach is a journey that's unique to everyone. From internships to certifications, the process is competitive and you need to be sure you're ready to accept the challenge. Passion is important in this career path, and with hard work and dedication, you'll succeed.
---
RELATED: What's Most Important?
---
Although somewhat different for each individual, the typical path to becoming a collegiate strength and conditioning coach is this:
Obtain a bachelor's degree in an exercise

science-related

field.
Get an internship under the strength staff at the university you are attending (Olympic staff or football).
Graduate from university.
Get certified (SCCC or CSCS), which is not as easy as it sounds.
Apply to as many graduate assistant openings as you can. Hopefully the staff you interned for can help you with this.
Get a master's degree in an exercise

science-related

field.
Do a great job as a GA and start applying for full-time assistant jobs. You could also get hired by the school you GA'd for.
Boom, you are a full-time strength coach.
As you can see, this process takes time. Although, this is not the path that I took, my advice to those seeking this career is to not get caught up in the rat race of becoming a collegiate strength and conditioning coach. I went from a Division I intern, to the head strength coach of a private gym, to associate director of sports performance at a Division II university, all without attempting steps 5-7.
I had a blast at every level in this journey, from keeping the weight room clean as an intern to training NFL athletes in a private facility and working with a very competitive Division II school. I've learned a great deal through my journey and from that, I can tell you these truths about collegiate strength and conditioning:
Truth # 1: The collegiate strength and conditioning career path is an extremely competitive one, as are all strength and conditioning routes.
Truth # 2: Who you know often makes more of a difference than what you know. Network, network, and network.
Truth # 3: Although this is a young person's game, you better have three to five years' experience.
Truth # 4: Internships are unpaid.
Truth # 5: This is a relatively new field. That being said, you better get caught up quickly and be willing to ask questions often.
Truth # 6: You aren't going to make a lot of money in the beginning, or ever, unless you go the football route or become a director of a major Divison I school.
Truth # 7: In the Division I world, especially on the football side of things, keep your resume up to date. Remember, you are expendable.
Truth # 8: This is a rewarding profession.
---
RELATED: How You Should Start Young Athletes in the Weight Room
---
It sounds tough because it is, but here's what I say if you are still interested: If you can, find an internship where the coach has a track record of moving interns on to GA spots both internally or to another school. There are lots of schools out there with people trying to make a career out of being an intern. Do your best to learn as much as you can, as fast as you can, however you can. Earn your right to think out of the box because as a new coach you need to use tried and true methods.
After a few decades of experience, you gain the ability to think out of the box. If the collegiate route is still for you, focus on bringing up your weak points. If you are a good programmer (or at least have an idea of what you're doing) but could work on your coaching, you need to get that worked out. Also, learn how to work with sport coaches on behalf of your athletes. You are the performance professional so you need to find a way to put that respectfully to your sport coaches.
With that, I wish you all the luck in the world as you embark on this path. Get ready to deal with rejection; it's a part of the game. However, once you get in, take full advantage of the situation. Dive in deep and give all you have to your program and athletes. Lastly, have fun.
---
Jacob Roark is a strength and conditioning coach currently working as the associate director of sports performance at Western Oregon University. He started his career as an intern for Texas Tech University and moved on to be the head strength coach for a private sector gym in Texas, which lead to his current position at Western Oregon University. He has worked with clients as young as 8 years old and clients as experienced as current NFL athletes. Jacob has enjoyed every second in the strength and conditioning world and hopes to build a long, successful future in the field.