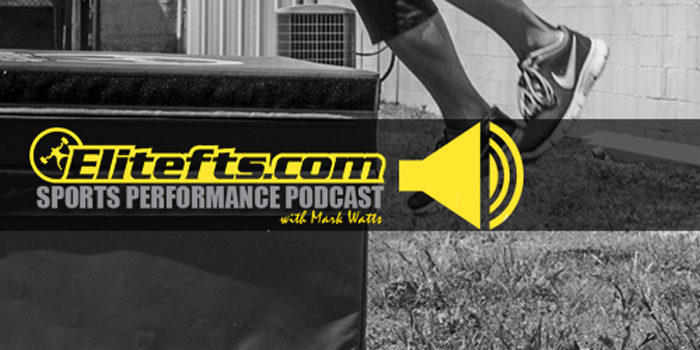 When I got Evan Simon on the phone, he was everything I thought he would be. His reputation as an intelligent, humble, hard-working coach came to fruition the first minute we started talking.
I sincerely feel this interview is the epitome of how our Sports Performance Podcast should go. It has all of the components necessary for a great interview — even when the host is sup-par. Due to technical difficulties, this was the second time we had to interview.
He didn't hold back. He gave a tremendous amount of detail on his program.
He was humble. He gave credit to everyone from his assistants, his players, his head coach, and back to elitefts.
He was organized. It is difficult to go into such detail without the use of visual aids, but that is exactly what Coach Simon was able to do during our conversation.
Regardless of what level you are coaching, Coach Simon will give you a candid, detailed look into the Oregon State University strength and conditioning program. All of his information will give you a better insight on how the best get it done.
Topics in this Podcast
The Journey: How Evan Simon Started in the Field
The Most Important Aspects of Arriving at a New School and Implementing Your Program
Big Ten and Pac-12 Stigma
Goals of the Winter Phase
An Overview of the Winter Program
Individual Differences with Speed Components
Using Prilipen's Chart to Adjust Volume
Rotating Auxiliary Movements
Indicator Movements
Olympic Lifting Overhead Lifting
Manager of Stress
Assessments of Athletes
Mobility Concerns with Prehabilitation
Spring Ball Considerations
Staff Development (Advice for Young Coaches)
Two Ways to Get Jobs in Strength and Conditioning
Demeanor and Coaching Cues
How to Reach Coach Simon
Elitefts™ Sports Performance Podcast on iTunes
---
The Evan Simon File
Evan Simon was appointed Oregon State's head football strength and conditioning coach in January of 2015. His duties include the development, implementation and monitoring of all strength and conditioning aspects of the Beavers' football program.
Simon arrived in Corvallis after two years as the head strength and conditioning coach at the University of Wisconsin. He helped the Badgers to New Year's Day appearances in the Capital One Bowl and Outback Bowl.
Prior to working in Madison, Simon was the director of strength and conditioning at Utah State University from August 2009-January 2013. The Aggies appeared in two Famous Idaho Potato Bowl games – USU hadn't played in a bowl game since 1997 prior to his arrival.
From January 2006-July 2009, Simon was the associate director of strength and conditioning at the University of Utah. He was part of staff that led Utah to a 13-0 season, a victory over Alabama in the Sugar Bowl, and a final national ranking of No. 2 following the 2008 season.
The native of Lexington Park, Md.,  also spent 15 months as the head strength and conditioning coach at Davidson College in North Carolina and over two years as a graduate assistant strength and conditioning coach at the University of Kentucky.
Simon has been a speaker at several national strength and conditioning conventions. He is a certified strength and conditioning specialist through the National Strength and Conditioning Association and a certified strength coach via the Collegiate Strength and Conditioning Coaches Association.
He is a 2002 graduate of Frostburg State in Maryland with a bachelor's degree in health and physical education, and holds a master's degree (2004) from Kentucky in exercise physiology.
He and his wife Linda have two daughters, Abbi and Robyn.
SIMON PROFILE
Assignment: Football Strength and Conditioning Coach
Year at OSU: 1st
Hometown: Lexington Park, MD
Education:  B.S. in health and physical education from Frostburg State (2002); master's degree in exercise physiology from Kentucky (2004)
PROFESSIONAL EXPERIENCE
Football Strength and Conditioning Coach - Oregon State, 2015-present
Football Strength and Conditioning Coach – Wisconsin, 2013-2015
Director of Strength and Conditioning – Utah State, 2009-2013
Associate Director of Strength and Conditioning – Utah, 2006-2009
Head Strength and Conditioning Coach, Davidson – 2004-06
Graduate Assistant Strength and Conditioning Coach, Kentucky – 2002-04
BOWL GAMES
2015 Capital One Bowl
2014 Outback Bowl
2012 Famous Idaho Potato Bowl
2011 Famous Idaho Potato Bowl
2009 Sugar Bowl
2007 Poinsettia Bowl
2006 Armed Forces Bowl
 Courtesy: Oregon State University Athletic Communications