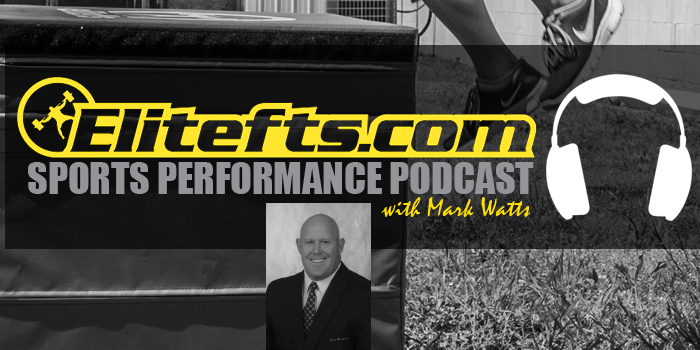 Elitefts posted an interview with University Iowa Strength Coach, Chris Doyle in the early 2000s. After reading that Q&A, I decided to take a chance and cold call Doyle and ask him about training.
He answered the phone and we talked training for almost an hour. Well, he talked training and I feverishly took notes. Now, he has not obligated to talk to me. He could have just blown me off.  Here I was a no-name, Division III football coach whom he'd never met before and he unveiled a plethora on information for no other reason than because I was a coach.
Fast forward to the summer of 2002. I flew from Pittsburgh to Iowa City en route to Las Vegas for the NSCA National Conference. Chris Doyle let me sleep on his couch in between observing two days of summer speed and strength training. Again, he didn't have to do that for me.
Today Chris Doyle has been the standard that I have measured strength coaches during my career is an understatement. I have been lucky enough to work for some great coaches and even better men. All of whom has been influenced and looked up to Doyle.
Chris Doyle is the epitome of what a strength coach should be and the impact he should have on his/ her athletes. After this podcast published on iTunes, I cannot count the number of eMails, messages, and tweets thanking me for having Coach Doyle on as a guest. He has meant so much to so many, that it is easy to understand how impactful this interview is. We all have a standard to aspire to as coaches. Chris Doyle just happens to be a mentor to more than most.
How Coach Doyle got started
Strength & Cond

itioning and Football

Same characteristics lead to success for any coach

Sport Coach - Strength Coach Relationship
Biggest area of concern with 1st year players
Be on Time, 

Listen-learn-apply, and work hard

Teach

athletes

 how to think

Counter the recruiting process

Adopt the team mindset

We create habits and our habit creates us

Teaching the program
Hybrid to FMS, back to a hybrid assessment

Commonalities of Corrections

The stack joint approach
Basic Off-Season Template
The mistake of peaking everything at once

3 phases of the off-season

Speed Training set-up

Higher exposure, shorter volume

Competitive Speed work. Measure it, rank it, post it
Exercise Selection
Exercises must be: ground based, multi-joint,  and 

t

hree-dimensional

Five different levels in the program
Block Periodization with older athletes
In-Season concerns
Two different groups are either playing or not

It's important to know who we are
Iowa Football
We don't find talent we build it

How little can we train and still gain in-season

Technology to Modifying behavior vs modifying training

U

ncommon discipline, uncommon maturity
Developing rapport with athletes
Everybody wants someone to believe in. 

Our job is to get people to believe in themselves - Dan Gable

Flexibility with athletes

Never allow your athletes to set the standards they don't know what they're capable of - Joe Moore

Get in 

the rack and not hiding in your office
Staff Development
Coach has

 learned more f

rom

 

his

staff than they learned from 

him

Read together, program together, think together

Loyalty through the intern program
Advice for young coaches
Maintain a beginners mindset

How thirsty are you for knowledge?

Read on a variety of subjects

Go and visit good people

Watch the best work in your field

We don't coach weights we coach people - Johnny Parker

Want to get paid well, offer something money cant buy

Successful people aren't innovators they are early adapters - Mike Boyle
---
The Chris Doyle File
Chris Doyle is in his 16th year as strength and conditioning coach for the University of Iowa football program.
As the head of Iowa's strength and conditioning program, Doyle has helped the Hawkeye program participate in 11 bowl games since 2001, including the 2014 Outback Bowl. The Hawkeyes posted an 8-5 overall record in 2013, including a 5-3 Big Ten record to tie for second in the Legends Division. The Hawkeyes won bowl games following the 2008, 2009 and 2010 seasons, defeating ranked opponents in both 2009 and 2010. The Hawkeyes have ranked in the final top 10 of both major polls four times in the past 12 seasons.
Iowa has appeared in seven January bowl games since 2001. The Hawkeyes have won 6-of-11 bowl games under Kirk Ferentz and his staff, including four January bowl victories. The January Bowl wins have come over Florida (2004 Outback), LSU (2005 Capital One), South Carolina (2009 Outback) and Georgia Tech (2010 Orange).
Iowa has won 97 games over the past 12 seasons, including 57 Big Ten games. The Hawkeyes earned a share of the Big Ten title in both 2002 and 2004 and tied for second in 2009. Iowa has finished in the Big Ten's first division in 11 of the past 13 years.
Doyle is a certified strength and conditioning specialist with the Collegiate Strength and Conditioning Association (CSCCa). He was presented with the certification of Master Strength and Conditioning Coach in May, 2013. The certification is considered the highest honor that can be achieved in the coaching profession of Strength and Conditioning, and represents professionalism, knowledge, experience, expertise and longevity in the field.
The NSCA named Doyle the Big Ten Strength Coach of the Year in 1999. He was one of 20 nominees for the Professional of the Year Award, given annually and selected by the NSCA membership. The award recognizes college professionals who have shown excellence in strength training and conditioning programs.
He served as director of strength and conditioning for the University of Utah in 1998. Under Doyle's direction the Utah basketball team played in the national championship game. While in Utah, Doyle also served as state director for the NSCA.
Doyle was assistant strength and conditioning coach at the University of Wisconsin from 1996-98. He oversaw the training programs for football and hockey teams during this time. The Badger football team participated in two bowl games (Copper and Outback) and the hockey team won the WCHA championship during his tenure.
As a strength and conditioning professional, Doyle has tutored 180 student-athletes who have advanced to the professional ranks in the NFL, NHL and NBA. Iowa has had a total of 40 players selected in the past 10 NFL drafts, including six in each of the 2010, 2011 and 2012 drafts, and three in the most recent NFL Draft.
Overall, 49 Iowa players have been drafted in the past 12 years, with six first round selections and nine players being selected among the top 50 picks. In addition, 53 additional Hawkeye players signed free agent contracts in the past 10 years. Iowa, since 2003, has seen five former walk-ons selected in the NFL Draft.
Over the past 12 years, 114 of 128 (89 percent) of Iowa's senior starters were selected in the NFL Draft or signed to an NFL free agent contract. Six Hawkeyes were selected in the 2012 NFL Draft, while six additional seniors signed free agent contracts immediately following the draft. Iowa and Alabama were the only two programs to have a first round draft selection in three consecutive years (2010-12).
Doyle has mentored 49 former assistants who have advanced in the field of Strength and Conditioning, with 19 becoming head strength and conditioning coaches.
Doyle served as offensive line coach at Holy Cross from 1992-95. He also worked as a graduate assistant at Notre Dame in 1991 and Syracuse in 1990. Notre Dame won the 1992 Sugar Bowl following the 1991 season and Syracuse won the 1990 Aloha Bowl.
Doyle was a three-year starter on the offensive line at Boston University from 1986-88. He served as a student assistant for the football program there in 1989.
Chris earned his B.S. in human movement from Boston University in 1990 and his M.Ed. in education from Boston University in 1991.
Doyle was born June 30, 1968. Chris is from Quincy, Massachusetts, and attended Boston College High School. He was inducted into the Boston College High School Hall of Fame in November, 2004. Chris and his wife, Tia, have three sons, Declan, Donovan and Dillon.
Strength and Conditioning Mission Statement
The University of Iowa Football Program is committed to providing the ultimate training experience for each student-athlete. Our focus is to build the total athlete while reducing the risk of injury through individual evaluation and program design. Developing strong relationships with each athlete is a fundamental building block essential to the success of Iowa Football.
Doyle's Coaching Career
Iowa Head Strength & Conditioning Coach, 1999-present
Utah Director of Strength & Conditioning, 1998
Wisconsin Assistant Strength Coach, 1996-97
Holy Cross Offensive Line Coach, 1992-95
Notre Dame Graduate Assistant, 1991
Syracuse Graduate Assistant, 1990
Bio from University of Iowa
---