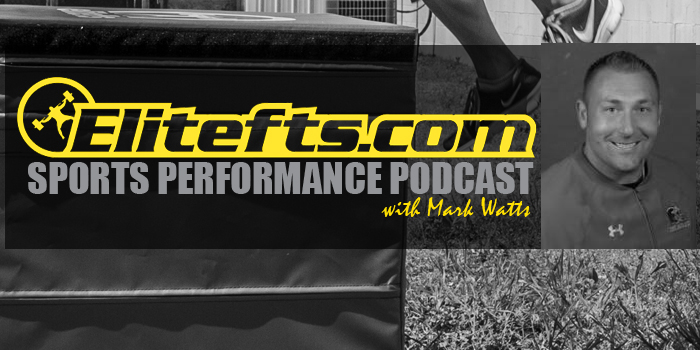 Ted Perlak goes above and beyond for his athletes, staff, and just about anyone who wants to get better. Now, this cliché is given expeditiously as a standard compliment for coaches, but I know first-hand how Coach Perlak's selfless attitude effects the lives of others.
When I was the Director of Strength and Conditioning at Denison University, I had a basketball player from the Bronx, NY who had nowhere to train during the summer. This young man was not the best player by any stretch and when he arrived to Granville as a freshman; he had a training age of zero. His technique was horrendous. All the more reason I needed to find a place for him to train.
At the time, Ted Perlak was the Head Strength and Conditioning Coach at Fordham University. Ted and I knew each other through social media and talked often so I took a chance and reached out to him. I knew how busy he would be with training teams, so I understood if it wasn't possible.
Coach Perlak ended up allowing my basketball player to train there at Fordham. When I messaged that young man and asked how he was doing and how his training was going, he told me something that at the time was refreshing, but after getting to know Ted, didn't surprise me.
He wasn't lifting by himself; this teenage, DIII hooper from the Bronx was lifting with Coach Perlak and his staff as one of their own. Here is this kid just starting training, being able to learn from Coach Perlak and his staff.
Needless to say, he returned to Denison in the fall bigger, faster, and could jump higher. He developed into one of our best lifters. This is just one of the many examples of the impact Perlak has on everyone he comes in contact with. Listening to this interview, you will start to understand what I learned about him years ago.
Topics in This Podcast
How Ted Got Started
Development of Your Staff
Sport Coach Relationships
Starting Over of as a New Coach
Durability
Five Things Every Coach Wants and Every Athlete Needs
Adjusting the Facility
Communication at the Beginning of the Year to Add Buy-In
The Lost Art of Technique
Not What You Emphasis; What You Tolerate and What You Allow
It's About Progress
The Four "Knows" of Programming
Why You Eat the Frog First
Fitting Exercises in the Training Template
Back to Front Approach
The Conjugated Tier System Under Prilepin's Table
Training Schedules
Two 2-Week Microcycles
Collision vs Contact vs Non-Contact Sports
Preparing for Practice
Using Velocity Based Training In-Season
SS Yoke Bar and Chains for Squat Progressions
Expecting the Worst to Be Surprised
Nutrition with Athletes
The Added Benefits of Velocity Based Training
The Biggest Challenge with Freshmen
What Coach Perlak does to make himself a better coach
The Internet and Strength and Conditioning
There Are Two Types of Strength Coaches
Advice for Young Strength Coaches
What Ted Learned from Joe DeFranco
Personalities and Communications
---
The Ted Perlak File
Ted Perlak, who spent the last 12 years as a strength & conditioning coach at the NCAA Division I level, has been named head strength and conditioning coach at the University of Delaware, Director of Athletics and Recreation Services Eric Ziady announced Friday.
Perlak, who most recently worked as strength & conditioning coach at Colonial Athletic Association newcomer Elon University, will begin his tenure at Delaware on May 19.
"We are excited to have Ted join the Blue Hens family and serve as the leader of our strength and conditioning program," said Ziady. "This position is critical to the success of our athletics teams here at Delaware and we are confident that Ted's knowledge and innovation in this area along with his hard work and dedication will help prepare our student-athletes for great success on the playing fields."
At Delaware, Perlak will be responsible for the strength and conditioning efforts for Delaware's 21 sports programs and nearly 600 student-athletes, designing and implementing strength and conditioning plans for all of the Blue Hen men's and women's athletic teams. His primary role will be working with the UD football and volleyball programs.
"It's a great honor to be named the head strength & conditioning coach at the University of Delaware," said Perlak. "During the interview process I had the opportunity to see the vision of the administration and it is something I'm excited to be a part of. The opportunity to work with Coach (Dave) Brock and his staff along with all the other coaches makes this 100 percent a place my family and I want to be. I can't wait to get started."
Perlak spent the 2013-14 season at Elon, a current member of the Southern Conference that sponsors 17 intercollegiate sports, including football. The Phoenix will join the CAA as a full-time member in all sports this fall.
"I am really excited to welcome Ted and his family to the University of Delaware," said Brock, who will begin his second season as head coach this fall. "This hire represents a great opportunity to upgrade one of the most critical areas of all successful football programs. I can't wait for Ted to get going with our players as we enter the summer phase of our strength and conditioning."
Perak previously spent eight seasons at Fordham University, including the last six seasons as the head strength and conditioning coach. While at the Bronx, N.Y. school, he worked closely with the football, basketball, soccer, softball, and track and field teams.
Prior to his stint at Fordham, Perlak served as the director of strength and conditioning at Iona College for two years. While at Iona, he was responsible for the design, implementation and coaching of all varsity athletic programs. He also supervised and organized staff participation in off-season and preseason workout sessions.
Perlak served as the strength and conditioning coordinator at Saint Joseph's University in Philadelphia, Pa., in 2004 where he designed and executed the strength and conditioning program. He was also responsible for off-season and preseason workouts.
Perlak has been involved with the United States Olympic Training Center, serving as a strength and conditioning resident intern from January until May of 2004. In that role he assisted the staff in developing and implementing programs for Olympic, Olympic hopefuls, Pan-American, and Paralympic individual athletes and national teams.
A 2001 graduate of Worcester (Mass.) State College, Perlak was a four-year starter and two-time captain with the football team before earning a bachelor's degree in health science with a concentration in exercise science.
Following a year in which he served as the strength and conditioning coordinator at his alma mater, Perlak worked at Temple University as an assistant and earned his master's degree in sport administration there in 2004.
A native of Pittsfield, Mass., Perlak and his wife, Christine, have a daughter, Rueby Mae.
University of Delaware Athletics