Meet Report: 2019 USPA Nationals with Dan Dalenberg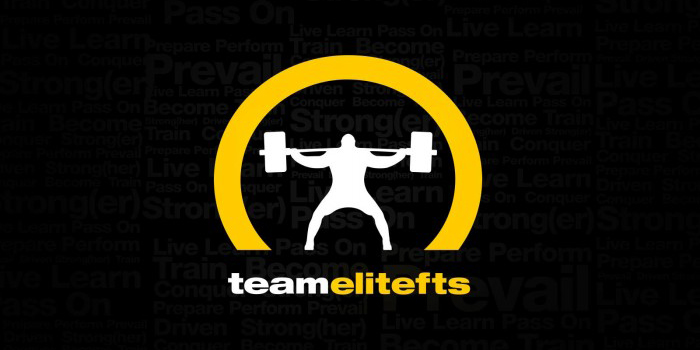 The meet has come and gone! I am very happy with the results. A bit tougher day than expected, but overall, it went well.
Let's Step Back
2018 was a rough year for me as a powerlifter. I needed to take a break and to lose some weight, so I spent much of the first half of the year being a fake bodybuilder and dropping a weight class. By the end of the summer, I was mentally ready to start training again, but my body had different ideas. I ended up with a series of lower body injuries that largely sidelined any productive lower body training.
---
RECENT: Managing Meet Day Stress
---
I decided to do a meet anyways. At the recommendation of a close friend, I decided to do a raw walked-out meet since I had never competed that way before, so I didn't have any PRs to compare to and could start fresh mentally. The plan was to just qualify for 2019 USPA Nationals on three attempts. Mission accomplished in December 2018.
2019 Has Been Better
This year's training has improved. I have been far more proactive in taking care of myself, and have had some time to get used to the new leverages at my lower bodyweight. USPA Nationals quickly shaped up to be my first meet at 198 and where I was ready to compete and properly prepared.
Cutting Weight
Made it fine! A little bit of stress getting there, though. I followed my usual water load protocol, cut carbs, and spent some time in the sauna. A few short rounds in the sauna, and according to my scale (a nice calibrated one), I was just under at 197 pounds (89.9kg). Off to the venue two hours early!
That's where it got messy. There was a scale that I could check my weight on that was supposedly the same as the competition scale. I awkwardly hid behind a couple of signs and disrobed in the hallway of the Columbus Convention Center and was 0.4 pounds (0.2kg) over. DANG. Back to the sauna. 20 minutes more, and my scale said 197 pounds, so I was good, even with the calibration differences.
Official weigh in: 197 pounds. So of course, my scale exactly matched the competition scale and those extra 20 minutes wasn't needed. Oh, well. No harm done, really. I'd rather be a little under, anyways.
Squat
Warm-ups were good! No issues in the back and everything went smoothly.
Opener – 589
I missed on depth. That's a first. I admit it, I wasn't happy about this at all. I gave myself about 90 seconds in the back to be mad about it and rant some before sitting down and getting myself calmed down. That's my rule: You get one to two minutes to be upset before you must move on and stop wasting energy on it.
2nd – 622
I wasn't going to stay at 589! It was super easy, just an inch high. So, I took a conservative jump, discussed what I needed with Ryan, and got one in without any question. Good to go.
3rd – 655
I needed 650 or better to get the total I wanted, so this set me up fine to take a shot at that. Probably not the limit here, but close.
Bench
My warm-ups kind of sucked! Which is how it usually goes, thankfully. I just didn't feel super strong. No big deal.
Opener – 402
SUPER EASY — with one little hiccup, though: I could tell by the way he dropped his hands after the handout that Ryan had forgotten that he needed to get off the platform. I quickly let him know he needed to move. No harm done, and I knew he wouldn't forget on the next one.
2nd – 451
I hit a 26-pound PR here. I was really pleased and not terribly far off my best at 242. Everything went perfectly.
3rd – 468
I had a close miss on the downward motion. The judging call was 100 percent right; no arguments from me. It was a super close lift. With a little better flare on the ride up, and I think I'll get this next time.
Deadlift
Pro tip to other lifters: Stop wasting so much energy warming up on deadlifts. You are already warm. You squatted heavy, benched, and have been moving around all day. Do the absolute minimum. I took four total reps in the back. That's it.
---
LISTEN: Table Talk Podcast #17 with Cailer Woolam
---
Opener – 601
Easy. Now have a total.
2nd- 661
Not so easy, but I hit an 11-pound PR.
3rd – 694
I messed up here. I wanted to total 1,800, so I needed this at least. However, what I didn't realize was I was in a close race for the win and only needed 677 to edge out the guy that ended up taking first at 198. I ran out of gas and missed 694.
In hindsight, I should have quietly and discreetly changed my third attempt at the last possible moment to 677 to steal the win from a lifter who was a much better puller than I am. That's my mistake and a strategic error.
Overall Thoughts
I hated not winning the weight class. James Mapp, the winner, came out of nowhere, and I wasn't watching him closely enough. That part of the meet sucked. Otherwise, for my own performance, I was pretty happy. It feels great to have a solid total to start from at 198.
The meet was very well run with great judging, excellent equipment, and superior systems that made knowing where you were at in the lineup super easy. The Midwest USPA group has it together and knows what they are doing. I will be back soon to do another meet run by this group. They put together, by far, the most professionally run meet that I have ever done, and is certainly the best meet in the Midwest.
Next up, I won't be training much for a bit! I'll start an off-season soon and pick out a meet for later this year.
Thank You...
First and foremost, to my wife, Chelsea, for continuously tolerating me and my dumb friends lifting weights in the garage. I love you.
To my dumb friends Chris, Ryan, and Cody, for being the best handling team on game day. I can't imagine a smoother experience than what I had at the meet. You made it super easy to focus.
To Dave and Traci Tate, for the privilege of representing the elitefts organization on the platform. It is a pleasure to be a part of the team, and I am grateful for the opportunity to represent both of you.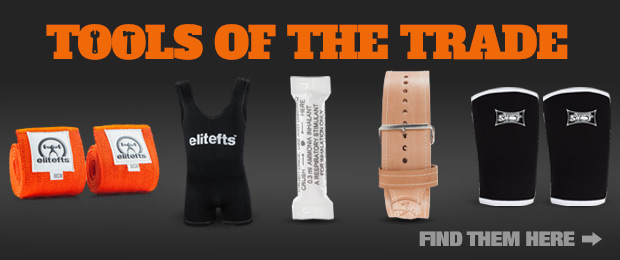 Loading Comments...