Motivation, Sports Performance, Strength & Coaching
Coaching the Special Olympics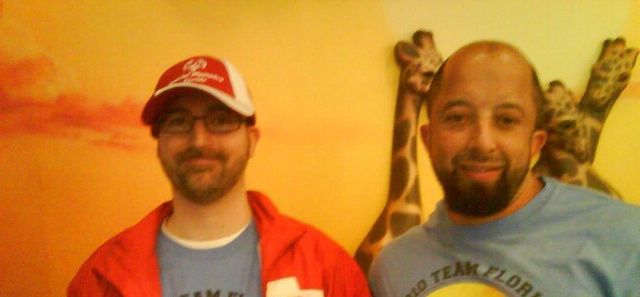 CJ and I before leaving at the Orlando International Airport (I have no explanation for the giraffes behind us).
I can't even begin to explain what this experience has been like for me. I admit I was a little apprehensive about riding a bus, then an airplane, then spending a week in a dorm with a group of disabled athletes that are often misunderstood and mocked. In a short time I have realized that maybe it is us who should be mocked.
On Saturday we met with the other athletes from Orlando at 10 AM at an airport hotel so they could load up our luggage for our flight that didn't leave until 2 PM. A couple of funny moments began as early as the bus ride. A guy kept singing Bon Jovi "Dead or Alive" and another kept saying "Hello Honey!" over and over. These guys are entertaining to say the least. Our flight had a short layover in St. Louis around 4 PM, and then we flew for another hour to Omaha, before finally taking an hour bus ride to the University of Nebraska campus. It was a long day.
I was designated as the "Assistant Captain" of the floor. Part of my responsibilities have been waking up some of the other Florida athletes including John David, a swimmer who has Downs Syndrome, at 6:30 AM every morning since it takes him an hour to get ready. We've had meeting after meeting, opening ceremonies, and CJ competed. Unfortunately he didn't have his best day, but it definitely wasn't his worst.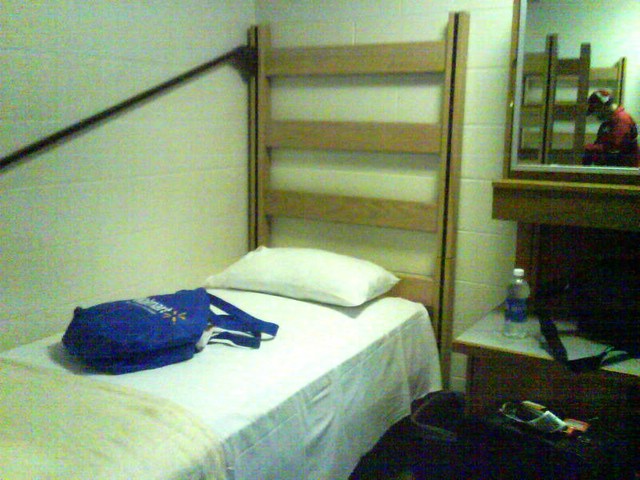 My side of the dorm room. You can see CJ hanging out in the reflection of the mirror.
One of the Highlights of my Special Olympic's Nationals Trip
Billy Newby, CJ, two of Billy's athletes (sorry I don't remember your names), and me.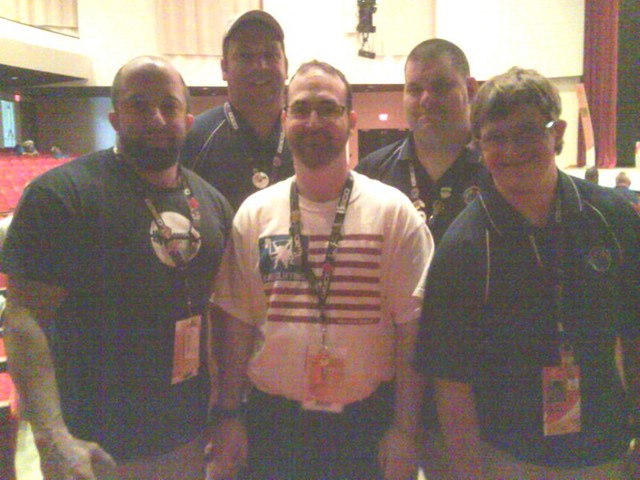 I apologize for this being so poorly lit too.
Billy Newby, the Powerlifting Coach from Indiana, recognized me! I honestly didn't expect anyone to have a clue who I was here, but I thought that was pretty cool. Then, all of the other coaches started asking me my lifts, which I really didn't want to tell at risk of distracting from the accomplishments of the lifters. Either way, it was flattering.
All of the coaches I've met have been remarkable. The amount of time and sacrifice that goes into helping people who may not be able to help themselves is astonishing.
Most Inspiring Thing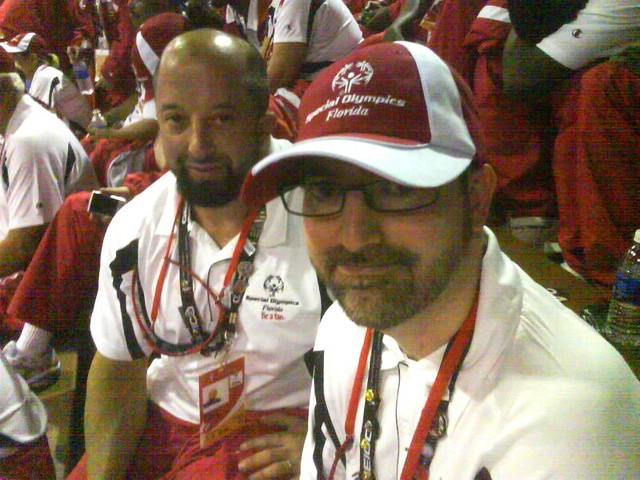 CJ and I at opening ceremonies.
With over 4,000 athletes and coaches, the Special Olympic Nationals are a huge undertaking. Thankfully the University of Nebraska was willing to open their campus, and hearts, to allow them to happen here. The Special Olympic sports include Bowling, Volleyball, Bocce, Tennis, Swimming, Basketball, Softball, Soccer, Rhythmic Gymnastics, Flag Football, Track and Field, and of course Powerlifting.
The Opening for the Special Olympic Nationals included singer Sandi Patty, Tennis player Andy Roddick, his wife and Sports Illustrated swimsuit cover model Brooklyn Decker, Jars of Clay, and Eddie Barbanell from the movie Ringer (which I guess the Special Olympics has endorsed), American Idol 4th place finisher Michael Sarver, and the band Jars of Clay. It was a great performance and the athletes all seemed to appreciate it.
The most inspiring thing I've seen here is how every athlete and spectator cheers for everyone, even their own competition. No one loses in this situation.
The Special Olympics motto is:
"Let me win, but if I cannot win, let me be brave in the attempt." I think many of us should learn from this, not be so concerned with winning, and more about what can be learned in the process.
The lighting of the torch (this gives you an idea of how crowded the stadium was).
My Red Jumpsuit
As a Special Olympic's Coach I was given a Daily Uniform guide. Even though the temperature here in Nebraska is around 98, with a heat index of 105, the Florida delegates chose for us to wear red warm up suits for the mile and half walk to the stadium for opening ceremonies. It was horrible. I don't think I've ever sweat so much. Either way, when I received the uniform guide, I promised I'd post a picture of me in my red "jumpsuit," so here it is: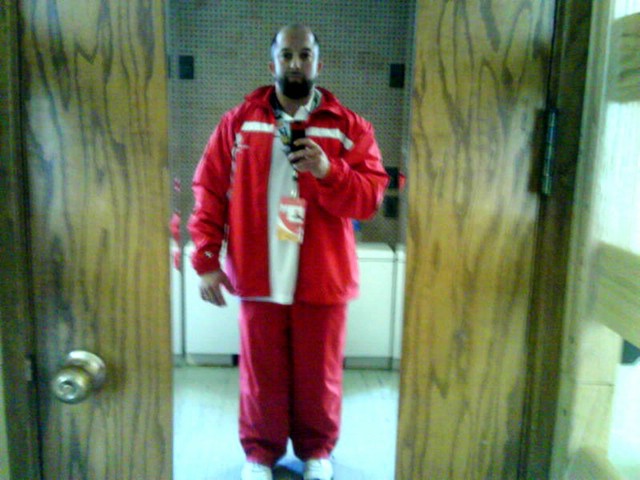 Results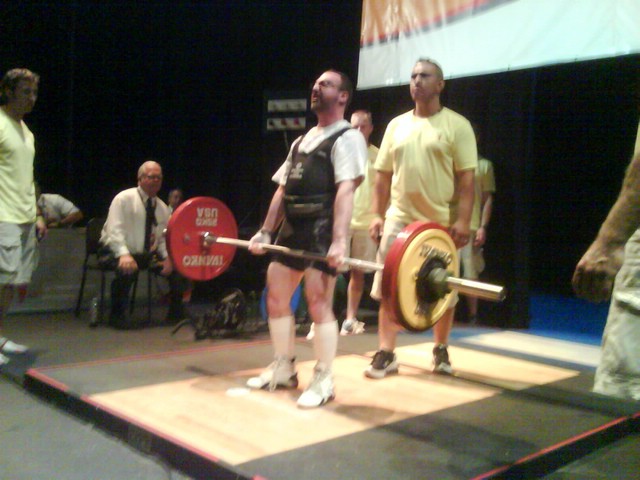 CJ locking out his deadlift.
I was hoping that when I plugged in my Sony Webbie HD to my new laptop it would automatically download the editing program and I would be able to edit and upload CJ's lifts. Unfortunately it didn't work, so I've posted a couple of pictures and will post his video when I get back home.
For those of you who didn't read my original post about CJ, while in utero he suffered a stroke resulting in a severe speech and language impairment, right-sided hemiparesis (decreased control of right side of body), lack of motor planning ability, decreased proprioception (knowledge of where your body is in space) and a seizure disorder. He has been powerlifting since he was 14, and until last year was working with another coach. Due to various circumstances, CJ was in need of a new coach and his mother found me. For years I had wanted to volunteer with the Special Olympics, but just never made the time to do it. Sometimes things just have a way of working out. He's been working with me for over 6 months, but unfortunately has had a series of illnesses. Every time he begins to improve, he seems to take another step back. Regardless of this, we take everything in stride and he takes his competitions very seriously, maybe too seriously.
Although CJ's weight had gotten to a point over 148, since then it has dropped due to his various illnesses. He weighed in at 144.6, which was lighter than I had hoped.
The Special Olympics follows USAPL rules. The only exception is that although they allow single ply squat suits and knee wraps, no bench shirts are allowed.
I had planned to have CJ open with 292 on the squat, but since he weighed in light I decided to go with 281 instead. Two weeks ago, before his deload week, he had squatted 275 for a triple, and although he stood up strong with 281, they were judged high on all 3 attempts. When he missed the first on depth I told him I would call him on the next, but he beat my call. I called him on the third, but he stopped very close to depth and I had to call him up after he sat there. I guess the curse of OBB is taking its toll on him as well. I'm still amazed at how strict the judging is at the Special Olympics. When you see the video you'll understand. He was very close.
Luckily the Special Olympic rules allowed for him to continue the meet in the bench and deadlift for what they call a combo 2.
He benched 176 on his first and 187 on his second. So, I decided to at least give him a shot at benching over 200 with 203, unfortunately he didn't get it.
He deadlifted 303, 336, and 353 which I was very happy with since he had missed 335 in the gym recently.
As with all Powerlifters, CJ wasn't as happy with his results as he could have been, but still walked away with 2 gold medals in the Bench Press and Deadlift.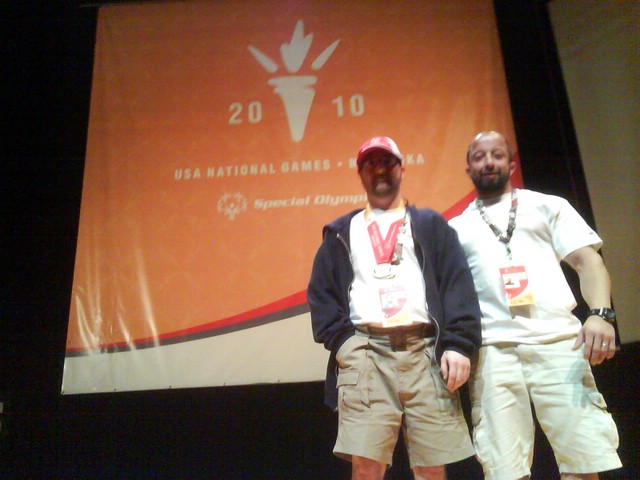 CJ and I by onstage with the Special Olympics banner behind us.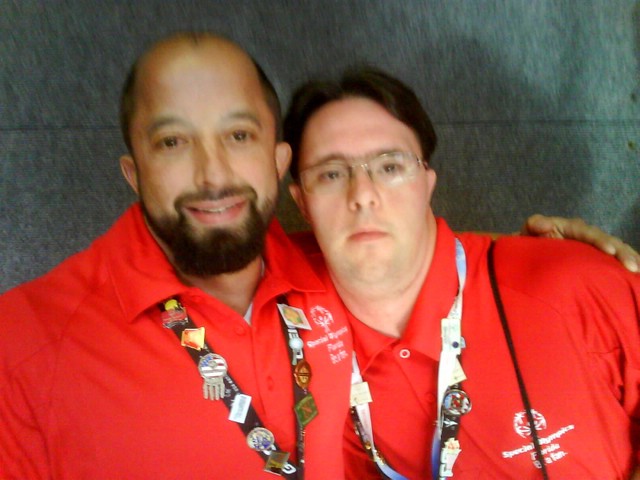 Here I am with John David, the Special Olympian swimmer I had to wake up every morning at 6 AM. He was almost entirely non-verbal, but his hugs and gold medals said enough.
I'll be the first to admit that I've walked into a crowded room, seen a disabled individual, and wondered what was wrong with them. After spending a week around almost 4,000 disabled, I wondered what was wrong with me for having though that. I quickly learned to accept what most normally would not, and realized that whatever problems we have our trivial compared to those who may not be able to complete what we would consider a simple task without the help of someone else. After walking through crowded airports with 104 of the disabled from Florida I dealt with what they did on a daily basis, the stares, the whispers, and realized that our lives are not so difficult after all. I also realized that nothing can be more rewarding than helping someone to accomplish a life changing goal that they couldn't on their own.
I had to wake up at 3:30 AM, gather all of the Special Olympians together, catch a bus for an hour to Omaha, then a plane for an hour to St. Louis, then had a two-hour layover, followed by a two-hour flight to Orlando. I went straight to the gym to get my bench workout in, which may not have been the wisest decision.
4 Weeks out from the Powerstation Pro/Am
3 minsutes treadmill (since the guys were nice enough to wait around for me)
Flat Bench- 95x5, 135x5, 185x3, 225x2, 275x1, 315x1
w/dd-
405x1/2
3 Board- 495x1
2 Board-
575x1, hurt like hell on my right shoulder
605x1, hurt even more but somehow I got it

Shoulder rotation w/tubing x15x2 in each direction
Lockouts/Pin Presses- 315x5, 405x5, 495x3, Realized I set it at a notch lower than I wanted to and my shoulder had enough.
Unfortunately it seems that my cortisone shot has worn off and I'll have to get another one to get through the Pro/Am. Hopefully my doctor will be cool with that.
For the first time in years, I recently trained at a gym other than Orlando Barbell. I saw the rules they had in place and how they benefited the membership retention and stability of the gym. It made me think how our gym could benefit from that from a financial standpoint and posted about it. Unfortunately my post was misunderstood. The Orlando Barbell Powerlifting Team has become a family to me and I can't begin to explain how much I appreciate their ongoing support. The gym, the team, and I, couldn't be where we are at today without all of them. Sometimes the stress of keeping what we've built open is just overwhelming.
Loading Comments...