Motivation, Strength & Coaching
A Day In The Life Of A Real World Strength Coach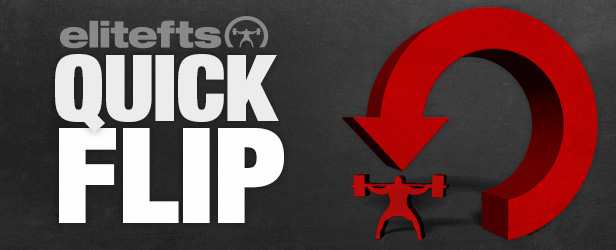 What is a Quick Flip?
Fast

Easy to Read

Great Content

Unedited
A Day in the Life of Team Elitefts Strength Coach Matt Rhodes
From Matt's training Log 
First Day of Football Camp
---
UAlbany reported to camp on Sunday night and things got started on Monday August 5th.
6am - Alarm goes off and I struggle to figure out why.
6:30am - I stop hitting snooze and get out of bed and make my way to the shower. I may have popped a zit in the mirror, too.
7-7:20am - I drive in thinking about the last time I went to camp (August 6th 1998) and how happy I am that I no longer have to endure the football life. Although, with as soft as we're getting, camp would be a joke. I had 3-a-days! These kids have one practice and one walk-through a day. Seriously? This is my thought process as I drink my Monster and drive to work.
7:30 - I slowly walk upstairs to the weight room and I'm excited about football camp. It feels different this time of year. On top of football, Women's Soccer reports today (Tuesday). They are one of my teams and I'm heavily involved with them. I'm excited about it.
8-11am - I wrote some programs (Baseball, Women's Soccer) for the Fall, surfed the internet and took a solid 5 minute nap.
11:30am - LUNCH! During camp we get lunch and dinner and I take advantage. I may try to gain 15-20lbs during camp (3 weeks). I might as well take advantage of the free food. And, it's good!
12:30pm - I went to the post office and then drove over to the turf field to take a few Soccer girls through their last run before their conditioning test on Wednesday.
2pm - I got myself ready to train. After 2 days off I was still unmotivated. I pounded a Monster and popped a 200mg caffeine pill and got myself going.
2:30pm - Banged out a solid workout. Nobody was in the weight room. I had desire to go out to watch a walk-through, so I trained. I jacked up the "Jamey Johnson" Pandora station and went to work. Pandora did one hell of a job for me. Great playlist.
5pm - I skipped my post-workout shake. I know! You're thinking, "How could he do that?" Crazy, I know, but I did it and I feel just fine. Instead, I flexed in the mirror for about 5 minutes and showered.
5:30pm - I walked over to dinner with Conor and Troy. We barely spoke. Dinner was great. It was funny to watch the guys. Day one of camp - everyone was laughing and full of energy. Can't wait to laugh at them on Friday after they put the pads on for the first time. I was reminded of how happy I am that I no longer play football.
7pm - After dinner I closed the weight room and headed home for a night of lounging on the couch.
Exciting, right? It'll be Christmas in August when we get our 2013 gear. I'm guessing we'll get 2 pairs of shoes, 3-4 t-shirts, 3-4 pairs of shorts. Then, all Fall we get "stuff." More t-shirts, gameday clothes. Golf shirts, 3-4 hats, long sleeve shirts, Winter gear. All Nike, too. Fantastic!
I love my job.
- Matt Rhodes
Loading Comments...