LISTEN: Table Talk Podcast Clip — Yessica Martinez Discusses JM Blakley Coaching Her Bench Press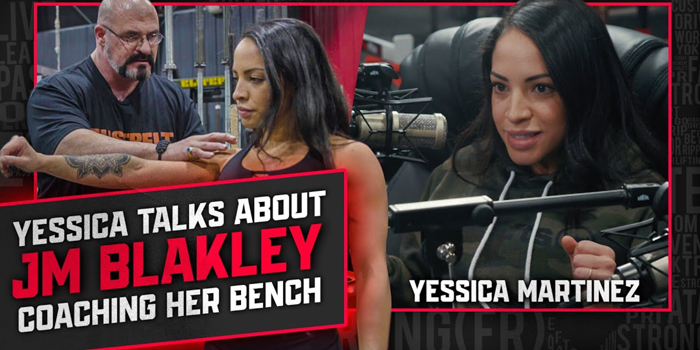 JM Blakley was known as the black sheep of Westside Barbell. He's well educated, speaks in a calm and soothing voice, and dispenses wisdom on the metaphysical powers of positivity. His disposition, however, has never stopped him from being very strong-willed and unafraid to speak his mind.
Team elitefts member Yessica Martinez was fortunate enough to get some hands-on coaching with JM on how to bench more effectively in her shirt.
Yessica would soon learn that her bench methodology didn't quite line up with JM's. 
 If you've ever heard JM talk about the bench press, there is always his strong battle against the term "leg drive." While many people emphasize driving through their legs during a bench press to remain stable, he has valid concerns over the semantics of how much power is actually a result of using your legs. ears of frustration have created a hard rule that he will never cue  "leg drive," and he'll argue with you if you do.
This didn't stop him from dispensing valuable wisdom. Yessica saw the value and immediate carryover in applying more leg pressure to remain stable during the eccentric portion of her bench press. Dave Tate was quick to chime in as well with what he saw as a valuable cue for "leg drive" (sorry JM) in the bench press.
"Take the slack out of your skin."
When you bench press, no matter your coach, there is a great deal of emphasis in creating a very strong base where your shoulders meet the bench. That is your point of contact with the solid earth and is the first spot to begin bleeding power in a poorly executed bench press. You are teaching both to remain stable, and simultaneously drive down into the bench and backward on the bench with your legs.
Yessica then shifts the questions towards Dave. Where does Dave think that one should place their feet while bench pressing? Should you have your legs out far and wide, or tucked tightly underneath your body?
Much like a deadlift stance, Dave recommends being proficient in both. Depending on if your back has been tweaked or your hamstring is cramping, you may have to make a last-minute change to your bench form to be able to finish your attempt and be able to improve your total. You can't just walk away and give up your second attempt because you don't want to move your legs around. Maybe you have to lower your next bench attempt a little bit, but you just kept your body fresh for your deadlift, and are still in a position to be able to hit the highest total possible.
Yessica is sure to take what she can away from what JM had to say. It's always worth listening to other perspectives, especially from someone of JM's caliber. Find something to take away from what someone had to say, but don't throw out everything you have found to work. Make small changes to see if they work, rather than doing something like picking up an entirely new bench setup.
Text by Mason Nowak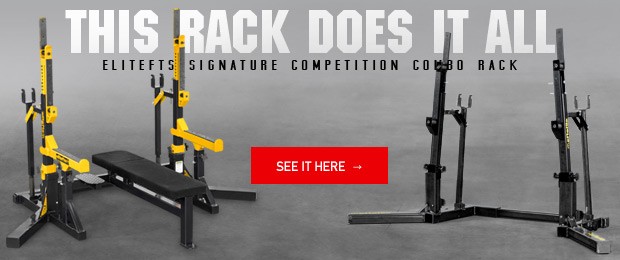 Loading Comments...