Podcasts, Sports Performance, Sports Performance, Strength & Coaching
Elitefts Sports Performance Podcast: The Spot Athletics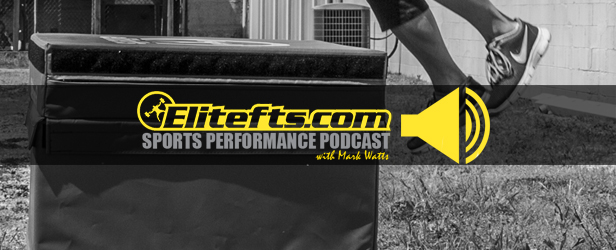 Interview with JL Holdsworth & Nic Bronkall
Every time I travel to The Spot Athletics to meet with JL Holdsworth and his staff, I learn a ton. This time around, we filmed some plyometric videos with Nic Bronkall. We also had an in-depth discussion about weak muscle groups in the deadlift which forced me to review the basics of anatomy and physiology. As usual, JL gave me some more drills and exercises to help with my weak points. From our conversation, I found another drill using bands to address my horrendous thoracic spine mobility issues.
While talking to JL and Nic, it was evident how much they are on the same page and how passionate they are about helping athletes achieve their goals. Along with the rest of the staff, JL and Nic take pride in how and why they coach. It is because of this universal disposition that The Spot Athletics is truly unique.
Topics Covered in this Podcast:
Rationale behind the Friday Technique Video series
The internship process at The Spot Athletics
Transitioning from the collegiate setting to the private sector
Thoughts on conditioning
The title of "Coach"
Separating yourself
Relationships with parents
Assessing the needs of athletes
Adapting programming from the assessment
5 drills or exercises every athlete should do
3 things you will never see The Spot Athletics' athletes do
Specific skill vs. physical preparation
Loading Comments...