Podcasts, Sports Performance, Sports Performance, Strength & Coaching, Training
Greg Pyszczynski Podcast: Success as a Young Strength Coach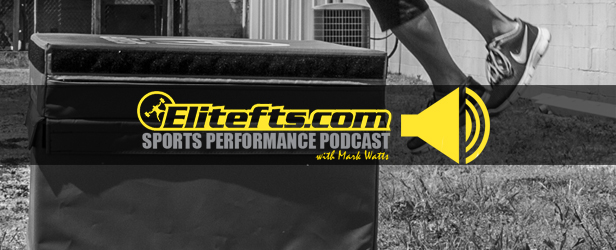 During my time as the Director of Strength & Conditioning at Denison University, I put together a speaker line-up for the 2011 Central Ohio Strength and Conditioning Clinic. I had a speaker honorarium of $0 and was depending on my networking skills to get the highest quality speakers to Granville for a hotel room and two meals. It worked most of the time. We were fortunate to have had some of the best strength and conditioning coaches speak at those small clinics.
That same year, I had Adam Feit, who at the time was the head strength and conditioning coach at Eastern Michigan University, speak on athlete nutrition. He then got hired by Joe Kenn with the Carolina Panthers — I was stuck. He recommended his replacement, Blair Wagner who spoke on team building in the weight room. It was at this clinic that I met Greg Psyzczysnki.
The next fall, we loaded a university van and drove to Ypsilanti, Michigan to meet with Blair, Greg, and the rest of the staff. Greg's evidence-based training methodologies, especially with the head and neck development, was the most thorough programming of its kind I have seen.
Greg was invited to speak at the 2012 Central Ohio Strength and Conditioning Clinic the following year. Greg presented on neck and trap development and gave one of the most comprehensive sessions to date on the topic. Greg has established himself as one of the leading practitioners in developing the head and neck to prevent injuries. Whether it is due to his humble nature, his willingness to learn from everyone he has worked with, or the impact his training has on his own life, Greg Pyszczynski is committed to helping other coaches succeed.
As Greg Pyszczynski starts his journey as a first-time head strength and conditioning coach, one thing is certain: Coach Pyszczynski will never stop learning or passing on his knowledge. He will always put the safety and needs of his athletes at the top of his priorities.
Topics in this Podcast
Making the transition as a first time head coach
Taking over a program with coaching turnover
Transitioning a new program during Spring Ball
Coach Pyszczynski's journey through coaching
Coaching influences
Greg's expertise on training the neck and head
External factors leading to head injuries
The trickle down effect with concussions
Quantifiable data with neck strength
The basic of implementing a program to reduce head and neck injuries
Standards for neck strength and size
University of Buffalo's summer program
Block periodization in training Football
In-Season football training adjustment with the TV schedule
Motivating the next generation of athletes
Advice for young strength coaches
The Greg Psyczcynski File
State University of New York at Buffalo: Head Strength & Conditioning Coach for Football
University of Illinois: Assistant Strength & Conditioning for Football
Eastern Michigan University: Associate Head Sports Performance Coach
Photo courtesy SUNY Buffalo Athletics
Coach Psyzczski's Professional Speaking
Dennis Clinic: Neck & Trap Development for Contact Sports
NSCA State Clinic of Michigan:  Neck & Trap Development for All Sports
Michigan State Strength & Conditioning Clinic: Weight Room Neck & Trap Training
Football Strength Clinic: Neck Movements & Ranges of Motion
CSCCa National Conference: Rigors & Demands of Sport Play: Concussions
Football Strength Clinic: How to use a 4-Way Neck Machine & 10 Facts About The Neck & Traps You Didn't Know
Loading Comments...