Podcasts, Sports Performance, Sports Performance, Strength & Coaching
Peak Performance Podcast with Brian Cain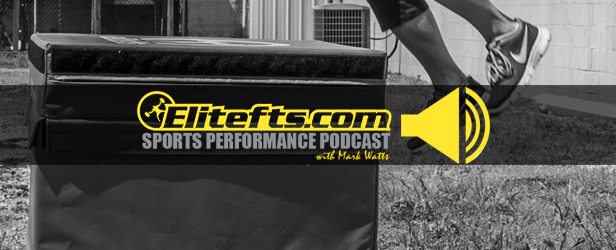 If you go to a conference and take away a few things from each presentation that you attend, consider it a success. Most often when coaches attend conferences or clinics one of two positive outcomes happen:
The presenter validates some of the same concepts or coaching philosophy the attending coach has developed over the years.
The presenter provides an alternative point of view or an new way of teaching or progressing an already present methodology in the attending coach's program.
Both of these scenarios are positive and fairly common. Most often, the presentations aren't life changing, as least for me. This had been the case at almost every conference I have attended..with the exception of when I saw Brian Cain present at the 2012 CSCCa Conference.
When I walked in a few minutes late (this isn't a surprise to those who know me) to the conference in Orlando, Florida, Cain was talking about Roger Bannister, showing highlights of George St. Pierre, and making the entire meathead coaching crowd perform "two claps" periodically. I honestly thought it was a little too "salesy" and light on substance. Then I really started to listen. It seemed Cain was speaking directly to me, mostly about attitude and perspective. He shared two ideas I drastically needed for a make-over in my professional life. Cain told story after story and all of it forced me to look inside myself and realize that the unhappiness I had experienced in my career was mostly self-imposed. In between convincing Zach Dechant of TCU to eat fire (seriously) and Amber Walls of Baylor break a board with her head (again, seriously), I realized that the diseases, deadly words, and negative perspectives were all things that I could control. Simple changes in dialogue shifted my perspective and I started to understand that my thoughts controlled my perspective. Because of this, I started living proactively. Brian Cain was the reason I got to the place I had been working to get to — I just didn't have the directions before then. The following is an interview where I ask Brain to expand on some of the key concepts that helped me as a coach and a man:
Topics Covered in this Podcast
How Brian Cain has helped me as a coach
How Brian got into the mental conditioning game
Why mental conditioning and not sport psychology
The Four Rs x 2
Process over outcome
Function over feelings
Run to Roar
Ten deadliest words
Change "have to" to "want to" to "get to"
Compared to what?
How people can get a hold of Brian
Brian Cain is one of the world's most sought-after mental conditioning and peak performance coaches, and is one of the top speakers, consultants and coaches when it comes to maximizing your performance.  He is also the #1 best-selling author of five sports psychology books and award-winning audio and video training programs.
A former high school standout in baseball, football and basketball, Cain was an NCAA Division One baseball player at The University of Vermont before going on to earn a Masters Degree in Applied Sport Psychology and also coaching baseball at Cal State Fullerton, the 2004 NCAA College Baseball National Champions. Cain also served as an adjunct professor of sport psychology at The University of Vermont and Lyndon State College, as well as being a highly accomplished high school educator and athletic administrator, before turning to his mission as a peak performance coach with a full-time focus.
As a motivational speaker and trainer, Cain has addressed audiences from 5 to 5,000 – and with his high energy and engaging process of teaching and training, he is always a big hit with his audiences.  Cain's unique approach to mental conditioning and peak performance help you unlock your potential and give you the competitive advantage over your opponents.
As a coach of champions, Cain's client list is impressive. Over 400 of his clients have gone on to get drafted into Major League Baseball, including over 25 in the first round.  He has helped train top picks in the NFL, NHL and NBA drafts. In addition, he has worked closely in the corner of five Ultimate Fighting Championship World Champions, including UFC Superstar Georges St. Pierre, numerous Major League Baseball All-Stars, The Washington Nationals Organization and Team USA Baseball.
Cain has consulted with NCAA National Champions at The University of Alabama, Auburn University, The University of Georgia and Baylor University. He has also worked with teams all over the country at some of the nation's elite athletic and academic institutions, such as The University of Maryland, Vanderbilt University, The University of Mississippi, The University of Tennessee, The University of Iowa, North Carolina State University, The University of Oregon, Oregon State University, Texas A&M University, Yale University, Texas Christian University, The University of Southern California, Washington State University and ESPN/Sports Illustrated high school national powers The Woodlands (Texas), Southlake Carroll (Texas), Duncanville (Texas) and Punaho (Hawaii).
Loading Comments...