Podcasts, Sports Performance, Sports Performance, Strength & Coaching, Training
Sports Performance Podcast with Mark Uyeyama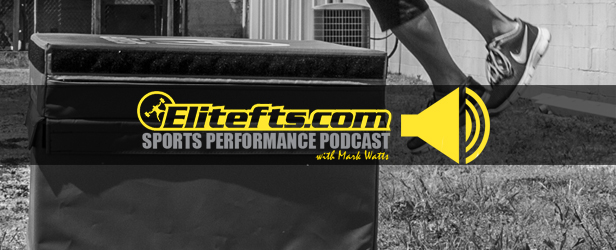 elitefts™ Sunday Edition
I first met Mark Uyeyama in an elevator of the Marriott World Center in Orlando, Florida, in January 2004. He and Joe Kenn, who was speaking at the NSCA Sports-Specific Training Conference there, were both interrupted by a short, fat, football/ strength coach who introduced himself as Mark Watts. I told them that it was an honor to meet them and how much I benefited from Joe's book, The Coach's Strength Training Playbook. My wife was with me in the elevator and still makes fun of me for being such a dork. Oh well, back then you couldn't quite "friend" coaches on Facebook yet.
At the time, I didn't know that Mark Uyeyama would become one of the most respected strength and conditioning coaches in the profession.
I also wouldn't have guessed that I would have the opportunity to interview him for the company that brought all of us together. Uyeyama preaches about the value of networking and how the interactions outside of the weight room with people like Dave Tate and Jim Wendler are as valuable as any conference or clinic. He eludes to the fact that many of his closest friends in coaching all have one underlying connection— elitefts™. His relationships with Buddy Morris, Tom Myslinski, Martin Rooney, and James Smith were all in some way connected to the company, a company that not only provided unbiased resources for coaches but one they all added to as well. Uyeyama admits that this was as much due to the conglomeration of like-minded individuals who shared the same values as the company that served as a literal and figurative hub.
If there was ever a coach who has been solely focused on the development and well-being of his athletes, it's Uyeyama. You won't find any ebooks, YouTube videos, or articles by him. "In this field, you have people who write about how awesome they are but have never done shit," proclaims J.L. Holdsworth, who has known Uyeyama for almost fifteen years. "And there are people who are too busy being awesome to write about it." Holdsworth got his start in the strength and conditioning field around the same time as Uyeyama and shares many of the same influences.
Uyeyama would rather let his end result speak for itself. That end result has led him to roam the sidelines of a Super Bowl and three NFC Championship games in his three years as the head strength and conditioning coach.
At one of those championship games, he was across the field from his mentor, Joe Kenn. Kenn, who hired Uyeyama as a graduate assistant strength and conditioning coach while at Arizona State University, explains, "Mark Uyeyama is the ultimate professional. His passion and commitment to his players are contagious." Kenn witnessed young Uyeyama "blossom into one of the best in the business." That success may be attributed to Uyeyama's desire to improve as a coach. "Mark is a great listener and is always striving to improve his knowledge so he can apply greatness into his programs," concludes Kenn.
A coach that Uyeyama still listens to often is James "The Thinker" Smith. James still is a huge influence on Uyeyama, who is dedicated to the continual growth and constant learning from anyone who can help his program. Uyeyama expands his learning spectrum to disciplines outside of the sports performance field. If there is anything out there who will help his athletes succeed, you can bet Mark Uyeyama will find it.
Topics covered in this podcast:
What the typical training is before OTAs start
How players are assessed before they start training
Why movement is the most important factor of training in the NFL
How music is synonymous with coaching
What the principles are from martial arts that transcend to coaching
Why the bottom line is the end result
Why it starts with bringing the right guys in the building
What the biggest misconception of training NFL players are
What the biggest lessons learned are
Loading Comments...