Sports Performance, Strength & Coaching
Three Questions for Coach Kevin Argauer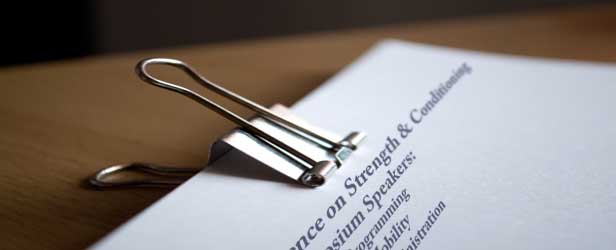 Since arriving at elitefts.com in June as the Director of Education, I have put an emphasizes on getting out of the office to conduct site visits around the region (and eventually the country) to gain some valuable insight from some of the top strength & conditioning coaches in the field.  These coaches spend a great deal of time and have unbelievable passion for preparing young athletes to achieve their goals.  These coaches are "in the trenches" working with teams around the clock and year-round.  After visiting with these coaches, I usually send three follow-up questions that I feel can help coaches, trainers, and athletes alike.   
Kevin Argauer

University of Pittsburgh
To say I was impressed with the knowledge and passion for strength & conditioning of Kevin Argauer would be an understatement.  While meeting with me in the Fitzgerald Fieldhouse weight room, Coach Argauer, who is entering his 3rd year as an assistant for the University of Pittsburgh, explained in detail about Triphasic training, accommodating resistance, and plyometric progressions.  Before coming to Pitt, Argauer was an assistant strength & conditioning coach at Creighton University.  He was also a graduate assistant strength & conditioning coach at the University of Akron.   While earning a his undergraduate degree in Sports Management at Robert Morris University, Argauer served as a student assistant coach for Todd Hamer before completing a strength & conditioning internship with Cal Dietz and Sara Wiley at the University of Minnesota. Coach Argauer also has an elite power lifting total (2165 pounds) in the 308-pound weight class with competition lifts of an 800 squat, 625 bench, and a 740 dead lift.
Mark Watts: Kevin, you gave an overview of a basic Triphasic Training macro-cycle you were using with your Track & Field and Swimming & Diving teams at Pitt.  Can you elaborate on the basic concepts of how you organized the programming?
Kevin Argauer: I have adapted Cal Dietz's Triphasic program to fit our needs. I think that most coaches can agree that it is important to train the eccentric and isometric phases of lifts. The Triphasic system calls for using three phases Eccentric (ECC), Isometric (ISO), and Concentric (CON) (Reactive). Those three phases are implemented within three different training blocks 80%+(High Force at a low velocity), 55-75% (High Force at a High Velocity), and <55% (Peaking). I'll talk primarily about how we implemented the triphasic protocol with our Track & Field program because we use all three blocks as they were intended to be used. We have adapted the 55-75% and the <55% blocks into one block for our swimming season so it's not the best example to use.
 Preseason: Block 1 80%+ (High Force at a Low Velocity)
In the fall after completing two to three weeks of work capacity training (preseason conditioning) we start our triphasic work. We run three weeks of eccentric work, three weeks of isometric work, and the four weeks of concentric/reactive work. This leads us right up to Thanksgiving break. Our goal for this block is to get our athletes as strong as possible. We use a 4 day loading model which is very taxing on our athletes.
Monday – Triphasic (80%+ ECC, ISO, or CON) Lower
Tuesday – Triphasic Upper (80%+ ECC, ISO, or CON) Upper
Thursday – Max Effort Lower
Friday – Work Capacity / Volume
Indoor: Block 2 55% - 75%( +Accommodating resistance) High Force at a High Velocity
Our goal for this block is to create some serious horse power. Our bar weight drops slightly (from 80+% to 55-75%) and we add some bands and or chains to the bar depending on what phase we are in. During the ECC and CON phases we use band resistance, during the ISO phase we use chain weight. As we move in season with our track program we go to a three-day lifting model to ensure that we are able to get our high quality lifting in early in the week. Our third day gets skipped some weeks due to travel.
Monday – Triphasic Lower (55% - 75% + Bands / Chains)
Tuesday – Triphasic Upper (55% - 75% + Bands / Chains)
Thursday – Work Capacity / Volume (Strap Circuits, DB Circuits, Barbell Complexes)
Outdoor: Block Three <50% Peaking Velocity – Maximum Speed
During this phase our barbell weight drops considerable. We incorporate the use of Tendo Units for all of the phases of movements not just on the reactive phase. We want the movements to be performed with maximal speeds. We use higher loads of accommodating resistances and less bar weight. Our weekly model stays the same as our indoor set up, a three-day schedule.
 MW: We went into some progressions with the French Contrast method a battery of weighted, bodyweight, and deloaded jump and push-up exercises.  Can you explain the reasoning and implementation of these concepts?
KA:  The French Contrast method is basically combining Complex and Contrast loading methods. Using this style of loading utilizes Post Activation Potentiation to create a more powerful athlete. The Contrast loading method calls for a near maximal weight movement of 85 -100% followed by a drop set between 50-65% this is also called a wave method. There is a slight rest between those movements 5-30 seconds and 3-4 minutes between sets. The Contrast method calls for a heavy load of 80+% followed by plyometric jumping exercise. By combining these methods you perform a heavy movement (80%+) followed by a plyometric jump, followed by a lightly weighted movement +/- 30% followed by an accelerated movement.
Accelerated plyometric are movements that not a lot of coaches are familiar with. The whole point of a plyometric when performed in succession is to minimize the ground contact time (amortization phase). Typically jumping movements are performed with added weights which INCREASE the amortization phase. By deloading the movement you minimize ground contact time while still allowing the athlete to produce a ton of force in a minimal amount of time.
These two videos are the interviewer's feeble attempt at being explosive with deload plyometric movements.  Ground contact time may still be too long for the jumps. You can adjust band height for optimum training effect.

MW:  I thought you had a very interesting reverse-band progression you used when your athletes were tapering for a meet.  You also emphasized the importance of full range-of-motion training and why accommodating resistance is important with athletes.  Can you go into further detail with this?
KA: I think that using a full range of movement is very important for keeping muscles healthy and happy (as corny as that sounds it's the truth.) A good example of this is how we taper our swimming and diving athletes for their championship season. I'll give you examples of how we do this for our upper body lifts, as well as what we do with some of our upper body lifts for our swimmers. Many coaches seem to be afraid of using a full range of motion in season; I think that this is a mistake. Those same coaches are scared to death of overhead movements but do pull ups all day, I'm not going to get started on that.
Upper Body – Swimming – For our swim team we continue to bench press for the duration of the season with the majority of our athletes. Before we get too far into what we do at the end of our season, during our preseason we spend a lot of time teaching technique on the bench press, which always raises some eyebrows from the athletes. By teaching the athletes how to tighten their backs and raise their chest to the bar (A slight arch, think ribcage expansion more so than a large powerlifting arch.) once our technique is solid we continue to bench all year-long. We accomplish this in season by using the lightened method (future method, reverse band method, bands from the top, whatever you like to call it). Starting 6 to 7 weeks out from our championship we have our last bench day using straight weight. We have the athletes work up to a heavy triple. This is the maximum amount of weight that they will use for the rest of the season. For most of the athletes it is between 85-95 percent of their max. The week after they hit their triple we start to use reverse bands making sure that the athletes always maintain a full range of motion. Every week we increase the band tension on the reverse band. So it will look something like this:
Week 1 – 6x3 Straight Weight
Week 2 – 6x3 Micro-Mini reverse Band
Week 3 – 6x3 Mini reverse band
Week 4 – 5x3 Monster Mini reverse band
Week 5 – 4x3 Light reverse band
Week 6 – 3x3 Light reverse band + Micro Reverse band
Week 7 – 1-3x2 Average Reverse Bands (Championship week)
By the end of that phase we have maintained a great deal of our strength while maintaining shoulder and pectoral health. We use essentially the same system for our lower body deloading for our championships. With our swim team we use a three-day loading model Monday is our Triphasic day, Wednesdays are our max effort days and Fridays are a work capacity day. This deloading model is used on our Wednesday max effort days. We have found that the triphasic day on Monday really compliments our Wednesday workouts when it comes time for the reactive phases.
Final Thoughts:
Mark, thank you very much for this opportunity to share what I'm doing at The University of Pittsburgh. It was great getting the chance to talk training with you. Thanks to the people at elitefts™ for making my job easier through sharing other people's knowledge. Also, I'd like to take a second to thank my mentors in the Strength & Conditioning world that have helped me learn, and grow as a coach: Cal Dietz, Todd Hamer, Dan Bailey, Tim Campbell and Tim Beltz.
Loading Comments...