Stepping Up and Under the Bar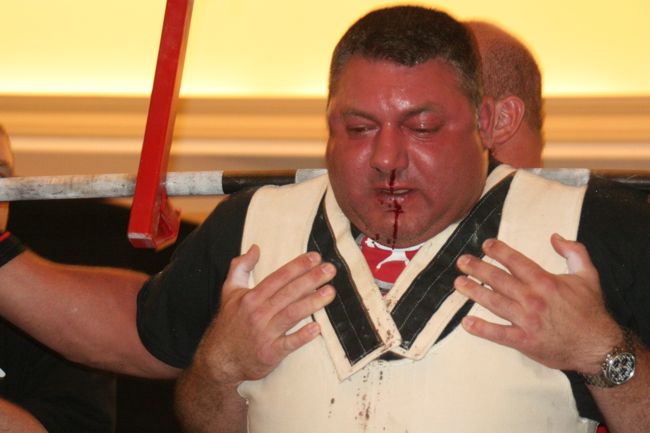 After much talk and discussion, I chose to enter my first powerlifting meet. I've competed competitively in Strongman, shot put, and the Highland games. Once the decision was made, I found a local meet through talking with a guy who had participated in college track with me. He was also competing in powerlifting. He had a group that he was training with and invited me over to get a feel for it. My knowledge of powerlifting is that of anyone who thinks he knows a good deal about it but has never experienced it first hand. This was soon to be a baptism by fire.
I met with Garry Frank's "HardCore Barbell" group and began training with them. The first couple of trips were a little hesitant to say the least as far as approaching weight. "HardCore Barbell" has quite an impressive group, and they set me straight as far as putting me in the right gear whether it was used or not. All of the training went well, and I was feeling up for my first meet.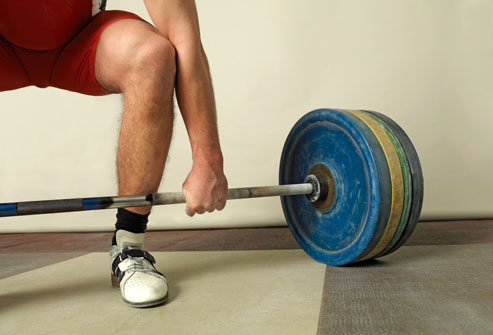 Meet day
I had taken care of myself the week before and was feeling good physically. My goals going into the meet were to simply get a total so that I could try and qualify for the APF senior nationals in June. I figured that if I liked the sport I could qualify now and then really spend some time getting more familiar with the gear for nationals. I weighed in at 274 lbs.
The squat
I was in the third flight, and there were 47 total competitors. I laid down to watch the meet and tried to figure out my timing as far as warming up. The first and second rounds took 21 minutes. I figured I had roughly an hour per flight, so I started warming up when the second flight was under way.
I made my way to the warm-up room and started doing some foam rolling and stretching. I also applied my EquiBlock. My body was feeling nice and hot , so I got under my first warm-up weight. My warm-ups were as follows: 135, 225, 315, 405, and 495. Then I added gear and got 675 and 775. Everything was feeling good and right on the plan that I had tried and set up for myself.
I heard the announcer say that I was in the hole, so I wrapped my knees (this is something I suck at and I'm trying to get better at, so I ended up doing each leg at least twice), grabbed my ammonia, put on my belt, and went out. My first attempt was for 805 lbs. This weight has been easy in training. It was just a matter of hitting depth. They weren't giving anything away on depth. That was for sure. I got set up and started down, listening for my up call. Down, down, down and then finally I got the up command. I pushed my knees out hard and stood up. I got three whites. I was in the meet! My second attempt was 854. I got three reds and was told that I was high. My third attempt was 903. I told myself that I wouldn't miss this attempt on a depth call. If I was going to fail, I would have to fail on the way up. I got crushed about halfway up. I'm a little disappointed but 805 put me on a good path for my 1848-lb qualifying total.
The bench
The bench is something I've never been good at training. It hasn't gone well, so I figured I'd go for the lightest weight I could touch and go from there. Now that the squat was over, I truly felt a bit of anxiety release from me. I felt I was starting to settle in, get my head right, and compete.
My first attempt was 507. (I discovered the night before that I have a huge arch, so I was trying to figure out if I could maintain it in my shirt.) The lift was fast and smooth, and I got three whites. My second attempt was 550. (I've been crushed by this every time I've touched it in training.) It also went up smoothly, and I got three whites. My third attempt was 584. I got three whites on this as well. This was 30 pounds more than I had ever put in my hands. I was very excited about this unexpected success in the bench. I came in thinking that my best case scenario was 550. So now sitting with a subtotal of 1389 lbs, I was worried it was going to be downhill from here.
The deadlift
I have done lots of deadlifting in training and felt confident in my ability here. I chose to go in light at 600 lbs and get the total needed for qualifying. My first attempt was for 600 and it was easy. I got three whites as expected. I was feeling good and loose, so I chose 650 for my second attempt. I set up and pulled it. It came up, caught on my gear, and stopped. I bumped it out and got three reds. (There aren't any real rules for the deadlift in Strongman so long as you get the weight up. Now this has become a habit for me.) Oops. So I called for 650 again and powdered up my legs. It came up quickly again and I felt the same thing happen but not as pronounced. I dropped it and ended up with two whites and a red.
The meet was all over in just under eight hours. I have a lot to work on to get ready for nationals. My first powerlifting total was 2038 lbs, which qualified me for nationals and also gave me an Elite total for 275 lbs. I'm very proud of this, and I'm ready do get my training together for the nationals. I'm hoping to get a total over 2200 lbs at nationals. I can't wait. I had a great time with lots of laughs. I got to meet many new people and experience the sport first hand.
I want to say thanks to Garry, Mark, Hunter, Greg, John, Mike, and Chris. They've been a very humbling group to train with. Thanks for welcoming me in and pushing me to get better. Thanks to EliteFTS for keeping me motivated with articles and training logs. Thanks to Marc Bartley and the guys at SC Barbell for helping me out and giving me a place to train on the road. Thanks to Steve at Iron Sport for everything and thanks to TEAM HVII.
Loading Comments...