Coaching Versus Training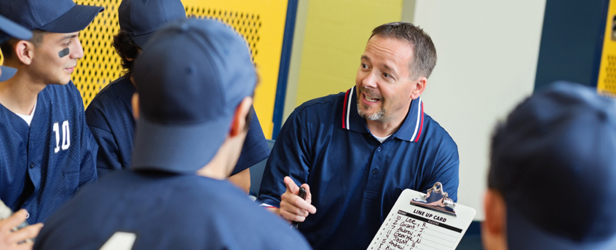 I've worked as a personal trainer and in corporate fitness for the past five years. When I went to school for my undergraduate degree, I was focused on using my exercise physiology degree to become a strength and conditioning coach. Throughout my various pursuits, I just don't understand the need for such complicated issues in relation to training and performance improvement.
During my undergraduate years, I trained, interned, and studied. The first year was brutal. I learned a ton and have no regrets. But life and schedules conflicted, so I was unable to continue with the coaching aspect. As a trainer, my skills at working with and assessing people became infinitely better. As I began to commit to training full time again, I interned with my school's strength and conditioning department for a second time.
While training a client the other afternoon, I began to wonder what exactly separates me as a trainer and a coach? Both professions focus on improvement. One focuses on individual fitness and health improvement. The other is focused on improving athletic ability and sport performance. As a coach, athletes are fun to work with. They are motivated and focused and put 110 percent into the work. As a personal trainer, you get a few clients who are always focused and up to the challenge and you get some who aren't.
But both coaches and trainers have an overwhelming collection of individuals who expect you to be the deciding factor in their ability to get in better shape. Some you can teach the effort variable to while others are just plain unmotivated and don't want to put the effort into the program. Regardless of training or coaching, there are a few things that I do for both groups. This has helped standardize my training efforts and allows my clients or athletes to understand my point of view and see the path I'm leading them toward.
Planning
As a trainer, I've been guilty of shooting from the hip in terms of developing a training session that day. In comparison, I always have two weeks of programming prepared for my athletes. After realizing the added benefits of planning for both clients and teams, I've started doing this religiously. This allows me to plan out the program from start to finish. Yes, clients aren't always going to be with me for extended periods of time, but the planning process has afforded me a good deal of repeat business because of the efforts.
Teaching technique
Whether it's a defensive lineman or a project manager, odds are their form in a lift sucks. So there is absolutely no reason to defer in teaching technique for a squat, bench, shrug, or anything for that matter. This is a key issue I have with some trainers. I've often seen a program modified to implement easier lifts instead of taking the time to teach a lift correctly. Yes, it takes time, and I understand that personal trainers get paid by the hour in relation to sessions but come on. How hard is it to incorporate some squat techniques into a warm up?
Communication
All too often, we as coaches and trainers don't tell our clients or athletes what the hell is going to happen. I'm not saying give a sermon but simply tell the group that they'll be testing in the hang clean or focusing on speed and agility. When communicating with personal training clients, I let them know the day's agenda. This provides clients with an opportunity to tell me if any issues have developed as well. I can't tell you how many clients will blindly follow a program that aggravates an injury and say nothing. Open communication channels. This makes you look a lot more professional and shows you care.
Motivation
As a coach, motivating is a given. You figure out what works for your athletes, and that's what you do to motivate them. With clients, motivation follows a similar path, but there tends to be a lot less yelling. For me, this involves talking about hot issues for them (strength, fat loss, diet) and then motivating them to adhere to the program. Typically, I build in a weekly challenge to demonstrate improvement and to help them along in relation to sticking with their regimen.
As a result of my training and coaching experiences, although limited, I focus on bringing out the best in my clients and athletes. I'm not a great athlete and have never been. I work and work and work to get stronger, leaner, or better. This attitude is reflected to my clients and athletes to show them that to get good takes some talent. To be exceptional takes talent, hard work, and dedication.

Elite Fitness Systems strives to be a recognized leader in the strength training industry by providing the highest quality strength training products and services while providing the highest level of customer service in the industry. For the best training equipment, information, and accessories, visit us at www.EliteFTS.com.
Loading Comments...