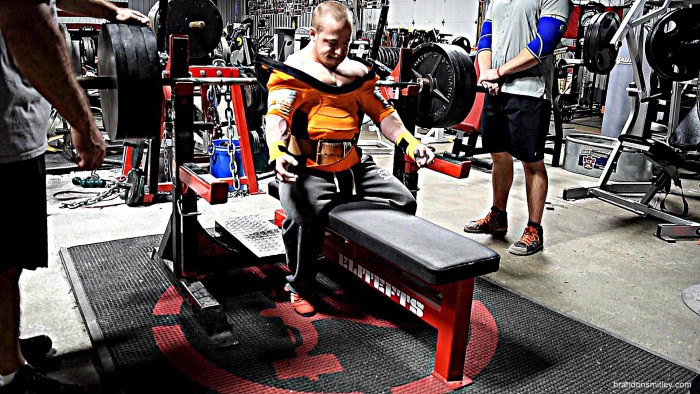 I'm currently in meet prep for the RPS Lexen Spring Fling in Columbus, Ohio on May 9th, 2015. I will be competing in my first multi-ply meet, going bench only at 148 pounds.
For programming and coaching inquires, please email SmitleyPerformanceSystems@gmail.com
---
Sunday morning I traveled over to Elitefts to get some help while I was in the bench shirt. Ted stuck around to help me, and it was well worth the drive over to get help. Ted showed me some tricks to help me make the shirt work for me, and I was able to touch with only 350! I worked up to a good weight of 410 and then shut it down there for the day. Next week I will be out of the shirt to give my body a little bit of rest before getting back into the shirt for another 3 weeks. I think I'm finally starting to realize what I need to do with the shirt to get it to work the best for me, and I'm pumped to see what I can do the next 3 weeks I'm in the shirt. I'm going to do my best to get back over to Elitefts for one of those sessions to make sure I come dialed in for the meet. I knocked out some accessory work and was off to head back home. I'm very fortunate to live close enough to drive over for a day and come back. This goes to show how important coaching and help can be to be successful, especially if you are dialing in gear.
---
[youtube=https://www.youtube.com/watch?v=XPcK7a8dDZs]
---
Warm Up
Bench Press - 50's x4x12
Mini Band Face Pulls - 100 total reps
Rolling Plank - 3x20
A1) Bench Press
50x10
100x5
140x5
190x3
230x3
250x2
280x1
300x3 (air board)- add black Metal Jack
320x3 (air board)
350x1 (touch)
380x1 (touch)
410x1 (touch)
B1) 2 Board Bench Press
320x5
340x3
C1) Decline Press Machine vs Bands
4x15
D1) Tsunami Lat Pulldown, neutral grip
5x15
E1) Cable Strap Pressdowns
5 sets, ascending weight
F1) Machine Preacher Curls
2x15
---