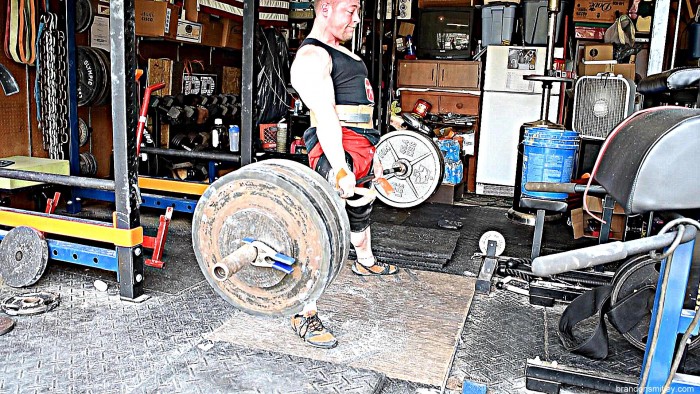 I'm currently in meet prep for the RPS Lexen Spring Fling in Columbus, Ohio on May 9th, 2015. I will be competing in my first multi-ply meet, going bench only at 148 pounds.
For programming and coaching inquires, please email SmitleyPerformanceSystems@gmail.com
---
Saturday was a deadlift day, and this was another pretty brutal day. My deadlift seems to be moving in the right direction, and attacking it from different angles with some added variety has really been paying off. Overall I was feeling pretty good this day, and the weights just seemed to be going my way. There was a minor push/pull held in town that I went to watch and help a few people out at, and it was great to see new, younger people taking an interest in powerlifting. This area is basically void of it, so to have some people I could talk iron with was a nice relief. After that was over I went to go get training in, and despite probably not eating enough coming in, I felt good and just kept pushing as my body would allow. I'm doing a much better job of listening to my body more and more as time goes on, and I think my deadlift progress as seen the best growth from that. After this bench only meet, I'm hoping I can push my deadlift a little more, but right now I know where my focus is. I should be pretty much on cruise control from here on out, so when the meet is over I know I'll be itching to get back to some heavier lower body work.
---
[youtube=https://www.youtube.com/watch?v=Yq4dir532bw]
---
Warm Up
Reverse Hyper - 290 for 42 total reps
Grip Work
A1) Fat Gripz DOH Rack Pull - 155x1
B1) Rolling Thunder - 2x5
C1) CoC #T Hold - 2 sets
A1) 3" Sumo Block Pulls
135x5
185x3
245x3
295x3
335x3
385x3
425x3
475x3
495x3
515x3
535x1
385x5
440x3
490x7
B1) Deficit (1.5") Sumo Deadlifts
385x4x2
405x2
425x2
455x1
C1) Close Stance SSB Squat (beltless)
155x10
205x10
245x10
275x10
D1) GHH/Bact Ext off GHR
3 sets of near failure + drop set on last set
E1) Tsunami Bar Straight Arm Pulldowns
2x20
E2) Standing Cable Crunches
4x15
---