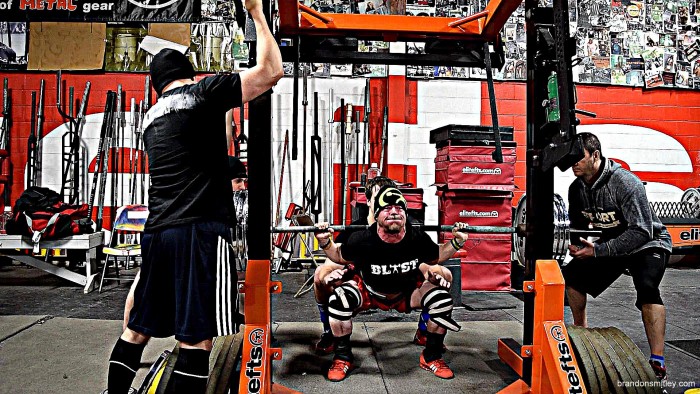 I'm currently in meet prep for the 2015 XPC Finals at the Arnold Sports Festival during the weekend of March 6-8th. I will be competing on Friday, March 6th, 2015 at 132 pounds, raw with knee wraps.
For programming and coaching inquires, please email SmitleyPerformanceSystems@gmail.com
---
Saturday morning, my training partner and I Kirk, traveled over to Elitefts to get in a big squat training session. I was looking to use a monolift to get a little more practice and go heavier and Kirk was also looking for a good atmosphere to get a big squat in.
I was probably a bit conservative with my training this day, as I certainly left some in the tank, but I hit my heaviest squat to date in training so I opted to shut it down there. I felt like I had anywhere from 30-50 pounds left in me, but my confidence was at an all-time high and I came there hitting about what I had expected. I debated in my mind whether I wanted to go heavier, but I decided the risk wasn't worth the reward. I've quickly learned that training hard is important, so is smart. I'm not trying to "blow my load" in training a month out from the meet...it's just not worth it. But I did get to handle  over 95% with incredible speed and technique, so mission accomplished. I'm going to save the rest for meet day, plain and simple.
But talking with Dave Tate, he helped me realize that I'm not letting the bar settle near long enough before going. With walking weights out I'm usually used to the weight settling after I've got it where I want it, but in a mono I wasn't, and this made the trip over worth it alone. As like anybody knows, Dave knows his shit, and he took the time out of his training session to watch me and keep an eye out for my own success. That speaks VOLUMES about Dave.
I can't thank Dave, Steve Colescott, Chuck, Jordan, and Kirk for their help all day long. It was also great to catch up with John Meadows and just hang out with everyone over a super relaxed Saturday morning/afternoon.
After training and catching up with everyone, Kirk and I hit up Hot Heads for some grub and then made our way back to Indiana. It was a very successful trip, as Kirk hit a squat PR and I got great information from Dave and got in some heavy squats myself. Next weekend I'll have some heavy pulls and bench work and then I'm pretty much wrapped up for the meet. This has been one of the most relaxed meet preps for me, but it's paid off with huge dividends.
---
[youtube=https://www.youtube.com/watch?v=VlkdvyDpP6Q]
---
Warm Up
Reverse Hyper - 250 for 50 total reps
A1) Squat
60x10
110x5
150x5
200x3
240x3
290x2
330x1
360x1
390x1
420x1
450x1 - add Metal Mystical Wraps
485x2x1 - add Krait Wraps
510x1
545x1 - add Reverse Light Bands
B1) Sumo Deadlift
135x5
185x3
225x2
275x1
315x1
365x5x1
C1) Belt Squat w/ Band Around Neck
3x15
D1) Back Attack
3x15
E1) Bulgarian Split Squat
3x20 per leg
E2) Seated Cable Crunch
5x12
---