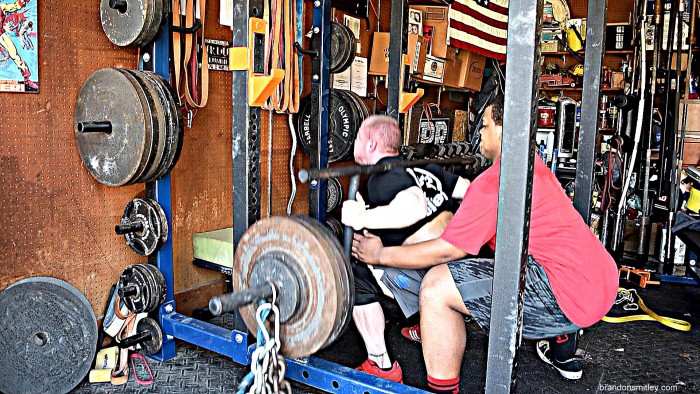 I'm currently in meet prep for the RPS Lexen Spring Fling in Columbus, Ohio on May 9th, 2015. I will be competing in my first multi-ply meet, going bench only at 148 pounds.
For programming and coaching inquires, please email SmitleyPerformanceSystems@gmail.com
---
Saturday was another great day with the cambered bar...this time against chains. I felt like I had a solid day, but just wasn't at my best. Weights felt somewhat heavy and it was just hard to get rolling. The training session as a whole was great though. I think I've made some solid improvement over the past 5 weeks, even though I've only been really trying to get things in line with the shirt. I'll take the progress though if it's going to come.
After next week, I will be limiting my lower training sessions weight wise to make sure that things are good for the meet. So essentially this was my last heavy squat day until after the bench meet. Lucky me.
---
[youtube=https://www.youtube.com/watch?v=i62eyB4TLPA]
---
Warm Up
Reverse Hyper - 290 for 42 total reps
Grip Work
A1) DOH Rack Pull, mid thigh, 5 sec hold - 305x1; 275 x max time
B1) Fat Gripz Pull Up Hang - 2 sets
C1) CoC #T Hold - 2 sets
A1) Cambered Squat Bar Squats vs Chains
65x10
65x5 - add 4 chains per side
155x5
205x3
245x3
295x3
335x3
365x3
275x5
310x3
345x4
B1) Cambered Squat Bar Squats
335x6x2 - emphasized speed!
C1) Conventional Deficit Deadlifts (1.5") (beltless)
135x5
185x8
225x8
275x8
315x8
365x8
D1) Band Good Mornings (attached)
4x25
E1) Snatch Grip Cable Shrugs
3x20
E2) Hanging Leg Raises
100 total reps
---