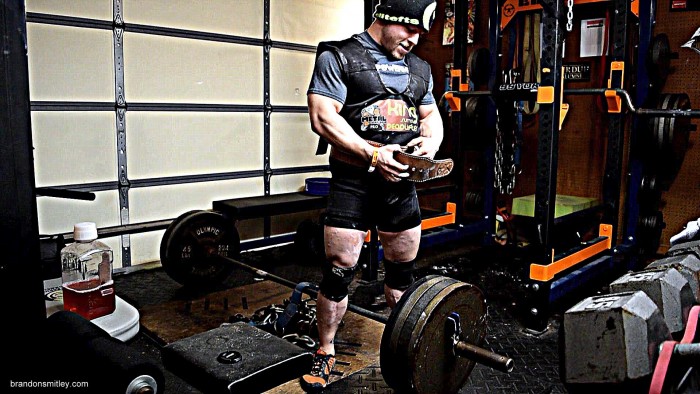 I'm currently in limbo land for about the next week until I decide what my next steps are, after competing at the XPC Finals. I'll keep up to date with what my plans are, as soon as I know.
For programming and coaching inquires, please email SmitleyPerformanceSystems@gmail.com
---
Tuesday I was back in the garage training, and I wasn't really sure what my exact plan was going in, but I knew that I wanted to train some speed work, like I normally would. I decided to throw on some loose gear that I have and just have some fun. I know most people are thinking, "You just came off a meet and you're getting into gear while squatting and pulling?!" Yes, yes I am. Like I mentioned in my previous log post, I didn't really feel like I've done a meet. For me after a meet, just finding a way to have fun is what really matters. Most people are usually wrecked after a meet, so I would recommend that just some light fluff work be done and then get out, but if you are feeling good and froggy to lift, why not? By no means was I straining or moving slow. I knew when to shut it down and felt tremendously better after the session that I had done SOMETHING. I rarely ever get in gear, and for me, it just really helped protect my hips more than anything else. I wasn't using to overload or see what I could do.
Do I have a future in gear? Maybe.
I do know that I would like to compete in gear at some point in my career, but right now that is just not feasible, so right now this is merely just for fun. I think the biggest issue many competitors have is truly finding a way to make training fun. They see it more as clock work (when going into a meet, this should be the case) rather than going with the "Blast or Dust" method. I of course want to get stronger and better, but today, I just had FUN!
---
[youtube=https://www.youtube.com/watch?v=oki2s0Hw-2U]
---
Warm Up
Reverse Hyper - 290 for 42 total reps
A1) Speed SSB Foam Box Squats vs Chains
65x10
65x5 - add 2 chains per side
65x5 - add 2 chains per side (4 total per side)
115x3
155x2
205x2
245x2 - add briefs
295x2
315x2
335x4x2
B1) Sumo Deadlifts
135x5
135x5 - add 4 chains
185x3
225x2
275x1
315x1
365x1
405x1 - add Metal Sumo King Deadlifter, straps up
C1) Band Assisted Inverse Curl
4x15
D1) DB Stiff Leg Deadlifts
3x20
E1) Standing Band Crunches
100 total reps
---