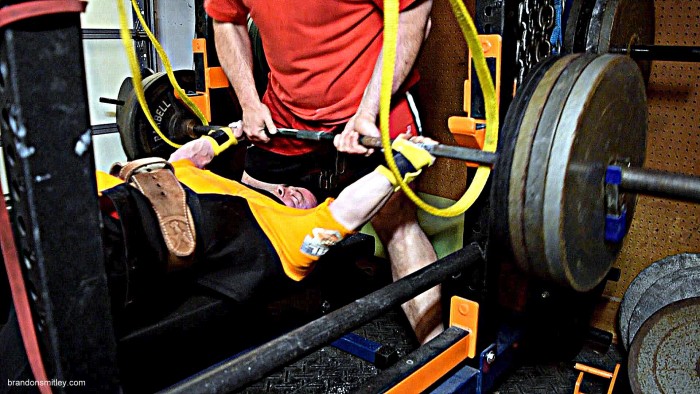 I'm currently in meet prep for the RPS Lexen Spring Fling in Columbus, Ohio on May 9th, 2015. I will be competing in my first multi-ply meet, going bench only at 148 pounds.
For programming and coaching inquires, please email SmitleyPerformanceSystems@gmail.com
---
Monday I was back in the Metal Jack bench shirt...and well, things didn't go as planned. Over the weekend I traveled up to the APF Illinois State meet to handle my training partner, Kirk, so I had to move some training around.
Things were feeling great until I got to 405 in attempts to touch with the shirt and nearly ate it to the face (thank goodness for Kyle). After that I was just having issues and decided to back the weight down and just attempt to learn the grove of the shirt more. I'm not exactly sure what all happened, but after talking to Vincent I've got some minor things I can work on. I need to keep my wrists in better line and not tuck so much to get it to touch but rather just relax and let the shirt do it's thing as I get closer to touching. I'm also going to be playing around with wetting the shirt down and see if that helps it loosen up a little bit.
Considering it had to be a late training session, I decided to shorten things up and just hit some triceps and delts and call it an evening. I'll get my required back work in during my next training session.
This whole process has already been tough and I'm beginning to realize how vital it is to keep everything so tight and perfect. However, it's filling a nice mental void for me and giving me a challenge so in that aspect I'm still having fun. The big positive from today was that nothing felt heavy and I still had a ton of strength and speed, I just got to be able to control it and keep it in the groove.
Next weekend I will be traveling to Elitefts to get some help from Ted Toalston and hoping have things more dialed in and learn what I need to do better and get coached up. I'm really lucky to have so many awesome people reach out and be willing to help me. I'm looking forward to seeing how things go next week.
---
[youtube=https://www.youtube.com/watch?v=qYngoWrXnB4]
---
Warm Up
Bench Press - 50's x4x12
Mini Band Face Pulls - 100 total reps
KB Side Bend - 3x12
A1) Bench Press
45x10
95x5
135x5
185x3
225x3
255x2
285x1
315x1 - add black Metal Catapult
345x1 (air board) - add Metal Jack
365x1 (air board)
385x1 (air board)
405xMiss (touch)
405xMiss (misgroove)
365x1 (airboard)
365x3 (airboard)
B1) Reverse Band Close Grip Bench
275x2x6 + drop set on 2nd set
C1) V Bar Cable Pressdowns
5x15
D1) Crossbody Band Pull Aparts
3x20
D2) KB Windmill Side Laterals
3x15
---