Knee Wraps: It's a Love-Hate Thing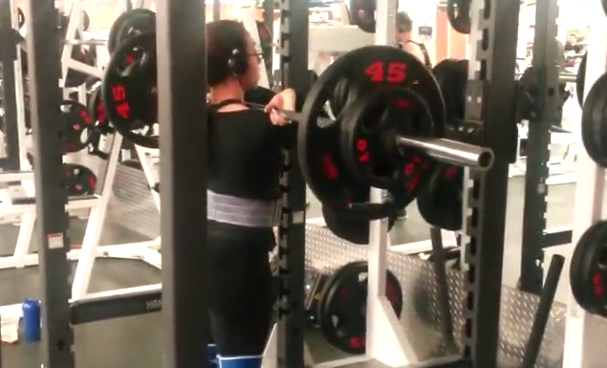 December proved to be an amazing meet for me! I hit my first 800+ lb. total, and went 9/9. My goal now is to beat my previous numbers by a 5-10% increase, and out-perform my last meet in every area. I am prepping for the XPC Finals in Columbus, OH. following the Minimalist/M2 Method by Brian Schwab. Brian has been my coach for just over a year now. The following logs are documenting my progress utilizing his training methods. 
---------------------------------------------------------------------------
Okay, so I've finally gotten around to posting on here.
Unfortunately I don't have computer-access all the time and I am still trying to figure out how to update via mobile, but I'm getting there! This post is kind of a collab of Sunday and Tuesday.
Sunday all I did was squats, as I had strained my hamstring tendon after getting a very tight wrap (which I wasn't used to). On the flip side, I've never gotten so much bounce out of a wrap before so I am trying to work my way up to being able to handle it (I'm still a huge pussy about them). I am hoping I can build a tolerance over the next few weeks leading up to the Arnold. The accessory work was all completed yesterday (Tuesday).
SQUATS:
WU: hip mobility drills, glute activation work
bar x bunch
105x5
155x3
195x2
225x1
265x1 (light self-wrap)
295x2 (medium wrap; perfecto)
305x2 (TIGHT wrap; first rep high.)
FRONT SQUATS:
bar x bunch
95x5
115x3
135x1
155x1
175x3
135x5 (x2)
NOTE: It has been several months since front squatting heavy. My strength hasn't gone down too much but  I definitely need to start adding these in again. 
KB SWINGS:
16kg x 20
18kg x 20
20kg x 20
LEG EXT:
105x12
120x10 (x2)
Finished with 20 mins. of yoga :)
Loading Comments...