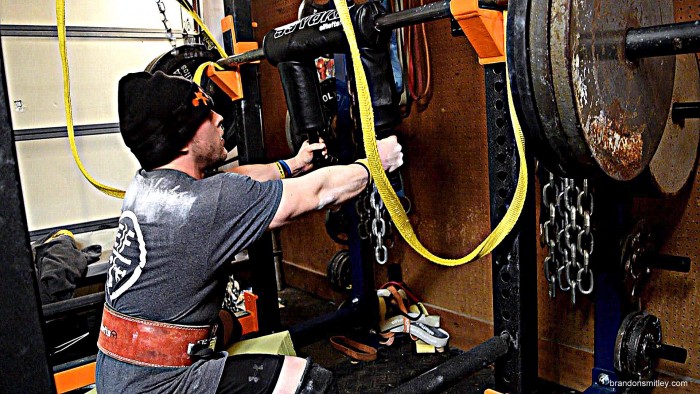 While I might not still be back to 100%, I'm healthy enough to compete bench only. Therefore, I am currently in meet prep, where I will compete at the APF/AAPF Summer Bash on July 29th, 2017. I'll be competing the 132-lb. weight class, multi-ply, where I look to bench press 500+ pounds, yet still mending my low back issues.

For programming and coaching inquires, please email SmitleyPerformanceSystems@gmail.com or visit brandonsmitley.com
---
Saturday I got in a good training session with the crew and the girl friend. I'm making continued progress on the SSB work, and I'm slowly starting to dwindle the accessory work down as I'm now four weeks out. Some rather simple work, but I'm closing in on an all-time rep PR with my SSB work. Next week I'm going to give it a go if I feel good, and then I'll really shut things down.
---
Items Used in this Training Session
SS Yoke Bar
Blast Straps
Chains
Warm Up
PRI Breathing Work - 5 min
Hip Flexor Stretch - 30 sec per leg
Leg Swings (forward and side to side) - 10 each
Single Leg RDL - 10 per leg
Bulgarian Split Squat - 10 per leg
Goblet Squat - 10
Standing Band Crunch - 15
A1) SSB Squats
65x10
115x5
155x5
205x5
235x5
260x3
295x3
335x10
B1) SSB Pause Squat
240x5x10
C1) Wtd Pistol Squat
3x10 per leg
D1) Reverse Hyper
3x20
E1) Pikes
3x20
---