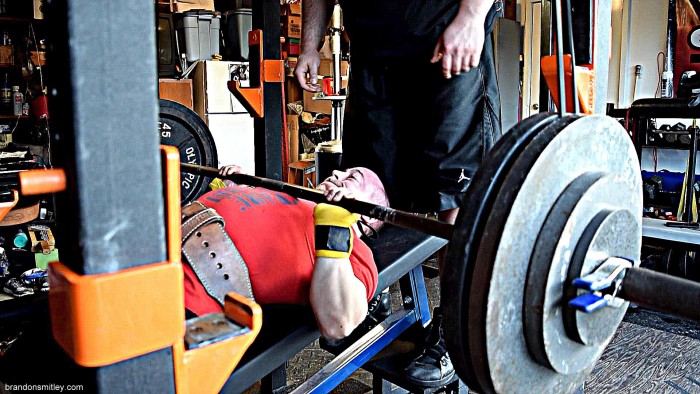 I'm currently in meet prep for the RPS Lexen Spring Fling in Columbus, Ohio on May 9th, 2015. I will be competing in my first multi-ply meet, going bench only at 148 pounds.
For programming and coaching inquires, please email SmitleyPerformanceSystems@gmail.com
---
Well I'm back to recycling through some speed work and boards. Another pretty good training session, and I threw in some reverse band incline. My triceps were smoked by the end of the session, so it was a good one. My body was appreciating being out of the shirt, as my speed work felt pretty good. I now see how people aren't in the shirt all the time...3 weeks was enough. But I'll be back in it for another 3 weeks and then it's time to see what I've got.
---
[youtube=https://www.youtube.com/watch?v=e1gnWf5NwFM]
---
Warm Up
DB Bench Press - 50's x4x12
Micro Band Pull Aparts - 100 total reps
Cable Side Bends - 3x12
A1) Speed Bench vs Chains
45x10
45x5 - add 2 chains per side
75x3
95x3
115x3
140x10x3

B1) 2 Board vs Chains
170x5
195x5
225x20
C1) Close Grip Incline Bench w/ Reverse Monster Mini's
135x10
185x6
225x6
255x6
285x5

D1) SA Cable Row
5x10-15 per arm
E1) Blast Strap Skull Crushers
4x15
E2) Mace Ball Band Side Laterals
3x15 per arm
---