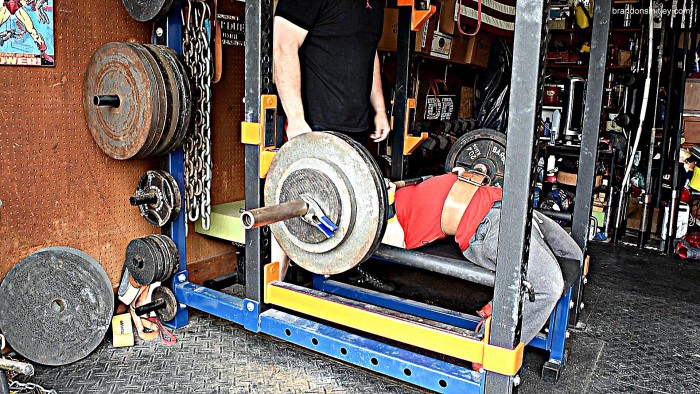 I'm currently in meet prep for the RPS Lexen Spring Fling in Columbus, Ohio on May 9th, 2015. I will be competing in my first multi-ply meet, going bench only at 148 pounds.
For programming and coaching inquires, please email SmitleyPerformanceSystems@gmail.com
---
Thursday's bench training went pretty well. After a bit of the hard week, I was still a little beat up, but it was good to get my mind off things and finally really get back to training. I'm knocking off some of my supplemental work on bench to begin to ramp up for the meet. Really feeling good at this point, and just dial things in a bit with the shirt a little more and get some numbers up on the board!
---
[youtube=https://www.youtube.com/watch?v=scs8U396Jz4]
---
Warm Up
DB Bench Press - 50's x4x12
Micro Band Pull Aparts - 100 total reps
Half Kneeling Band Lifts - 3x12 per side
A1) Speed Bench vs Chains
45x10
45x5 - add 2 chains per side
75x3
95x3
125x3
145x8x3

B1) Close Grip 1 Board vs Chains
170x5
190x3
215x10
C1) High Incline DB Bench
3x15

D1) Chest Supported Swiss Bar Row
5x10-15
E1) Straight Bar Cable Pressdowns
4x15
E2) Barbell Sleeve Rear Delt Raise
3x20 per arm
---