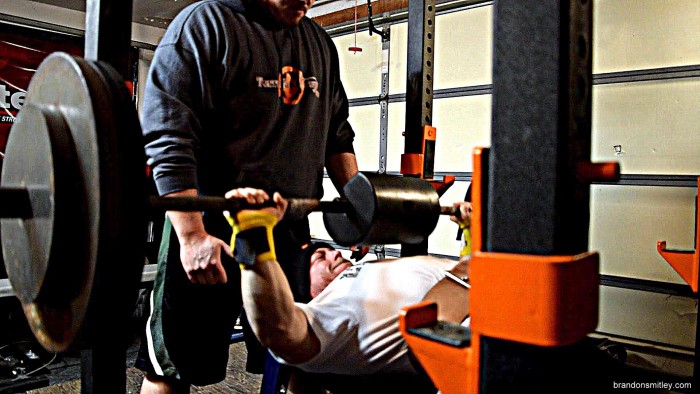 I'm currently in meet prep for the RPS Lexen Spring Fling in Columbus, Ohio on May 9th, 2015. I will be competing in my first multi-ply meet, going bench only at 148 pounds.
For programming and coaching inquires, please email SmitleyPerformanceSystems@gmail.com
---
Thursday I was back in doing some speed work and top end work for my bench. I'm sticking with a similar layout that I used going into my XPC Finals prep, and this rotation as worked very well. It lets me get in more rep work and slowly bring boards down while handling similar weights over that time. I usually would do an overhead movement after all of this, but being in a meet prep for bench only and in a new shirt, I know I need more top end tricep work so I've made that minor substitution. I will likely keep this as an incline movement as I feel that having some type of hybrid helps with my overall shoulder strength. Some fluff and buff work afterwards and we were out.
While training I had the Purdue vs Cincinnati game on, and man that had me going between sets. Sadly, Purdue's season is over (and I would have really liked to see them match up against Kentucky with our two 7 footers) but it was a good run with still a young team. Hopefully better luck next year.
---
[youtube=https://www.youtube.com/watch?v=tMp44bF4yxQ]
---
Warm Up
DB Bench Press - 50's x4x12
Micro Band Pull Aparts - 100 total reps
Band Rotations - 3x12 per side
A1) Speed Bench vs Chains
45x10
45x5 - add 2 chains per side
75x3
95x3
115x3
130x9x3

B1) Close Grip 2 Board vs Chains
155x5
180x5
205x12
C1) Slight Incline Bench w/ Shoulder Saver
185x10
225x10
275x10
D1) Horizontal Lat Pulldown, neutral grip
5x12
E1) Grenade Skull Crushers w/ Chains
3 sets of failure
E2) KB Shoulder Power Clean
3x15
E3) DB Front Raises
2x10
---