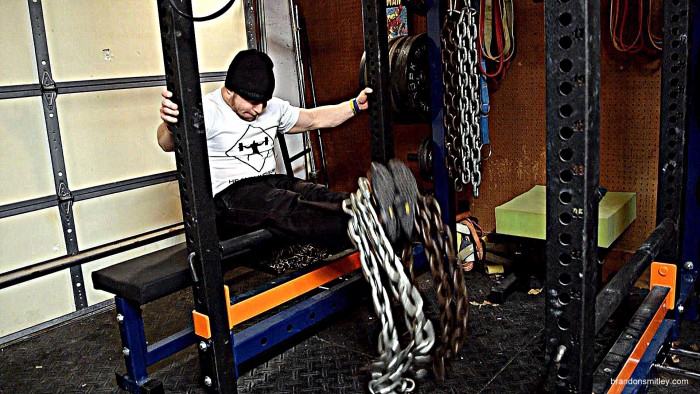 I'm currently in meet prep for the 2015 XPC Finals at the Arnold Sports Festival during the weekend of March 6-8th. I will be competing on Friday, March 6th, 2015 at 132 pounds, raw with knee wraps.
For programming and coaching inquires, please email SmitleyPerformanceSystems@gmail.com
---
Another day of some good fashioned speed work. I'm beginning to feel meet prep catch up to me as it took me a while to get my CNS primed to really get the bar moving. This is my last session to really hit any kind of volume for my lower body, so I hit everything I thought I would need before the meet as well. Things are really starting to taper off and there is only a few more sessions left until meet day. Still a good training day.
---
[youtube=https://www.youtube.com/watch?v=LPox77Nvu9U]
---
Warm Up
Reverse Hyper - 290 for 42 total reps
A1) Bufffalo Bar Speed Squat vs Average Bands
First rep paused in the hole
55x10
55x5 - add bands
105x3
125x3
145x2
165x2
195x2
215x2
245x8x2
B1) Sumo Speed Deadlifts vs Quad Mini Bands
135x5
135x5 - add bands
185x3
215x2
245x1
300x6x1
C1) GHR vs Monster Mini Band - Explosive
4x8
D1) Band Pull Throughs
3x15
E1) Chain Leg Extensions
3x20
F1) Blast Strap Fall Outs
3x20
---