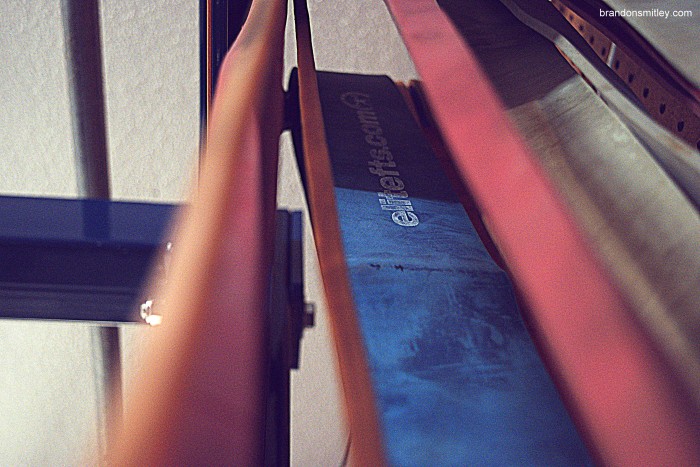 I'm currently in meet prep for the RPS Lexen Spring Fling in Columbus, Ohio on May 9th, 2015. I will be competing in my first multi-ply meet, going bench only at 148 pounds.
For programming and coaching inquires, please email SmitleyPerformanceSystems@gmail.com
---
Wednesday I got in my lower speed and rep work. I usually train on Tuesday's, but I got some new ink on Tuesday so I decided to push my session back a day to allow for some healing before pushing it. It turns out that was probably a good call.
I'm back to running my grip work, but I'm going to be doing this at the beginning of my lower sessions. I'm doing this because my hands take a beating from the equipped benching, so hitting it at the beginning of lower work is the most optimal at this point. And like I mentioned in a previous log, I'm pulling heavy with straps and training my grip independently so this works out well anyways, as I don't need my grip for my heavier or rep pulls. I appears my grip has already improved, probably from just having a break, as I tied my PR to kick off the "grip cycle". This is a great sign that as I retest it in about 8-10 weeks it should be up.

The rest of training was smooth and I even hit a rep PR on my deadlifts vs chains. My best is 450 with this set up and I hit 90% of that for 6, so things are moving in the right direction in terms of lockout and my sticking point. I had to modify my back work a bit because of the tattoo as well, but overall a much better session than my near decapitating bench session on Monday.
---
[youtube=https://www.youtube.com/watch?v=HOJXbcthzow]
---
Warm Up
Reverse Hyper - 290 for 42 total reps
Grip Work
A1) DOH Pin Pull - 320x1 (ties PR); 285x5x1 (cluster singles)
I'm doing the cluster singles as my hardest part is keeping my fingers from rolling on the pick
B1) SA Fat Grip Pull Up Hang - 1 set per arm
C1) CoC #T - 1 set of max hold per hand
A1) SSB Speed Squats vs Chains
*First rep paused in hole*
65x10
65x5 - add 3 chains per side
115x3
135x2
155x2
175x2
205x8x2
B1) Speed Deadlifts vs Chains
135x5
135x5 - add 6 chains
185x3
225x2
275x7x1 - 3 conventional, 4 sumo
315x3
365x3
405x6 (straps)
C1) SL RDL
3x12 per leg
D1) Wtd GHH/Back Ext off GHR
3x15
E1) Straight Arm Lat Pulldowns
4x20
E2) Buzz Saw Planks
3 sets
---