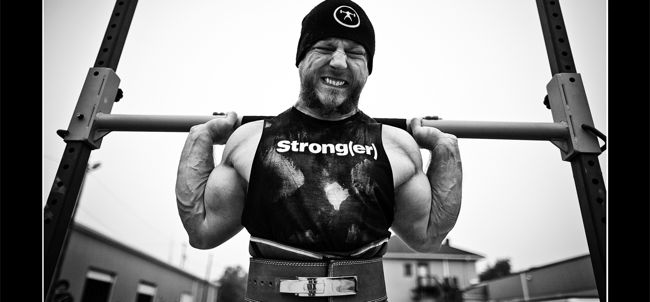 Sat, 21 Mar 15
Today was a pretty easy training day aside from the sandbag, which is fine because the sandbag clean and press was the one thing I wanted to put in some good work on.  Besides that, I helped out my radical powerlifting amigo, Mike Hedlesky, with training for his first real strongman competition at the end of the month.  Mike is strong as a mortarforker, but just needed a couple words of wisdom from me regarding execution of the events in his competition.  Such gems as "keep the bag off your legs" and "it works better if you move faster" got him looking good on everything.
Sandbag Clean & Press (clean each rep)
5x50
5x100
5x150
5x174 - PR weight for a set of 5 on this event
Sandbag Carry
100'x250 - I did this mostly as a demonstration and it was insanely easy, but that was not enough to make me want to actually do a run to failure.
Yoke
100'x250
50'x450
50'x540
50'x650
I haven't done yoke walks in too long and they felt easy, but slow, just as I expected.  I have wanted to do them a couple of times during my current training block, but time or weather or other circumstances keep making my push it to the back burner since I don't have yoke in my upcoming comp in two weeks.
Stone Over Bar (54")
2x200
2x240
1x280
2x3x300
Another event I have been neglecting, though I still felt pretty good on this.  The main problem I had was that no one has touched the 300 lb stone in a few months so it was dusty which then made it slippery which is of course one of the mot annoying experiences in strongman.
Prowler Hi/Lo
6x{50'xprowler+90 high handles/50'xprowler+90 low handles} - Flying solo like Han on these today