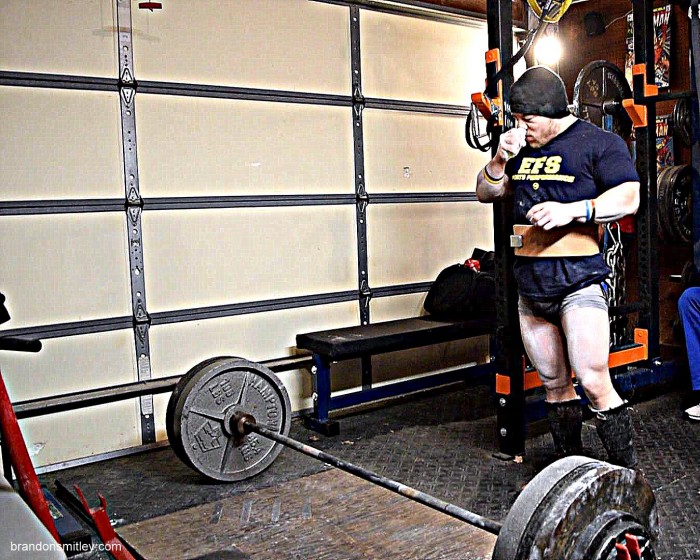 I'm currently in meet prep for the 2015 XPC Finals at the Arnold Sports Festival during the weekend of March 6-8th. I will be competing on Friday, March 6th, 2015 at 132 pounds, raw with knee wraps.
For programming and coaching inquires, please email SmitleyPerformanceSystems@gmail.com
---
Saturday I got in my biggest deadlift session before the meet. I went basically all out, and I managed to hit an all-time PR pull!
I was trying to decide how much I wanted to push it and that I'd determine how much based upon how the others felt. I was feeling good so I made the jump to take 525. My grip almost went, but I've got about another week to hammer that, and with a good deload my hands should be feeling much better. They've been taking a beating all prep, so I'm confident in where things can go come meet day.
I'm inching in on some big goals I've had, and to see some progress with my deadlift is great. It's the lift I hate the most (hands down), but I've slowly gotten better at it, and I've got to just keep my head down and keep working. At this point, there isn't really much else I can do, but hammer good accessory work. But it's relieving to see this finally start to come along. My stocky build isn't the best for pulling, but I've managed to make a ton of changes over the past two years, so I'm pleased with it.
You could say Valentine's Day was a success.
---
[youtube=https://www.youtube.com/watch?v=s-P_yehYq6w]
---
Warm Up
Reverse Hyper - 290 for 42 total reps
A1) Squat
55x10
105x5
145x5
195x3
235x3
285x2
325x1
345x1
375x5x1
B1) Sumo Deadlift
135x5
185x3
245x2
295x1
335x1
385x1
435x1
475x2x1
505x1
525x1
475x1 - add 3 mats and 8 chains
495x1
C1) Reverse Lunges
4x12 per leg
D1) Sit Ups off GHR vs Band
4 sets of near failure
---