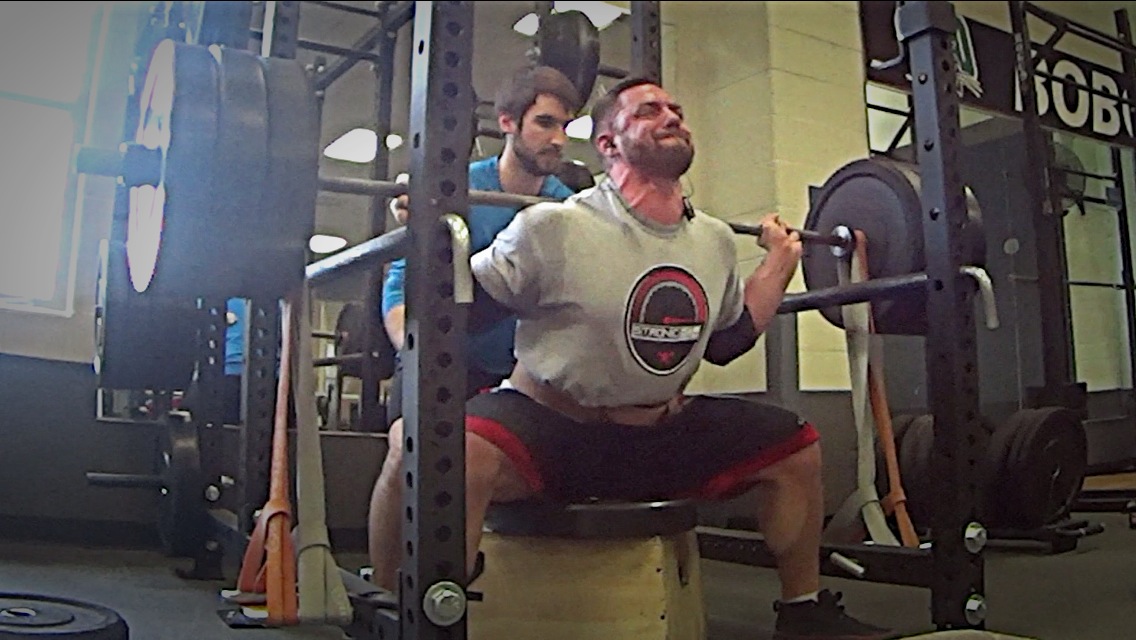 This weekend I trained at the University (my work) - I try to be as creative as I can there since at this point we only have bumper plates on the squat racks (something I plan to change soon), so you can't put more than 450 on the bar. Because of this, I try to find ways to use band tension as much as I can. This works out fine because it forces me to keep the bar weight lighter on the days I'm not training at the elitefts compound. This day worked up to a triple vs. average bands (~200 something at the top), then dropped the box height lower and added light bands (another ~100 something). There are specific band tensions posted on the band pages in the elitefts store, but it always varies depending on how long you've had the bands, etc. I tried to really focus on arching my mid-back and pulling my shoulder blades down as I squeezed my lats. It is slowly improving but I still need to do a better job of driving back into the bar and staying upright. The first reps were pretty good, but then as I did the second and third rep I could see that I let myself get forward slightly. Just gotta keep focusing on it with each rep. 
Primary Lower @ Ohio University:
A1. Standing Leg Curls on Leg Extension Machine - 4x15
A2. Leg Press - 4x15 with really focusing on opening up the hips and pausing with each rep at the bottom.
B. Squats vs. Average Bands
[youtube=https://www.youtube.com/watch?v=8cM1oWqyb-w]
225x5x2
Add Metal Ace Briefs
315x5
405x3x2
Add Light Bands, Drop Box Height
315x3x5
C. SS Yoke Bar Good Mornings - 4x10 w/ 175lbs
D. Ab Wheel - 4x12
More from Joe Schillero: