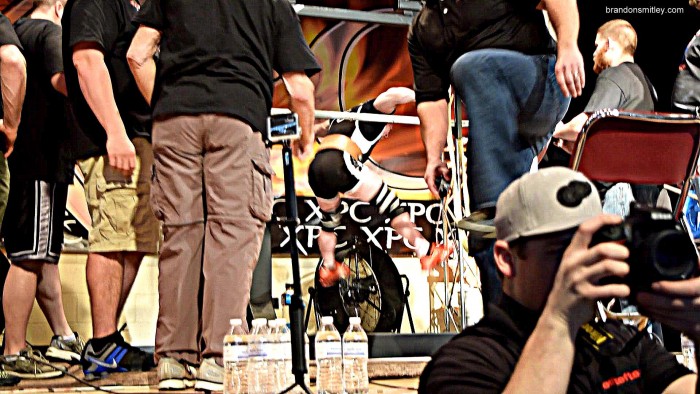 ---
If you've been following my log for any length of time recently, I've been preparing for the XPC Finals. This meet originally was not on my radar after my RPS Lexen Xtreme Fall Classic in October, but after some long hard thought, I decided to commit and go put my efforts into one of the biggest meets of the year.
I elected to compete at the XPC Finals due to the competition, location, prize money, and the shear fact that I would be competing at the Arnold. I mean who wouldn't want to do that?
Going in for prep, I had a small six week off season in which I worked on my weaknesses from October, but also changed my programming for the amount of time. I will have more on this program later, but I am currently testing it with some online clients and the results are backing my own results. After the minor stint of off season work, I realized that  I could probably make some PR's as I barely missed totaling 1350 on some grip issues. I made my grip an emphasis as well as my triceps and low back. I ran JL's Grip Program, added in extra board work, and was hitting over 22,000 pounds of volume on the reverse hyper per week before ever squatting or deadlifting.
As for the prep itself, I never missed a lift. I wasn't even close. I did hit a bench and deadlift PR in training, and hit a training PR for squat (but would not have been a meet PR). I was methodical in my program design and everything had a purpose. While it was similar to my prep for the Fall Classic, I had some minor changes to help address the issues I had. As for my nutrition, it was on point the whole prep. I ate like a bodybuilder with smart food choices and had some proper refeed like carb nights to get me into the harder sessions ready to handle to work I needed. I even added in highly branched cyclic dextrin half way through my prep to aid in recovery and let me continue to train hard after such heavy attempts. I'll be keeping this around moving forward, as I felt from session to session I could just put more energy into my big lifts and still hammer accessory work with intent.
Now for the actual meet...
Wednesday: My cut was on point and by this time I was a few pounds over. On the drive over to Ohio I sweated out some weight and was barely over when arriving to teammate Alycia Israel's place. We caught up and watched some TV while I chewed some Sourpatch gum, and then I attempted to get some sleep. Like usual, it didn't really happen. I never sleep well when I'm close to making weight. I think it's just because I'm so thirsty and hungry and wanting to go weigh in that I want to be up early enough to get off whatever I have left.
Thursday: I "woke up" early in the morning to check weight and was still about a pound over. I went to the local Life Time Fitness and hit the sauna to get the rest of the weight off, then hit the meet site to weigh in. I barely made it, but I was good and put in my openers. I saw Sheri, Ken, Christine, and Matt and we went to breakfast after I had downed my glycerin concoction to help with immediate re-hydration.  We hit up the Waffle House and had some good laughs and learning from about our training going into the meet. We then went our separate ways for the day.
I then headed over to The Spot Athletics to catch up with JL and his staff. It was great to see all them, and then Yessica and Alex came by to train. I chatted with them for a bit, then headed to Elitefts to hang out with the staff. I booked my hotel in London so this was just time to kill until my room was ready. As always, I love talking with Mark Watts and learning from his vast array of knowledge and witty mind. We also had some great laughs with Sheena and her "eggs and tuna", while picking on Jordan and Chuck. It's also cool to see Josh do his thing on the video editor...kid has mad skillz. I then headed out to go get more grub at Hot Heads, and back to the hotel to get an Epsom Salt bath and nap.
After my nap, I headed over to Bob Evans for some dinner and just personal time to reflect on my training and goals for the up coming day. Things were feeling great, and after taking the time to talk to the waitress and chill out, I went back to the hotel for more food and drink and a good nights rest. The next morning was business.
Friday: I woke up early in the morning to hit breakfast at the hotel with plenty of carbs and some healthy fats, then was on my way to pick up Mario D'Amico and Joseph Tanner, my handlers for the day. We arrived to the meet site plenty early and just set up camp in the warm up room discussing the game plan and looking at the flights while getting rack heights. Once the rules meeting got going, lifting started a little after 8:30, beginning with the strong women. Once they got going, I started warming up and getting under the bar.
Squat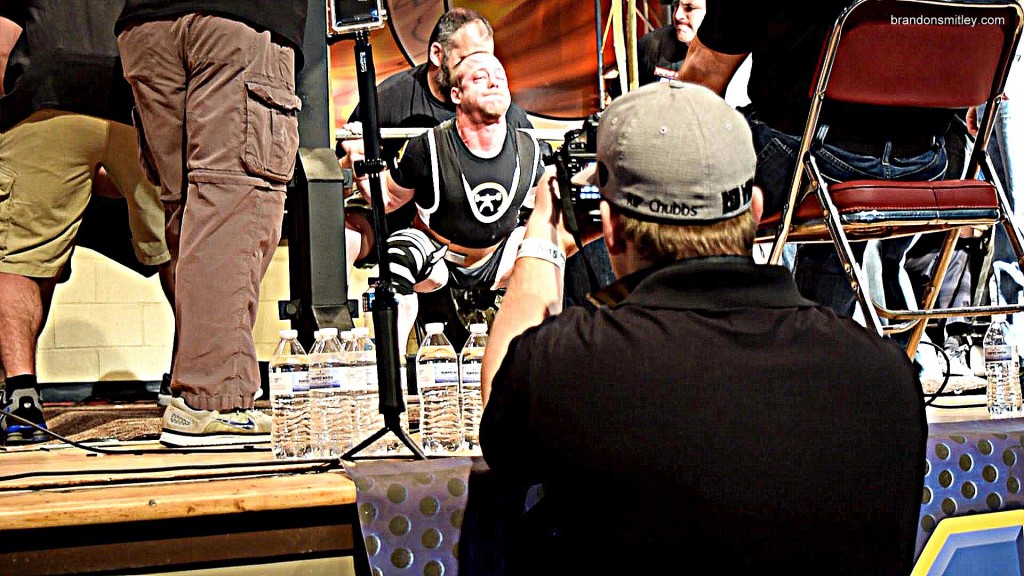 Warm Ups
65x2x5
155x3
205x3
245x2
295x1
335x1
395x1
445x1 - add Metal Mystical Knee Wraps
Opener - 485, Good
I knew coming in that this would be a strict meet, so I opened pretty light compared to what I thought I could hit. I was on the board and in a good position from the get go as a few people were already getting called for depth or missing. Nice and easy.
Second - 510, Good
I decided to stick with my plan and go with this as a safe second. I knew if I hit all my planned second attempts I would get a small PR total, so I stuck with the plan and crushed this as well.
Third - 535, Good
Talking with Mario, we decided to make another nice even jump for a 10 pound PR attempt. The way 525 moved at my last meet and the way 510 moved today, we knew this would go up if I kept everything locked in and drove my head up out of the hole hard. Dave Tate also talked with me and told me I needed to let the bar settle more again, so I did that, and this came up just as easy as 510.
Fourth - 565, Good
I knew coming in what the world record squat was. It wasn't on my to-do list, but from my training partners telling me that they thought I was good for it a month ago, I really started to believe it. So I told myself if I went 3/3 and I truly thought there was ample left in the tank I'd go for it. I consulted with Mario and Joseph and we decided to bust out my new Elitefts Krait Wraps and give it a go. Mario got in my head, cranked the wraps on, and I shoved my nose in the Tork. I set it up, let the bar settle, and thought "Don't fucking give up on it when it gets hard, it's a World Record for a fucking reason." I went down strong, and drove my head up into the bar with everything I freaking had. When I was done, I heard the crowd go nuts upon seeing the white lights. Holy shit, I just hit a World Record. I jumped like a kangaroo and went immediately to Mario for a big hug, and then Dave (who looked at me like, "Jump on me and you'll force me to get another new hip" but shook my hand and said congrats).
Bench Press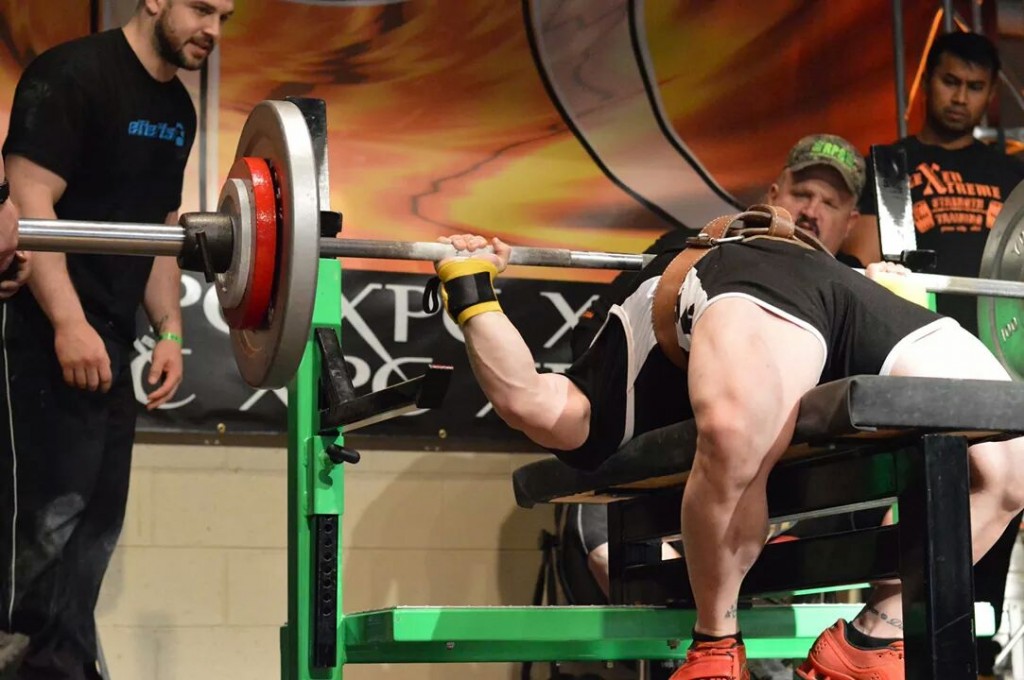 Warm Ups
50x2x10
100x5
140x3
190x2
230x1
250x1
270x1
Opener - 290, Good
Bench warm ups were good after getting some more fluid and some minor snacks in me. I was also sipping my highly branched cyclic dextrin the whole meet at this point. I knew it was going to be a fast meet, and I wanted to keep my energy level high and have a slow dump of glycogen all day. I set this as an easy opener to again get on the board and then set me up to make adjustments as I needed on the following attempts.
Second - 310, Good
I again stuck with my planned second attempt. I was right there with Jonathan battling for the lead, so I went with this lift to be safe and put some pressure on him to make him get his second and keep up. I did misgroove this by touching a bit high, but I still was able to squeeze it out.
Third - 320, Good
I again consulted with Mario about my final attempt. We decided to get every pound we could going into deadlifts, and went with a safe 320. I felt very confident I'd get this for a 5 pound PR. I thought I had 325 in me, but again, I played in smart and wanted to put more pressure on Jonathan to make his next lift. The 320 was tough, but it was a good clean lift and a smart choice, 325 would have been close. I'll come back for 325 for another day.
Deadlift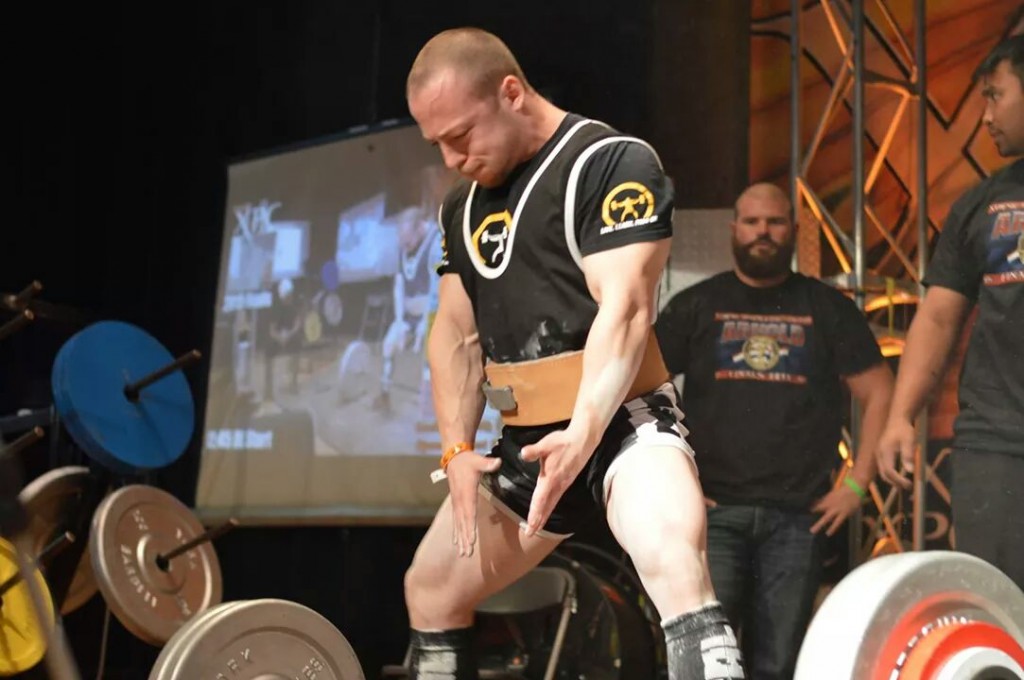 Warm Ups
135x2x5
225x3
275x2
315x1
365x1
405x1
435x1
Opener - 475, Good
I stuck with my planned opener as this was going to give me a 1325 total, a 5 pound PR. It flew off the floor and was a good easy lift. However, after this, I noticed my hands were bloated. I knew last meet I had missed my last final two deadlift due to grip, but I had fixed that. But I also did not account for my hands being bloated.
Second - 505, Good
Once more, I stuck with my planned second. Jonathan missed his opener and I was in a good seat. I made the jump to 505 for a 4 pound PR attempt, and managed to pull it and hold on. I knew I was in a great position for the win as Jonathan bumped his second to keep up. But at this point I figured I was too far in front for him to catch me.
Third - 520, Miss
Knowing that Jonathan missed his second, and needed his third to stay in the meet, I knew I had the win secured at this point. I just went out to have to fun and push myself a bit on this attempt. I managed to get it to break the floor and get past my knees, but my bloated hands just started to open up and it just got away from me. It sucked to be that close to getting a perfect meet, but it was a good choice and will fall the next time I hit the platform.
[youtube=https://www.youtube.com/watch?v=gJXNpRwAurs]
Wrap Up
At the end of the day I managed to hit a 40 pound squat PR, 5 pound bench PR, 4 pound deadlift PR, and a 40 pound meet PR, with a world record squat to my credit. I also walked away with best lifter and overall winner. I couldn't be more pleased with my performance. Jonathan managed to come back and pull his third deadlift, which was awesome after passing out on his second! There was great competition all day long, and I met some incredible lifters and made some great relationships. Danny did an excellent job putting on the meet, as it was smooth and fast all day long with very strict, fair judging.
[youtube=https://www.youtube.com/watch?v=X9zcKc5omMI]
I want to give a huge thank you to Dave and Traci Tate! They came out to support me and the rest of the team, and Dave was right there for nearly every attempt of mine, and offering advice including "Don't fucking bomb" while waiting to take my opening bench (after hitting the world record squat). These two have believed in me and I would not be the lifter I am without them. Thank you so much Dave and Traci!!
I also want to thank my handlers Mario and Joe. You guys went above and beyond to make this meet damn near perfect for me. You are every bit a part of this world record as I am, and I'm glad you two were there to help me obtain it, along with the PR's and win. You're two kick ass people.
Continued thanks goes to my training partners; Kyle, Kirk, and Trey. You guys were honest with my training, kept me on track, and set me up for success all 10 weeks of meet prep. This day wouldn't be capable if it wasn't for your support, help, and accountability.
I would also like to thank my loving girlfriend, Joani, for understanding the sacrifices I make to do what I love as a hobby. It takes a very special, and understanding person to that. You'll always be my biggest fan, and thank you for always pushing me to go that extra step (smarter food, training, more rest, and patience).
Thanks to my family and friends who also sent me well wishes all week long and called to show your support and love.
Thank you Mark Glazier for the best supplements and fueling me through some of the hardest training and letting me be able to perform at my best.
And last but not least, thank you to my team Elitefts teammates and supporters. I appreciate all your kind words and love, and all that you have taught me and continue to show me the ropes. This is an ever learning journey, and without you I couldn't be the person I am.
---
For programming and coaching inquires, please email SmitleyPerformanceSystems@gmail.com