2 APPROACHES, 1 GOAL...A BIGGER DEADLIFT!!!!! (TRAINING VIDEO INCLUDED)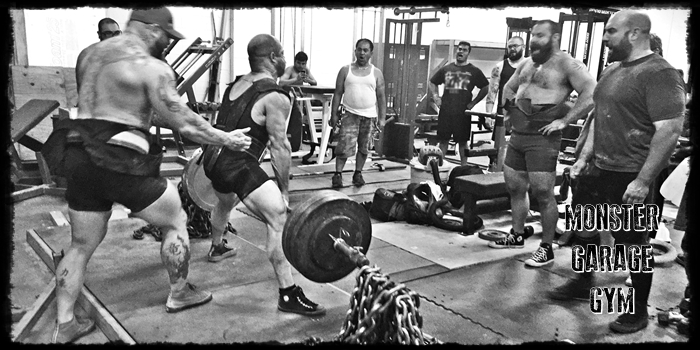 Monster Garage Gym/Maroscher Coaching Log: By MGG owner, 2-Time WPC World Powerlifting Champion, Eric Maroscher. (Log number XXXVI).
________________________________________
The MONSTER GARAGE GYM has had its fourth expansion since 2006-2007. On Saturday, August 1st, the team all pitched in and helped move 85,000LBS of weights and equipment from MGG 3.0 to MGG 4.0 giving us the much needed training space as the team continues to grow and our equipment continues to multiply. The next day after the move, Sunday, with pallets still piled high with plates, dumbbells and the like, the team continued training, unpacking, training, moving things around, training, etc. This Coaching Log takes place on our fourth day at MGG 4.0. Some 28 powerlifters in total trained on Wednesday and we had four deadlift areas going at once as Wednesday is one of the two deadlift days at the MONSTER GARAGE GYM. While we trained the process of bolting some of our EliteFTS power racks and EliteFTS deluxe benches was being done by MGG's, Dr. Al. So, please pardon our mess as we unpack and begin to Monsterize our new digs. Ever Onward, Eric Maroscher: Owner, Monster Garage Gym.
________________________________________
This log features a contrast for you to note. A contrast between a RAW max effort day and an equipped day utilizing 60% bar weight and adding chains each set until failure. Two very different training approaches to the same end goal….pulling more!!! This log features AAPF National Junior RAW Powerlifting Champion, Justin Norman. Justin currently owns the squat, bench press, deadlift and total AAPF RAW National powerlifting records in the Junior 125KG class. This log also features Mike Strom who is coming off of his 2nd APF Senior Nationals win (1962LBS at 181LBS) and is in the Top 50 ALL TIME list of American benchers in two weight categories.

________________________________________
Mike's Log:
"We basically did our warm-ups, then worked roughly up to 60% bar weight and just kept adding chain and pulling singles. I ended up with 11 pairs of chains with one set being the extra heavy set so approximately 500LBS of chain weight in total added on to the weight on the bar."
Justin's Log:
"A couple of times this summer I had a heat stroke as I work outside. So today was my first day getting to go a little heavier. I did my normal warm-up to 5 plates then went 585LBS x 1 and 635LBS x 2 then a max effort 675LBS triple, all were RAW sets. My back was too stiff to go on from there so I moved to accessories."
________________________________________
*The training footage in this video (filmed in HD, let load to 720 or 1080 for HD quality).
The Monster Garage Gym has received many requests for our shirts, we have made them available for you at: http://shop.monstergaragegym.com/
We hope you find this coaching log as a whole of use to you in your training. Please let us know by your comment(s) if these logs are useful to you and what we can do to make the better. If you like them, we would appreciate it if you would share them.
As always, thank you for following the Monster Garage Gym/Maroscher coaching log. We hope you found this log and our other prior logs of benefit to you. Ever Onward, Eric Maroscher.
________________________________________
MONSTER GARAGE GYM and Monsterette shirts available at: http://shop.monstergaragegym.com/
________________________________________
Monster Garage Gym/Maroscher coaching log by:
Eric Maroscher, 2-Time WPC World Powerlifting Champion, Columnist, EliteFTS, Team EliteFTS Member, Owner, Monster Garage Gym.
You can follow Monster Garage Gym at:
https://www.facebook.com/pages/MONSTER-GARAGE-GYM/122378057784944
https://twitter.com/MonsterGarageGy
http://instagram.com/monstergaragegym
https://www.youtube.com/user/MPTPowerlifting
http://www.monstergaragegym.com/
http://shop.monstergaragegym.com/
Loading Comments...