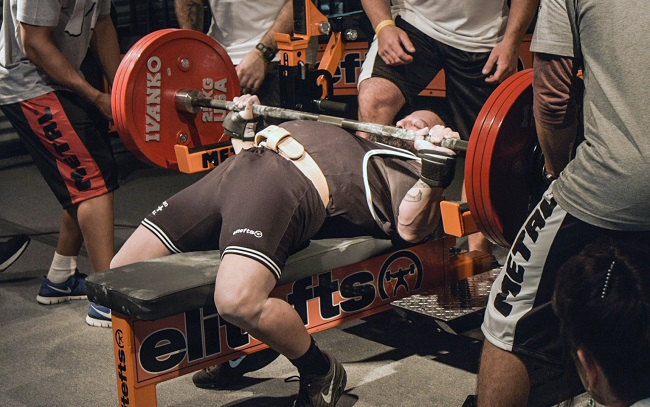 I have been competitively powerlifting for over 20 years. Within that time I have competed raw, single ply and multi ply. I hold the highest all time total of 1930 at 148, the third highest total of 2045 at 165 and have broken over 35 world records, over 25 of which I still hold. Through the years in this sport I have learned a great deal from various training methods, met and formed long lasting friends, as well as learned the importance of balancing life, work, and training.
Elitefts accepted me as a team member over ten years ago and I am currently the longest standing still competing powerlifter on the site. I appreciate Dave Tate and Elitefts for giving me the opportunity to learn from and teach others through the Q&A and my training log.
In 2005 I opened Orlando Barbell – a 24 hour powerlifting friendly gym. As well as running Orlando Barbell I designed and sell the Home GHR and Doorway Home Gym, wrote the 12 Weeks to a Bigger Bench EBook, and produced the 12Weeks to a Bigger Bench DVD.
My latest contribution was writing the M2 Method EBook, designed to be the quintessential Raw Powerlifting training manual for beginners to advanced lifters looking to get stronger and prevent injury while incorporating the powerlifts.
I plan to compete in the APF Single Ply Nationals or the Olympia single ply meet next.
Standard warm up:
5 mins. Treadmill
Prehab
PVC rolled on:
Lower back, shifted to right and left
Upper back, shifted to right and left scapula w/hips up
Armpits
Hamstrings
Glutes
Adductors
Decline Bench-
95x5
135x5
185x3
225x3
225+40 lbs of chains x3
225+80 lbs of chains x1, I should have done 2
Swiss Bar 3 Board Press-
135x8
185x8
205x8
225x8
Incline DB Tricep Presses-
45x8
55x8
65x8
Bottoms up KB Presses-
25x8x3
These are surprisingly challenging due to the stability required.
Thank you to Frye for the spots and Tyler "Cupcake" Weaver for being such a consistent training partner.
Although my digestive issues continue, along with the frustration involved in trying to find a solution, I need to find a meet to compete in so that I can stay motivated. A lot of the Orlando Barbell team will be competing in both the USPA meet at the Europa here in Orlando on May 1st and the RPS Redemption meet in Fort Myers on May 30th, but they'll need help with coaching and handling, plus I don't think that's enough time for me to be ready. The next option would be the APF equipped Single and Multi-ply Nationals June 27-28th in Salt Lake City, Utah. So that's the plan for now. I'm going to try to recruit my training partners Jeff Sevor, Stephen Harper, Tyler Weaver and possibly Tom Walyus to compete there as well.
The Affordable and Effective Floor Based Home GHR
Buy your own Doorway Home Gym and never miss out on your accessory work again
12 Weeks to a Bigger Bench EBook
12 Weeks to a Bigger Bench DVD
Please contact me directly at lightweightpower@aol.com for customized programming.