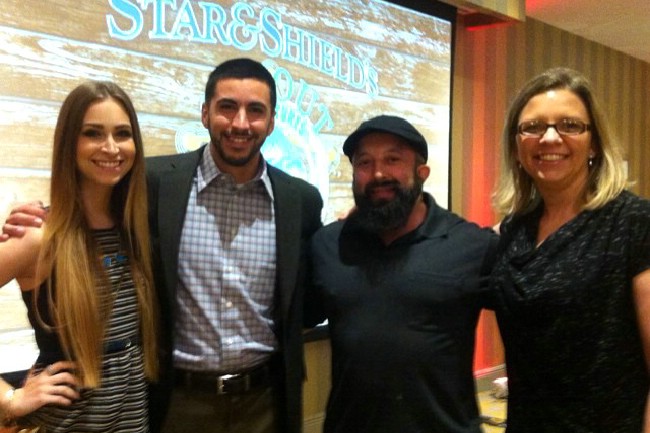 I have been competitively powerlifting for over 20 years. Within that time I have competed raw, single ply and multi ply. I hold the highest all time total of 1930 at 148, the third highest total of 2045 at 165 and have broken over 35 world records, over 25 of which I still hold. Through the years in this sport I have learned a great deal from various training methods, met and formed long lasting friends, as well as learned the importance of balancing life, work, and training.
Elitefts accepted me as a team member over ten years ago and I am currently the longest standing still competing powerlifter on the site. I appreciate Dave Tate and Elitefts for giving me the opportunity to learn from and teach others through the Q&A and my training log.
In 2005 I opened Orlando Barbell – a 24 hour powerlifting friendly gym. As well as running Orlando Barbell I designed and sell the Home GHR and Doorway Home Gym, wrote the 12 Weeks to a Bigger Bench EBook, and produced the 12Weeks to a Bigger Bench DVD.
My latest contribution was writing the M2 Method EBook, designed to be the quintessential Raw Powerlifting training manual for beginners to advanced lifters looking to get stronger and prevent injury while incorporating the powerlifts.
I'm currently in off season training and plan to compete in the Olympia single ply meet next.
Standard warm up:
5 mins. Treadmill
Prehab
PVC rolled on:
Lower back, shifted to right and left
Upper back, shifted to right and left scapula w/hips up
Armpits
Hamstrings
Glutes
Adductors
Mid Grip Cable Rows-
135x12
150x12
165x12
Cable Face Pulls w/Spud Straps-
90x12
105x12
120x10
I attempted to do some hammer curls but it wasn't happening due to the tendonitis that's been aggravating my left elbow/forearm. Interestingly, it felt better than it has in a long time after today's training. There's a fine line between letting minor injuries rest and doing enough to increase bloodflow to promote healing.
Single Cybex Bicep Curls-
30x12
40x12
50x12
Grip Work with Gripper-
25x12
50x12x2
My training partner and good friend, Tyler Marino, who directed Behind the Iron, the powerlifting documentary focused on Orlando Barbell, had the premier party for his first television series last night. Star and Shield's Copout Adventures, which Tyler produced and edited through his company Nebula Productions, LLC, will air on Destination America at 5am on April 4th. Set your DVRs to record to see them giving back to those who sacrificed to protect and serve our communities.
Here's the trailer:
[youtube= https://www.youtube.com/watch?v=3_3gZ3KCDSY]
Look for big things to continue from this kid. Tyler is extremely talented and has a great future.
The Affordable and Effective Floor Based Home GHR
Buy your own Doorway Home Gym and never miss out on your accessory work again
12 Weeks to a Bigger Bench EBook
12 Weeks to a Bigger Bench DVD
Please contact me directly at lightweightpower@aol.com for customized programming.