CATAPULT work for pre-shirted warm-ups: VIDEO Included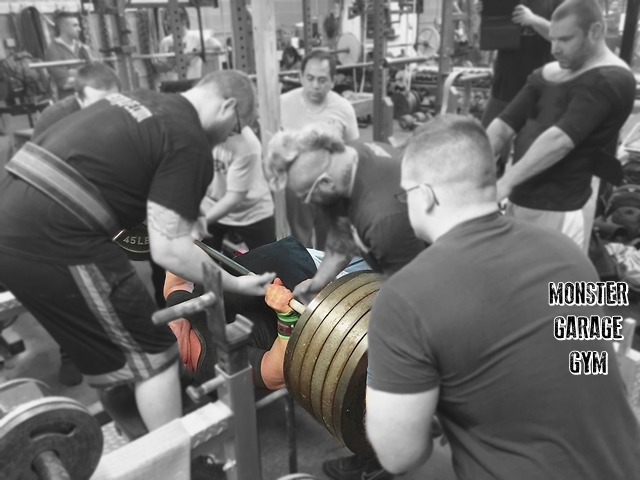 COACHING LOG:
This installment of the Monster Garage Gym/Maroscher Coaching Log covers Catapult work for pre-shirt work warm-ups.
The point of this particular log is to demonstrate one of the highly effective methods to warm-up for a great shirted training day, but not expend all of your energy in the process of warming up for the shirt.  In this video and log, you will see Steve's work to prep him for his shirt, in addition to walking you through his training on this day.
Currently Steve is in the early weeks of training for the APF Senior Nationals.
*Filmed in HD. Load to 720 or 1080 for HD.
Steve (WPC World Powerlifting Champion) presses in the mid-700's in a shirt and is a 308LBer. He warms up with several RAW sets, then puts on his Metal Catapult. What Steve has learned is that the Catapult, after his initial warm-ups, helps him feel and lift the heavy weight (so the weight is not too big of a jump once the shirt goes on) but without having to use up all his energy lifting the heavy weight for the feel. The Catapult helps him with that.
Below you will find Steve's workout and accompanying video (above) of some of his working sets. Ever Onward, Eric Maroscher/Owner: Monster Garage Gym.
________________________________________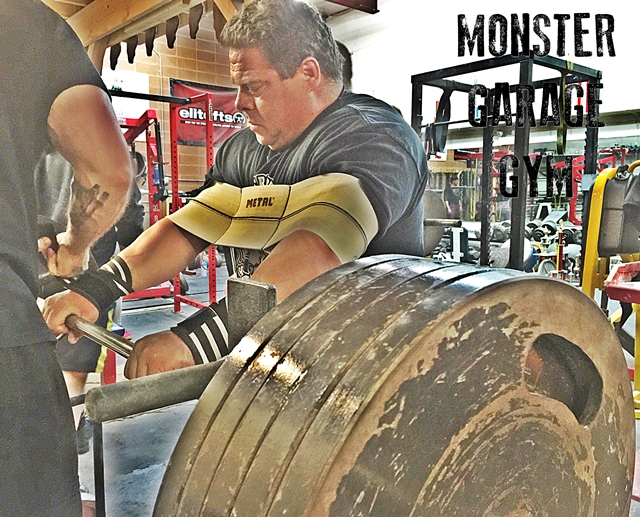 Photo by MGG: Steve Brock
Steve's complete training log for this session.
Pre Shirt Warm Up
135x10
225x10
225x10
315x8
365x3
450X1 Catapult
500X1 Catapult
550X1 Catapult
600X2 Bench Shirt 3&2 Board
640X1 Bench Shirt 2 Board
675x1 Bench Shirt 2 Board
________________________________________
We hope this video and write-up from our coaching log is beneficial to you. Special thanks to Steve Brock, and the Monsters at Monster Garage gym. Ever Onward, Eric Maroscher, Owner: Monster Garage Gym
Monster Garage Gym/Maroscher coaching log by:
Eric Maroscher, 2-Time WPC World Powerlifting Champion. Columnist/Coaching Logs, Elitefts. Team Elitefts Member. Owner, Monster Garage Gym
Monster Garage Gym/Maroscher coaches log training footage of and thank you to: Steve Brock, and all the Monsters at Monster Garage Gym.
You can follow Monster Garage Gym at:
https://www.facebook.com/pages/MONSTER-GARAGE-GYM/122378057784944
https://twitter.com/MonsterGarageGy
http://instagram.com/monstergaragegym
https://www.youtube.com/user/MPTPowerlifting
Loading Comments...