CCC: 4 Weeks Out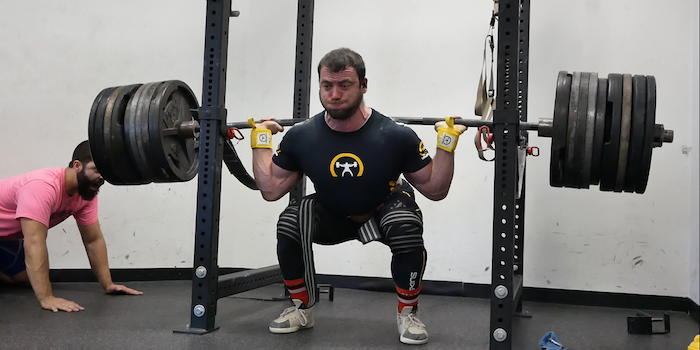 This was a bit of a weird week because I'm coming off of a deload and going into "double" meet prep for the first time.   For the next few weeks I have to think about the Corpus Christi Classic and the US Open, so that'll be a bit tricky. I'm just going to play it the best I can! (That's also the reason for so little assistance work this week.)
Sunday: Bench/Squat Assistance (Deload)
Incline bench press
225x8
275x5
300x5
Front squat superset back squat
315x5/5
365x5/5
405x5/5
Reverse hyperextension
Hip ab/adduction
Hammer curl
Today was just a fun, early workout to keep the momentum rolling.  I went with exercises I haven't done in a while because variety is a good way to get good work in without killing yourself (part of the reason the conjugate system works when done properly).
Wednesday: Bench & Squat
Bench press
375x1
400x3x1
350x3
Squat with sleeves
615x1
675x1
635x3x1
550x3
Getting down to the wire now.  Finally working into the 90% range, much later than usual in my meet prep.  It's still TBD whether that restraint produces better results than the longer prep, but that's the point of a warmup meet.
Friday: Deadlift/Bench Assistance
Sumo Deadlift
625x1
700x3x1
Incline Bench Press
275x5
315x3
Feeling subpar today so I kept it light, and kept some juice in the tank for my trip to Heavy Metal Fitness in San Antonio on Saturday.  Put in a lot of extra time on warmup, mostly targeted at my right knee and hip, and was pretty happy to find that I could pull sumo with only manageable pain in the VMO area.
Saturday: Squat & Bench Assistance
Squat with wraps
Bench press with Full Boar Slingshot
415x3x1
Honestly I was going to keep the squat light today too, but it's hard not to go hard in an environment like the one at Heavy Metal.  Tim and Michelle have set up a great training facility with top-notch equipment and it was packed with serious lifters all Saturday afternoon, so plans got changed a bit.
Huge thanks to my friends Dominic Morais and Caris Longoria for giving me a place to stay in SATX and for their help with training, and good luck to Dom and all the Heavy Metal competitors at the 3rd Coast Strongest Man in Corpus Christi next weekend!  And if you're in the area, I strongly recommend checking out Heavy Metal.  It was nice to end the week on a high note, and I'm feeling good about this year.
Loading Comments...