CIRCA MAX SQUAT SESSION: (VIDEO INCLUDED)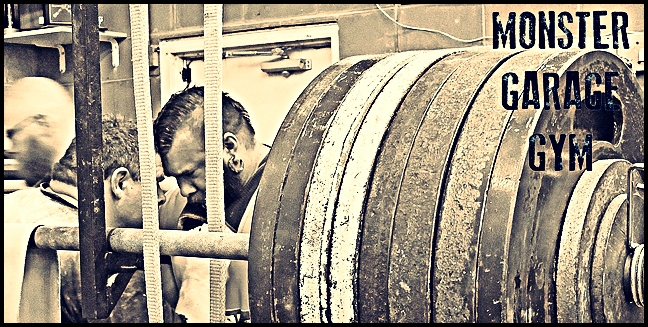 Monster Garage Gym/Maroscher Coaching Log: By MGG owner, 2-Time WPC World Powerlifting Champion, Eric Maroscher. (Log number XXVIII).
________________________________________
This installment of the MONSTER GARAGE GYM/Maroscher Coaching Log features WPC World Powerlifting Champion, Steve Brock, and APF Senior Nationals Champion/Best Lifter & Top 50 ALL TIME American Bencher, Mike Strom.
The purpose of this log is to show you Week #1 Circa Max squat training on Steve and Mike's second to last heavy squat day prior to their meet. This squat session is with briefs only, which is prepping them for the following heavy training which will be brief + squat suit.
This video shows the EliteFTS band set up Steve and Mike use for this session (approximately 300LBS of band tension), some warm up sets, then jumps right into the training footage of their working sets as they prep for the APF Senior Nationals. Their entire training log from the day is below for your perusal. Additionally, you can go back to prior logs to see what training got them to this point in their meet training cycle.
*The training footage in this video (filmed in HD, let load to 720 or 1080 for HD quality).
We hope you find this video and log as a whole of use to you in your training. Please let us know by your comment(s) if these logs are useful to you and what we can do to make the better. If you like them, we would appreciate it if you would share them.
As always, thank you for following the Monster Garage Gym/Maroscher coaching log. We hope you found this log and our other prior logs of benefit to you. Ever Onward, Eric Maroscher.
________________________________________
MONSTER GARAGE GYM and Monsterette shirts available at: http://shop.monstergaragegym.com/
________________________________________
Mike's Log:
Warm up sets, followed by the following working sets...
335+ 1 heavy band and 1 average band x 2
385+bands x 2
425+bands x 2
475+ bands x 1
515+bands x 1
Belt Squat- 100LBS 4x20
Reverse Hyper- 2 plates per side 4x15
Steve's Log:
Squat Straight Bar (Plus about 300 pounds of Band tension)
245lbs + Blue and Grey Bands x2
335lbs + Blue and Grey Bands x2
425lbs + Blue and Grey Bands x2
515lbs + Blue and Grey Bands x2
565lbs + Blue and Grey Bands x1
605lbs + Blue and Grey Bands x 1
695lbs + Blue and Grey Bands x1
Auxiliary 4 sets of Belt Squats with 100lbs
4 sets of Hyper Extensions
________________________________________
Monster Garage Gym/Maroscher coaching log by:
Eric Maroscher, 2-Time WPC World Powerlifting Champion, Columnist, Elitefts, Team Elitefts Member, Owner, Monster Garage Gym.
You can follow Monster Garage Gym at:
https://www.facebook.com/pages/MONSTER-GARAGE-GYM/122378057784944
https://twitter.com/MonsterGarageGy
http://instagram.com/monstergaragegym
https://www.youtube.com/user/MPTPowerlifting
http://shop.monstergaragegym.com/
Loading Comments...