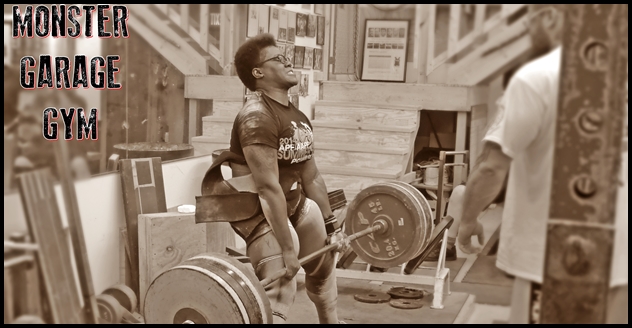 COACHING LOG:
This installment of the Monster Garage Gym/Maroscher Coaching Log covers Monsterette, Crystal Tate's first post Raw Unity Meet (RUM) training session. Crystal is currently the #1 ranked women's RAW deadlifter on the PowerliftingWatch rankings in her weight class.
In powerlifting, it is sometimes easy to overlook the ladies in the sport as we tend to look at the thousand pound squats, seven and eight hundred pound benches and deadlifts. Truth be told there are some amazingly powerful women in powerlifting and many of them have a lot that they can teach to other powerlifters, be they men or women.
[youtube=https://www.youtube.com/watch?v=gyqTn47RsEM&feature=youtu.be]
At the MGG we have a group of women powerlifters (the Monsterettes). In that group we have two lady RAW benchers who press over 200LBS, one RAW lady bencher pressing 300LBS, two NAS National Strongman/woman qualifiers, as well as the AAPF National RAW bench press record holder at 181LBS and the AWPC World RAW bench record holder at 148LBS. Additionally there several other very powerful ladies that complete on the women's team at the MGG. We are so fortunate to have these ladies on the team as they are a reflection of what the right stuff is with regard to competitive powerlifters. They are powerful, have a tremendous work ethic, have a grasp of the history of the sport and they leave drama, gender, politics and b.s. at the door where it belongs.
The point of this particular training log is to focus in on Crystal Tate's first, post-training session since placing second at the 2015 RUM. In her weight class, Crystal is currently the #1 ranked woman deadlifter (485LBS RAW), as well as being #3 in total and #8 in the squat, (all RAW lifts) on the PowerliftingWatch rankings.
Although Crystal has a solid, meet tested 485LB RAW pull, she is still a newbie and is working on some technical issues with her pull (head up, chest up, don't lock the legs out too soon, more weight on the back of her feet, etc). Once she gets these technical issues sorted out, she will find that additional percentage of hidden pulling power.
During this session you will see Crystal work up to a 475LB RAW deadlift attempt. We also included some footage of Monsterettes JuJu and Kendra as well to demonstrate some contrast in training methods, styles and rep schemes.
Below you will find Crystal's, JuJu's and Kendra's training logs, with the accompanying video of some of their training session (above). We have also included some current Monsterette training footage in this additional video as we get lots of e-mails asking how the whole MGG women lifters/Monsterettes, train.
Monsterette: My Chick Bad (video) *Filmed in HD. Load to 720 or 1080 for HD quality
[youtube=https://www.youtube.com/watch?v=6sVxpfHEVgU]
We hope you find this coaching log of value to you. Ever Onward, Eric Maroscher. Owner: Monster Garage Gym.
________________________________________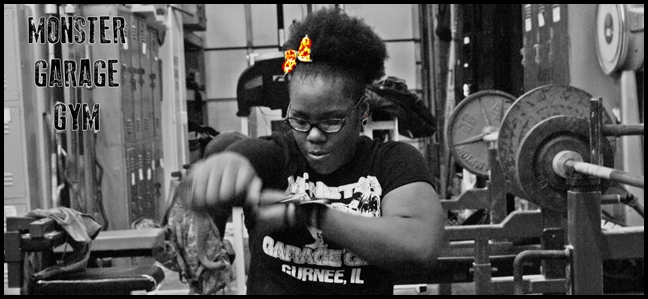 Crystal: "Not really dead set on my next meet but I think I'm going to do the UPA meet May16. I just competed in RUM on Feb. 7th. After not dead lifting for two weeks I just wanted to feel out the weight and see how far I could get.
Before I began I foam rolled and stretched.
Warm up sets: 135x5 185x5 225x5 275x5 315x3 365x2 One rep working sets til fail: 405x1 455x1 455 felt heavy but I went for 475 anyways. Didn't get it. I usually take big jumps, but maybe I need to take smaller jumps for warmups."
________________________________________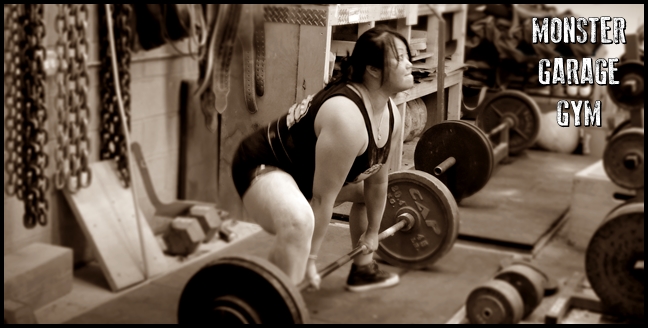 JuJu:
"Squats Bar x 5 105 x 5 145 x 3 195 x 3 215 x 3 235 x 3 255 x 3 x 3
I was supposed to do 2 more sets but my hips started to feel tight. The last set was a fail set.
The first rep I felt off so I had to rack & re-set. The second rep my hips felt so tight that I lost it coming out of the hole. I chose to shut it down after that.
Deficit Sumo Deadlift 135 x 2 185 x 2 225 x 2 x 2 275 x 2 x 2
Had to shut it down after that because I started to feel pain in my lower back from a previous injury."
________________________________________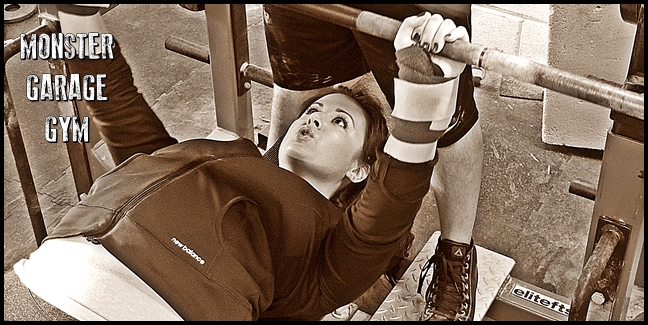 Kendra:
"Today I was trying to decide where a good opener would be for me for the IL AAPF State Meet. (Competing in the 67.5kgclass) Raw. The Sunday prior I worked strictly on form, foot placement, and controlling the weight throughout the lift which made me feel more confident going into my workout today. After foam rolling this was my workout progression:
Bar x 10 105x5 105x3 145x4 165x2 195x2 215x1 235x1 245x1 250x1 My hips were feeling a little achy with the wider stance I took squatting today; however, the payoff was consistently better form and confidence in my squat. Next I did leg press with a green EliteFTS band around my knees to focus on keeping my knees out while moving the weight. I did the sled (EliteFTS Mondo Monster Leg Press sled weighs 325lbs) only for 15 reps, then two sets of 12 with 50lbs on the sled. Next I did deadlifts. I normally pull conventional so I did a light and brief round of sumo. 135x5 no deficit 135x3 deficit 185x3, 185x3 deficit. Last set was conventional deficit for 5. Pulling sumo I feel very slow and awkward off the floor, but once it moves past my knees it feels like the bar flies."
________________________________________
We hope this video and write-up from our coaching log is beneficial to you. Special thanks to Crystal, JuJu, Kendra and the Monsters at Monster Garage gym.  Ever Onward, Eric Maroscher
Monster Garage Gym/Maroscher coaching log by:
Eric Maroscher, 2-Time WPC World Powerlifting Champion. Columnist, Elitefts. Team Elitefts Member. Owner, Monster Garage Gym
Monster Garage Gym/Maroscher coaches log training footage of: Crystal, JuJu and Kendra.
You can follow Monster Garage Gym at:
https://www.facebook.com/pages/MONSTER-GARAGE-GYM/122378057784944
https://twitter.com/MonsterGarageGy
https://instagram.com/monstergaragegym/
https://www.youtube.com/user/MPTPowerlifting