KRISTIN PRESSES 305LBS at 181BDW: [HD VIDEO INCLUDED]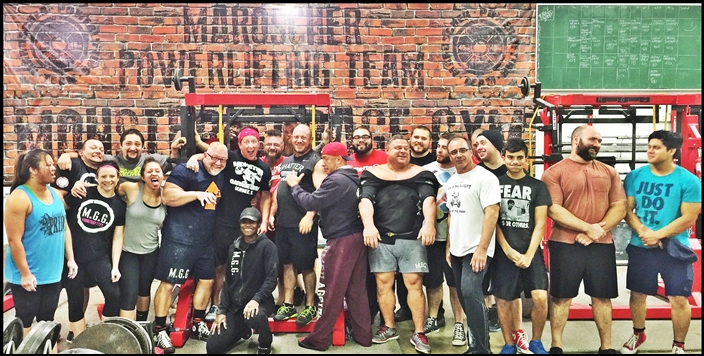 The MONSTER GARAGE GYM/MAROSCHER COACHING LOG is a weekly Coaching Log by MGG owner, 2-Time WPC World Powerlifting Champion, Eric Maroscher, and is one of the Featured Coaching Logs at EliteFTS.
LIVE, LEARN and PASS ON.
MONSTER GARAGE GYM is one of the premier powerlifting gyms in the US.
Monster Garage Gym/Maroscher Coaching Log: (Log number XLV). "KRISTIN PRESSES 305LB RAW at 181BDW"
________________________________________
This Coaching Log features Kristin Johnson. Kristin is in the Top 5 for the Women's RAW 181LB bench press, and just this past weekend qualified for the 2016 ARNOLD Strongman competition. She is also the NAS Illinois State Strongman champion and won the Kentucky State Strongman this year as well.
The purpose of this training log is to take a look at Kristin's RAW bench as she presses a remarkable 305LBS, just 48 hours after competing in a 2-day long NAS National Strongman competition (where she qualified for the 2016 ARNOLD Strongman competition). Kristin also pressed 450LB shirted following the RAW 305LBS...but that is another story, for another time.
This training session for Kristin, and really for a good amount of the lifters at Monster Garage Gym was steeped full of mixed emotions. The reason being, this was Kristin's final training session at the MGG as she is moving out of state and that means away from her family of lifters at the MGG. So the emotions ran high as all of the Monsters and Monsterettes are excited for her future, yet were sad as well. Kristin truly is one of those people that has that positive bright inner light that brings a zest for life into whatever room she enters. Additionally, as a highly decorated bencher, powerlifter and strongman, her gravitas is palpable when she enters the MGG thus she is a role model for not only many of the female lifters but the guys as well.
In this session, Kristin warmed up on the bench, then trained with the 60LB EliteFTS Sabertooth bench bar, off of the EliteFTS deluxe competition bench press with 240, 260, 275, 290 then a gym p.r. of 305LBS at a bdw of 181. Later in the session she put on the Slingshot with 320LBS for reps as a warm up for shirt work. Kristin's bench work *not included in the video, included a final set with 450LBS x 1 for a gym p.r. Kristin's bench routine is highlighted in prior EliteFTS/MAROSCHER Coaching Logs.  She utilizes a good deal of volume in her training and incorporates strongman movements and a tremendous amount of GPP into her training.  Feel free to check out the logs featuring Kristin.   
Following Kristin's shirt work, the pizza (Mmmmm, pizza) and libation arrived. From that point on, it was a pizza feeding frenzy. As the pizza and such went fast, Kristin stayed for the rest of the session to hold a 2-board for Big Steve's 800LBS shirted press. A true team member from day one till the very last moment.
We wish Kristin all the best in her life outside of Illinois. Having said that, Kristin will always be a part of the MGG family, because ONCE a Monster, ALWAYS a Monster. ……stay tuned…..   ;)
________________________________________
*The footage in this video (filmed in HD, let load to 720 or 1080 for HD quality).
We hope you find this coaching log as a whole of use to you in your training. Please let us know by your comment(s) if these logs are useful to you and what we can do to make the better. If you like them, we would appreciate it if you would share them. As always, thank you for following the Monster Garage Gym/Maroscher coaching log. Ever Onward, Eric Maroscher.
________________________________________
MONSTER GARAGE GYM and Monsterette shirts available at: http://shop.monstergaragegym.com/
________________________________________
Monster Garage Gym/Maroscher coaching log by:
Eric Maroscher, 2-Time WPC World Powerlifting Champion, Columnist, Elitefts, Team Elitefts Member, Owner, Monster Garage Gym.
You can follow Monster Garage Gym at:
https://www.facebook.com/pages/MONSTER-GARAGE-GYM/122378057784944
https://twitter.com/MonsterGarageGy
http://instagram.com/monstergaragegym
https://www.youtube.com/user/MPTPowerlifting
http://www.monstergaragegym.com/
http://shop.monstergaragegym.com/
Loading Comments...