MILITARY MUSCLE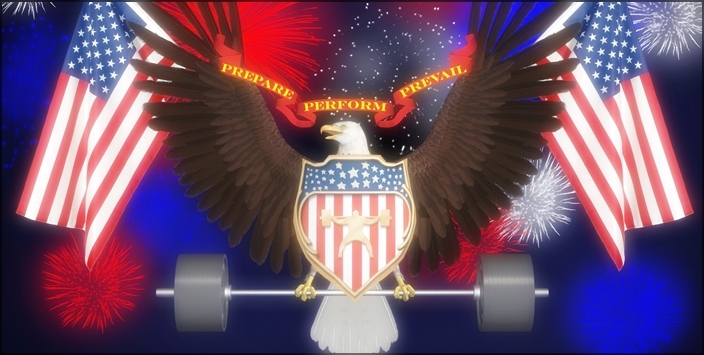 The MONSTER GARAGE GYM/MAROSCHER COACHING LOG is a weekly Coaching Log by MGG owner, 2-Time WPC World Powerlifting Champion, Eric Maroscher.
LIVE, LEARN and PASS ON.
MONSTER GARAGE GYM is one of the premier powerlifting gyms in the US.
THIS WEEK'S Monster Garage Gym/Maroscher Coaching Log: MILITARY MUSCLE
*NEW MGG COACHING LOG POSTED HERE EVERY WEEK!!!!
________________________________________
With Halloween just days away (as of this writing) that means Veterans Day is quickly approaching as well. Veterans Day is observed annually on November 11th and is of course the day we honor persons who served in the United States military.
At the Monster Garage Gym we are, as a gym, very fortunate to have a number of our powerlifters who are veterans, including the M.G.G. operations manager, Big Rich who has just retired from the Army Special Forces this past year. In addition to Rich and the other powerlifting vets, we are also fortunate to have many active members of the United States Military training at the M.G.G.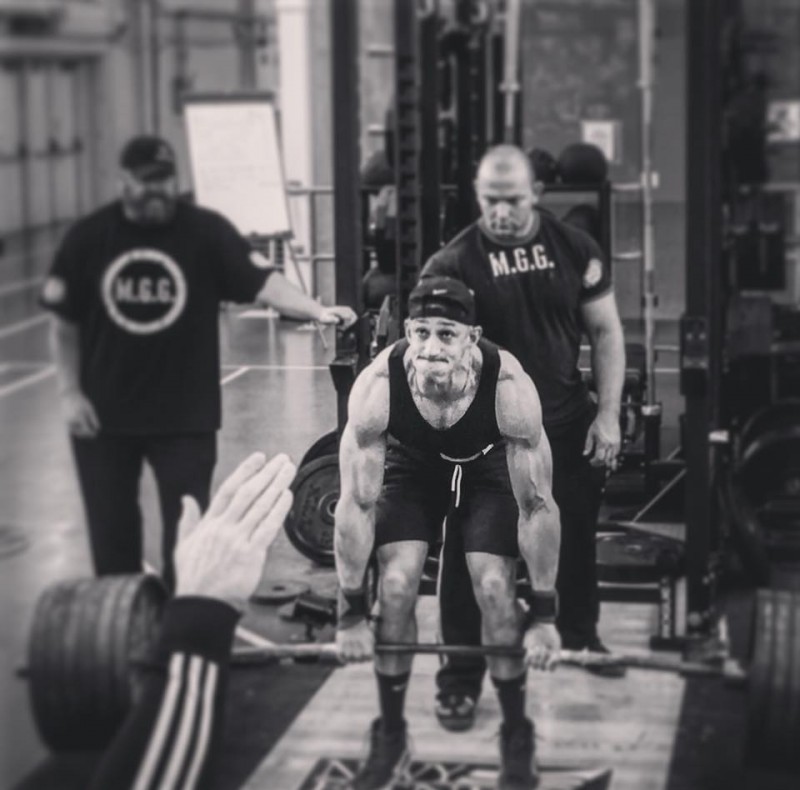 This past weekend the M.G.G. was asked to judge a military only powerlifting meet at the Great Lakes Naval Base in Waukegan, Illinois which is located about 10 minutes from the M.G.G. This was a RAW, full power event utilizing for the most part, APF rules and regulations, was hosted by the Naval Base, organized by civilian trainer, Brendan Taylor and M.G.G. operations manager Rich Auxer and judged and spotted by members of the M.G.G.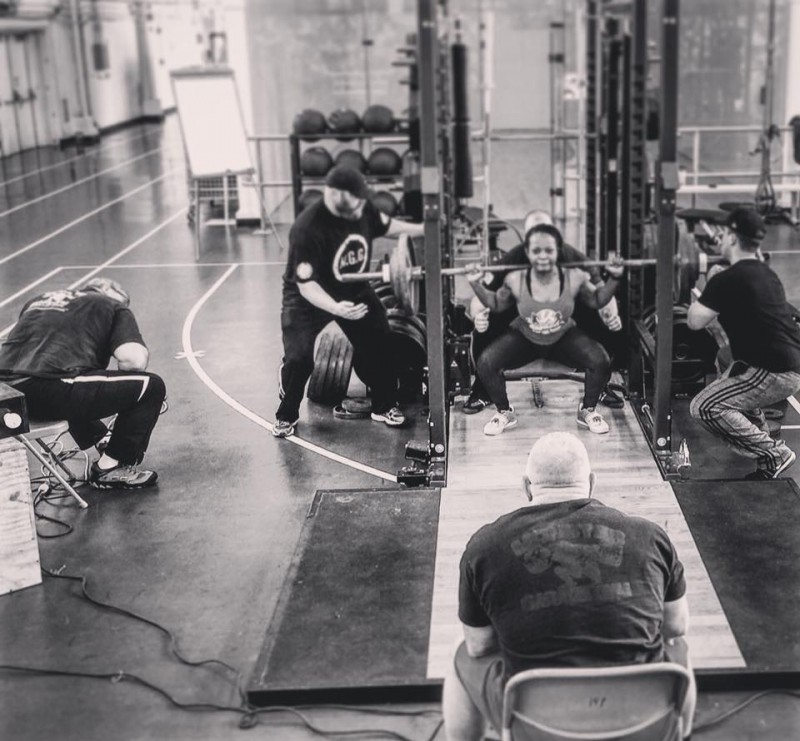 Some 30 active military men and women took place at this meet and we (M.G.G.) as members of the larger powerlifting community were both proud and honored to be asked to be part of such an amazing event. If this meet is any indication of the strength of our military, we are in great shape!!!!
As part of a larger military picture, the M.G.G. is teaming up next Saturday, November 4th, with the Military Muscle Foundation to host a free deadlift seminar and deadlift party for all active military and veterans interested in a bigger and more technically sound deadlift. Military Muscle Foundation's mission is to combat and promote awareness for both veteran and military suicide, alongside PTSD. Their focus is to use fitness events as a platform to provide "rehabilitation of mind, body and soul through fitness". The reason the Military Muscle Foundation exists is due to the fact that everyday 22+ veterans and 1 active duty service member takes their own lives. A recent study found U.S. veteran suicide rates to be as high as 8,000 a year.
This free seminar will be a team effort to provide an afternoon of deadlift technique assessment and raising awareness of Veteran and active duty suicide. So this event is a follow up the military meet we were fortunate enough to judge.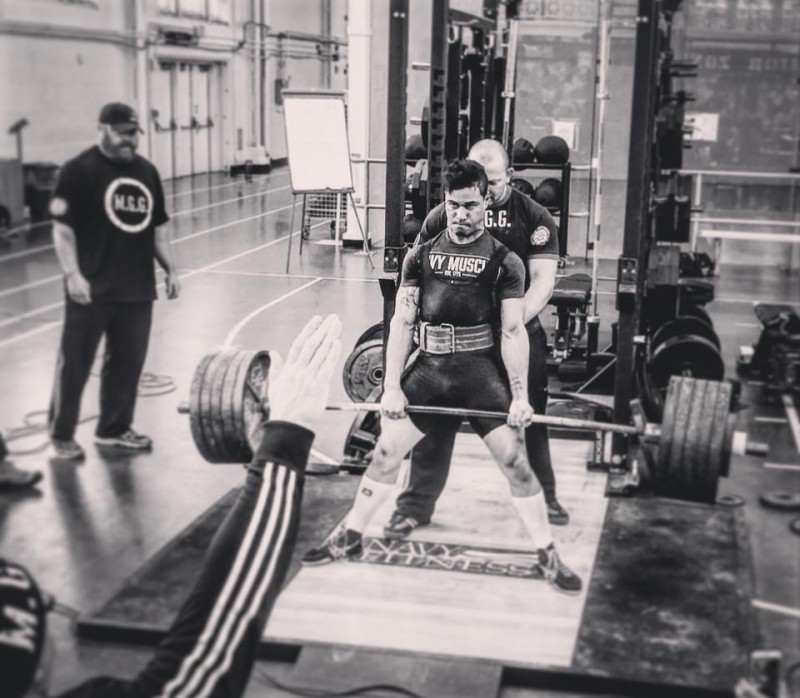 As part of EliteFTS' commitment to the mental health of our veterans and active military and along with our partners at Universal Nutrition/Animal, both EliteFTS and Universal Nutrition have generously donated amazing give-a-way items to be handed out to participants at next weekend's free deadlift technique and deadlift party event.
An afternoon of deadlift technique, a sharing of important information about military and veteran suicide and prevention, all followed up by a massive max effort deadlift session to try out the newly acquired technical aspects of the deadlift.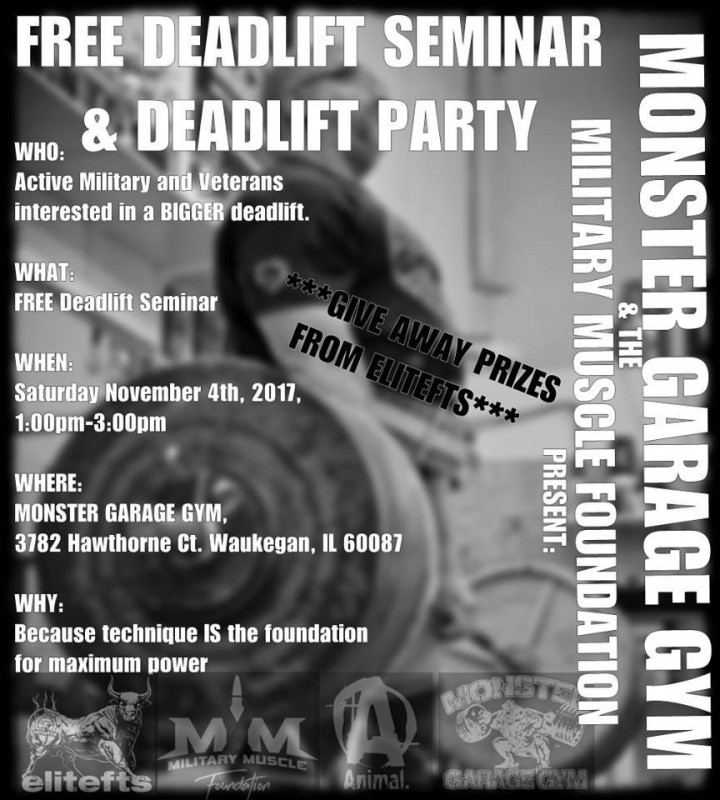 Video: Military Muscle Foundation/Monster Garage Gym:
Video: Rich Auxer, Army Spec. Forces (ret), M.G.G. Operations Mgr.
This and next week's Coaching Log is dedicated to our active military and veterans who work tirelessly keeping our safety and freedom in tact so we can enjoy the things in life that make life worth living…..family, friends, loved ones and some good old fashioned hard core powerlifting!!!!! 
Wishing you the best in your training and competitions. Ever Onward, Eric Maroscher, Owner: MONSTER GARAGE GYM
MONSTER GARAGE GYM T-SHIRTS HERE:
MONSTER GARAGE GYM uses Universal Nutrition/Animal supplements and EliteFTS powerlifting equipment.
*Photos from the Military Full Power meet, Great Lakes Naval Base, courtesy of M.G.G.
________________________________________
You can follow Monster Garage Gym at:
FACEBOOK
TWITTER
INSTAGRAM
YOUTUBE CHANNEL
STORE
WEB PAGE
Loading Comments...