RECOVERY-THERAPY vs INJURY POTENTIAL: (VIDEO Included)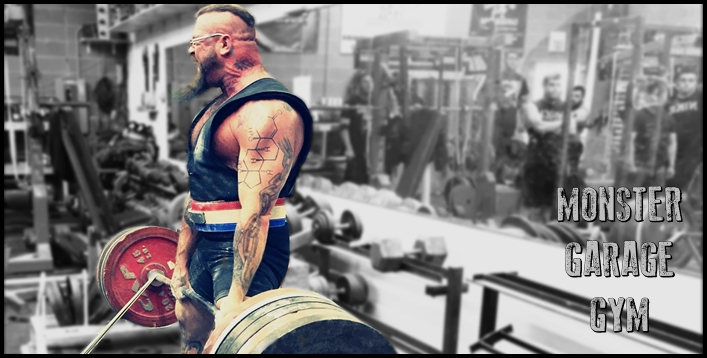 Monster Garage Gym/Maroscher Coaching Log: By MGG owner, 2-Time WPC World Powerlifting Champion, Eric Maroscher. (Log number XXVII).
________________________________________
This installment of the MONSTER GARAGE GYM/Maroscher Coaching Log features WPC World Powerlifting Champion, Steve Brock, WPC World Powerlifting Championships qualifier, Shaun Kopplin, and APF Senior Nationals Champion/Best Lifter & Top 50 ALL TIME American Bencher, Mike Strom .
The purpose of this log is to show you some very specific recovery movements that are used at the MGG and that might be of value to you. If you are fighting the good fight against injury, this coaching log will be very helpful for you. If you have a training partner who is also in that all too common fight, feel free to share this coaching log with them as this could be the answer to drastically reducing their injury potential. If you have a power rack and some EliteFTS bands and an EliteFTS foam roller, you will be able to reproduce 90% of these recovery movements.
This video begins with a few training scenes from the MGG. It quickly then goes into the stuff that allows for you to train like the first part of the video.  These are the aspects of training you typically do not see in highlight reels and the like, but that make all the difference when it comes to staying healthy while training and competing in a sport that 110% guarantees you will be injured. This video captures Steve, Mike and Shaun going through their highly developed and very specific 'recovery therapy' routine which they have honed to perfection, and is based on absolutely great information provided during one of Super D's seminars.  They are all three in prep for the APF Senior Nationals.  Their recovery work is as meticulous as their programming and that is one aspect to their success in this brutal-to-the-body sport.
*The training footage in this video (filmed in HD, let load to 720 or 1080 for HD quality).
We hope you find this video and log as a whole of use to you in your training. Please let us know by your comment(s) if these logs are useful to you and what we can do to make the better. If you like them, we would appreciate it if you would share them.
As always, thank you for following the Monster Garage Gym/Maroscher coaching log. We hope you found this log and our other prior logs of benefit to you. Ever Onward, Eric Maroscher.
________________________________________
MGG and Monsterette shirts available at: http://shop.monstergaragegym.com/
________________________________________
Monster Garage Gym/Maroscher coaching log by:
Eric Maroscher, 2-Time WPC World Powerlifting Champion, Columnist, Elitefts, Team Elitefts Member, Owner, Monster Garage Gym.
You can follow Monster Garage Gym at:
https://www.facebook.com/pages/MONSTER-GARAGE-GYM/122378057784944
https://twitter.com/MonsterGarageGy
http://instagram.com/monstergaragegym
https://www.youtube.com/user/MPTPowerlifting
http://www.monstergaragegym.com/
http://shop.monstergaragegym.com/
Loading Comments...