SHIRT UP!!!!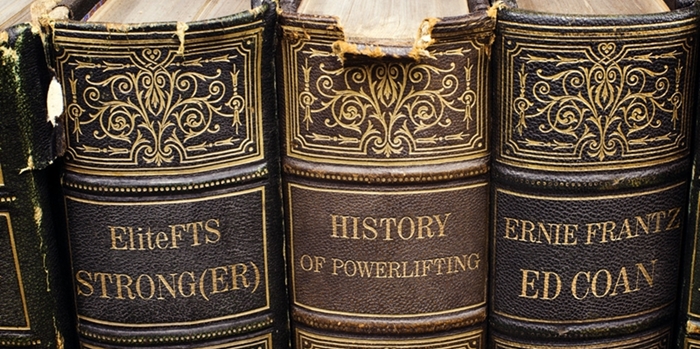 The MONSTER GARAGE GYM/MAROSCHER COACHING LOG is a weekly Coaching Log by MGG owner, 2-Time WPC World Powerlifting Champion, Eric Maroscher, and is geared to the new to intermediate powerlifter. LIVE, LEARN and PASS ON.
MONSTER GARAGE GYM is one of the premier powerlifting gyms in the US.
THIS WEEK'S Monster Garage Gym/Maroscher Coaching Log: SHIRT UP!!!!
*NEW MGG COACHING LOG POSTED HERE EVERY WEEK!!!!
________________________________________
This Week's Coaching Log:
Sometimes less is more. But then there are times when more is just plain old flippen more. Which is best depends on the situation and the circumstances.
This coaching log features shirted benching with Steve Brock and Barzeen Vaziri. Steve is a master lifter who is 21 weeks post shoulder surgery and a little less than 4 weeks away from his next meet. Steve is a WPC World Powerlifting Champion, with a 1,025LB squat, 750LB bench a 2,401LB total and is still in the hunt for that ever elusive, 'perfect meet,' and that 2,500LB total. Barzeen is #5 on the ALL TIME bench list with a 937LB press. As a HUGE bencher, Barzeen is also a full meet lifter with a massive 2,550LB total, via 1020,780,750. It is important to note, both were students of the legendary Ernie Frantz and Frantz Gym (a legendary gym that is alive now in memory only, although Ernie in his mid-80's continues to go on strong!).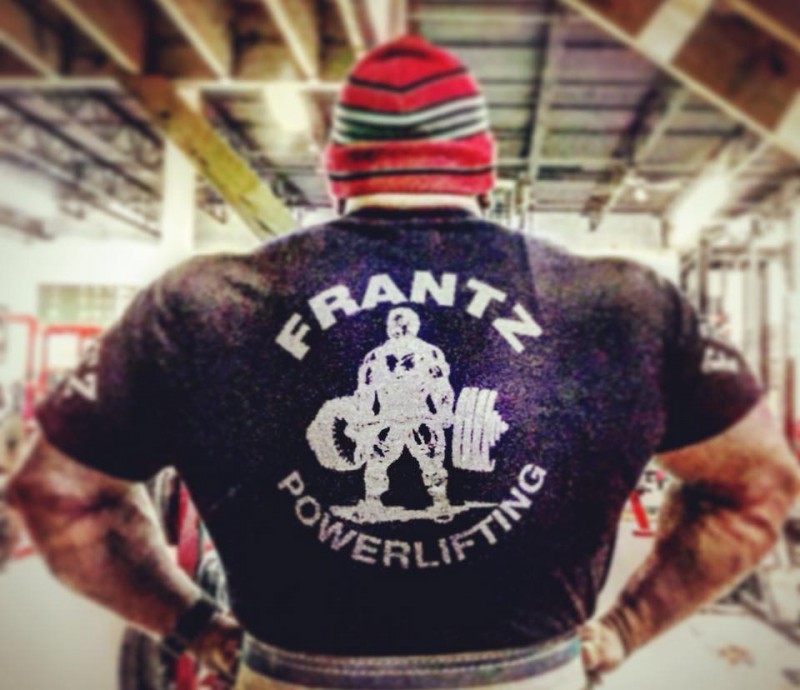 Although a fairly typical Sunday at Monster Garage Gym, each Sunday for those dropping in for a daily training session see what is also somewhat of a bench display and seminar all in one. Lots of great benching as Steve works to find which of his several bench shirts will be the Goldilocks shirt for this meet.
After a ton of great benching (tons I should say) the conversation went to which shirt should big Steve use for the meet. His blue bench shirt that he can press a ton with off a 2-board….but can't touch in currently, or the black shirt that doesn't quite give him the numbers he wants, but he can touch in. This was the debate of the day and the correct answer depends on the goal for the meet.
For example, if you are looking for the win, the title, you might play it safe and choose numbers that will put you soundly in first but will also not jeopardize your victory. You might play it safer with a third attempt you know you can hit vs than one you are somewhat sure that if all goes well, you probably could hit.
In Steve's case, the answer is less obvious as he is looking for that oh-so-illusive 2,500LB total. With the deadlift being his Achilles, a big squat and big bench are the lynch pins. That said, three saf(er) third attempts even if merely 15LB's each can be the difference between 2,455LB and 2,500LB total.
Something to keep in mind, "safe jumps" don't mean they are not hard core lifts/jumps. Ed Coan's 901LB 2nd attempt deadlift was something he could do and that number, 901LBS at 220LBS is about as hard core as one can get. In Steve's case, Barzeen presents a great point when he says, "Going in with 100% confidence is always better. 2-board presses are great on Instagram but don't mean plop in a meet." Heed those words if you are a newer or intermediate lifter as this is the #5 ALL TIME bencher speaking from experience.
What is the correct answer will be decided in the next 4 weeks and the answer will be known as soon as the meet comes to fruition. Ultimately, what a great problem to have as a 2,500LB looms ever present, yet looms ever daunting....as it should.
The accompanying video features shirted-bench-training footage with Steve Brock and Barzeen Vaziri.
Wishing all of our weekly coaching log readers the best in your training and competitions. Ever Onward, Eric Maroscher, Owner: MONSTER GARAGE GYM
Support a hard core gym.  Add to your gym shirt collection. MONSTER GARAGE GYM T-SHIRTS HERE: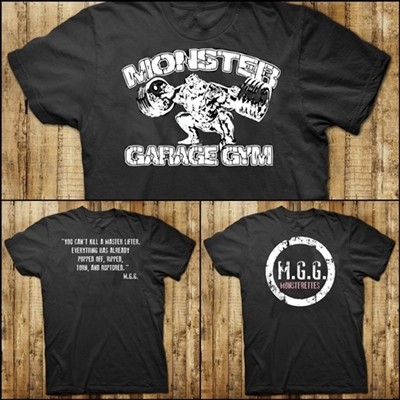 MONSTER GARAGE GYM uses Universal Nutrition/Animal supplements and EliteFTS powerlifting equipment. *Equipment used in this coaching log: Elitefts Sabertooth Bench Bar, Elitefts Deluxe Bench Press, Elitefts Proloc Collars.

________________________________________
You can follow Monster Garage Gym at:
FACEBOOK
TWITTER
INSTAGRAM
YOUTUBE CHANNEL
WEB PAGE
Loading Comments...