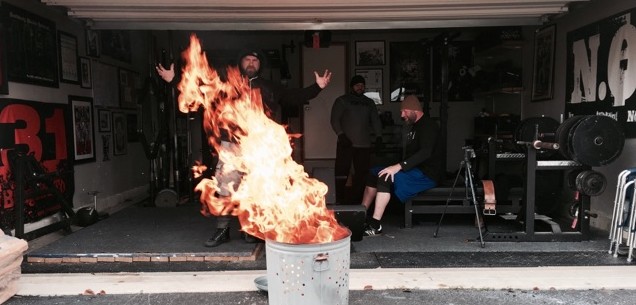 Last year Wendler, Rhodes, and I got together for an NOV meet. It was awesome. The problem is, Rhodes is in Arkansas, Jim is in Ohio, and I am in Connecticut. It's a logistical nightmare to get us all together.
Recently I started training for a full meet. For those who don't know me, I have been squatting with a safety squat bar and deadlifting with a trap bar forever due to some serious back issues. After attempting two weeks of using regular bars, my body was miserable.
The truth is, I don't much care to compete in meets anymore anyway. I have hit all my greatest lifts. I competed at the level I wanted and have fulfilled that part of my life. My main goals now are to be strong, healthy, and to enjoy lifting on my own terms.
The NOV meet with Wendler and Rhodes fulfills that need. It gives me a reason to train hard and allows me to test my strength. But as I said earlier, catching up with them is not always an option.
I proposed the concept to a friend and old training partner Brian. He struggles with purpose in training now that he doesn't compete anymore either. He really liked the idea. So boom, it's on like Donkey Kong.
Here are the basic rules:
-WEIGH YOURSELF THE MORNING OF THE MEET (This is not by weigh class)
-YOU MUST SQUAT, BENCH, AND DEADLIFT ALL IN THE SAME DAY
-YOU CAN EITHER GO FOR A MAX SINGLE OF REP MAX
-YOU CAN USE ANY BAR OR EQUIPMENT YOU'D LIKE
I know when Wendler and I were first entertaining the idea a bunch of lifters had asked about the meet on his forum. We encouraged them to find friends to compete with or to even do it on their own.
This lead me to realize there are a lot of us out there that don't really feel the need to compete at meets anymore. However, we still want to push ourselves, test our strength, and see our progress.
Long story short, I'm putting this out there for everyone interested.
Listen, you can wear a bench shirt and five belts to deadlift for all I care. If that's how you need to lift, who am I to judge. I'm not going to call people on depth either. It's pretty obvious on video if a lift is crap or not.
Remember, the only person you are competing against is yourself (unless you are doing it with a group of friends). We'll liken it to Outback Steakhouse's old campaign "No rules, just right." The most important thing is that you set a standard that you can test yourself against down the road.
Here is what I'll be doing:
-Squatting using a safety squat bar to a box
-Bench with swiss bar
-Deadlift with a trap bar
I used these bars last year for one rep maxes. I'll be lighter this year, but it gives me numbers to chase after.
The usual training cycle is 12 weeks, so the lifting needs to take place sometime between November 11th and the 26th. I will be doing mine Thanksgiving weekend. I figure why not take advantage of all those carbs.
If you are interested leave a comment below. This way we can figure out how to coordinate it at all. Other than that, you'll just need to take some video. I hope a lot of you join in. I know I can't wait. Just thinking about it makes me want to train harder already.