THE ROAD TO A 600LB RAW FEMALE SQUAT: [HD TRAINING FOOTAGE INCLUDED]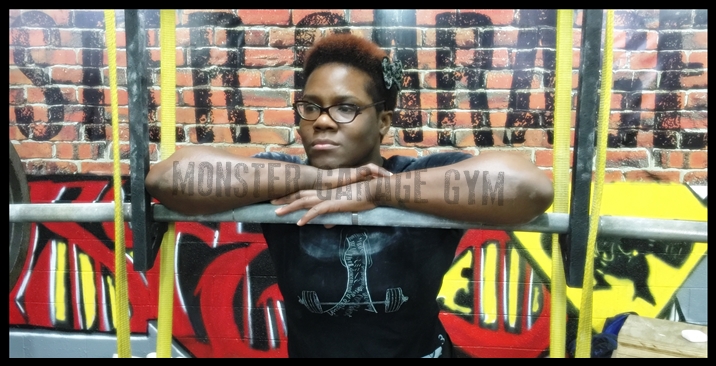 The MONSTER GARAGE GYM/MAROSCHER COACHING LOG is a weekly Coaching Log by MGG owner, 2-Time WPC World Powerlifting Champion, Eric Maroscher, and is one of the Featured Coaching Logs at EliteFTS.
LIVE, LEARN and PASS ON.
MONSTER GARAGE GYM is one of the premier powerlifting gyms in the US.
Monster Garage Gym/Maroscher Coaching Log: (Log number LI). "THE ROAD TO A 600LB RAW FEMALE SQUAT"
________________________________________
The purpose of this log is to show you the final heavy squat day for powerlifer, Crystal Tate as she is now 20 days out from her next meet. Crystal is focused on being only the 2nd female RAW (w/wraps) powerlifter to squat 600LBS in a sanctioned powerlifting meet. Crystal is currently ranked #2 in the squat, deadlift and total, and is ranked #8 in the RAW w/wraps 198LB women's division.
In the accompanying training video, Crystal warms up to 500LBS then takes her projected meet opener and 2nd attempt (540LBS and 570LBS). She finishes the day with a 650LB reverse EliteFTS mini-band squat.
Crystal's programming (via Shaun Kopplin) is deceptively simple, founded on the basics/essentials and is plenty effective. Over the weeks his program has incorporated heavy rep work in all three lifts with a gradual crescendo of the weight over the weeks.
On this day Crystal's training looks like this:
Bar (65LBS)
155LBS
245LBS
335LBS
445LBS
500LBS
540LBS x 2 (projected meet opener)
570LBS (projected meet 2nd attempt)
650LBS overload with reverse EliteFTS mini-bands
Please take a look back over the last couple months to see Crystal's training that led up to this week's training session. You can find them all at this link: https://www.elitefts.com/author/eric-maroscher/
You can follow Crystal, as well as all of the MONSTER GARAGE GYM's MONSTERETTES at https://www.facebook.com/MONSTER-GARAGE-GYM-122378057784944/
________________________________________
*The footage in this video (filmed in HD, let load to 720 or 1080 for HD quality).
We hope you find this coaching log as a whole of use to you in your training. Please let us know by your comment(s) if these logs are useful to you and what we can do to make the better. If you like them, we would appreciate it if you would share them. As always, thank you for following the Monster Garage Gym/Maroscher coaching log. Ever Onward, Eric Maroscher.
________________________________________
If you like our coaching log content, please peruse the MONSTER GARAGE GYM online store and consider buying a MONSTER GARAGE GYM and/or Monsterette shirt: http://shop.monstergaragegym.com/
________________________________________
You can follow Monster Garage Gym at:
https://www.facebook.com/pages/MONSTER-GARAGE-GYM/122378057784944
https://twitter.com/MonsterGarageGy
http://instagram.com/monstergaragegym
https://www.youtube.com/user/MPTPowerlifting
http://www.monstergaragegym.com/
http://shop.monstergaragegym.com/
Loading Comments...