Thinking Strong About the US Open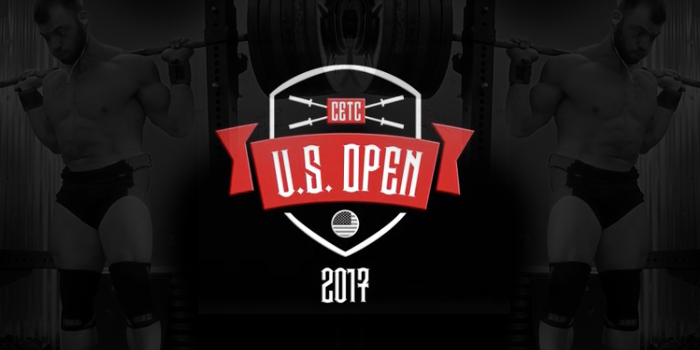 My training for the US Open wrapped up yesterday.  From here on out, it's just resting up and staying fresh for the big day!  In the past, I've only reflected on my meet prep cycles after the meet itself, but lately I've been focusing more on process goals instead of outcome goals.  I talk a lot about the difference between the two in Think Strong, but ultimately, on meet day, there's going to be a lot of things outside of my control.  How I perform that one day isn't necessarily indicative of how well I prepared.
So instead of waiting to see what happens, I'm taking this opportunity to reflect on how I've improved over the past couple of months and why I'm looking forward to what's shaping up to become the biggest meet of 2017 to date. Make sure you check out this article too, for a more instructive look into my training itself.
The Reasoning
Despite the huge prizes — there's $200,000 up for grabs next weekend — It wasn't an easy decision to do this meet in the first place.  The end of 2016 and beginning of 2017 was a challenging time for me outside of the gym, and led me to drop out of a local warmup meet I had planned for February.  On top of that, the prep for Boss of Bosses 3 comprised three of the most physically and mentally grueling months I've experienced in my powerlifting career, and I responded poorly to that.  It was hard on people close to me, too, and I deeply regret that.  I wasn't entirely confident that I was ready to go through the process again.
So I decided not to compete… but I signed up anyway, just in case I changed my mind.
Because here's the thing: I love competition.  I hate it, too, but just like with a bad relationship, it's pretty hard to let go.  On top of that, I was really pretty confident about breaking the 792 deadlift record Ed Coan set 32 years ago at my last local meet, Battle of the Dragons, and when the time came… I choked.  Panicked.  I had kept it together all the way until the final pull and then I just mentally fell apart.  It was a crushing feeling, and I really want to redeem myself for that — not for missing the record, but for failing to perform at my best because of mental shortcomings.
I resolved to frame the US Open as an opportunity, not for the prize money, but to correct the mental mistakes I've made at my last couple of meets and in doing so become both a better lifter and a better person.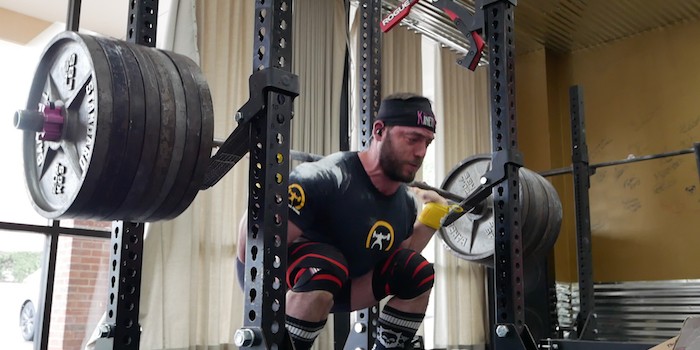 The Challenges
When I sign up for a competition, I'm usually pretty amped up.  I'm focused on all the positives: the chance to win, to set records, to feel the adrenaline rush on the platform, to make all my hard work in the gym count for something — because to me, it feels like anything in the gym doesn't really count.  That's not reality; in reality, I love to train, and I enjoy the results and being part of the powerlifting community.  Those are by far the most important parts of lifting.
A few weeks later, my initial "motivation" has worn off, and in the drudges of meet prep, when my body's starting to get run down, negative thoughts creep in.  (It's important to remember that the excitement that comes from thinking about a meet isn't motivation, it's just fantasy — but sometimes they're hard to tell apart.)  I start worrying about getting injured, or not meeting the goals I set at the beginning, or — worst of all — not winning.
As a result of those fears, I usually end up pushing myself to my max more and more in the gym, believing that if I can just work harder, I'll get stronger.  That's simply not true, and, while I'm well aware of the need to train smarter, not harder, it's still a difficult habit to break.
---
---
The Plan
I made three resolutions to avoid those mistakes:
First, I reached out to my support system and talked with them about my concerns and asked for advice.  It's hugely important to have a support system if you're going to be a successful lifter, and it's equally important to be able to trust those people when you need them.  My coach, Jacob Cloud, and I made a conservative plan for meet-day attempts, to help address my tendency to overreach.  I also met with Dr. Jon Metzler, a performance consultant who works with the Army Resiliency Directorate.  Dr. Metzler helped me to find tangible strategies for managing my mental game and to make a plan that would help me to demonstrate my skill at the Open regardless of the meet environment.
I've practiced meditation for sport performance for a long time, but recently I've been incorporating more reflection and a focus on acceptance: controlling what I can and letting go of what I can't.  I've also practiced motivation – yeah, you can practice that – and flow, and I've already noticed that it's made a big difference in my training.
Finally, I started taking my own advice, and used the Think Strong meet prep program for the last six weeks of my training.  I made a few minor tweaks, to address my own weaknesses and goals, but I never strayed from the "reps in the tank" system for tracking my training.  By setting a goal to keep a few reps left for my next training session, I rarely overreached.  (I say "rarely" because I'm still new to using knee wraps, so it was a bit more difficult for me to judge my capacity on squats.)
---
Coach's Perspective
I've worked with my coach, Jacob Cloud, for almost five years. He's called my numbers for every meet I've done since then, and there's no one I'd trust more to plan a meet prep. Jacob owns Vintage Strong, and has coached at the international level with lifters from multiple federations. You can contact him at vintagestrong@gmail.com.
Competing is more fun when you win. As a powerlifting coach, I help my lifters perform at their best – and hopefully, to win! Most lifters, even those who coach others, perform better with a coach by their side. As Ben mentioned above, I wasn't at the Battle of the Dragons, and he had a rough day. I felt terrible. I was relieved when we started talking about the US Open because I was 100% committed to being there for him and helping him to perform at his best – and hopefully, that will result in a win.
As a coach, you have to be able to perform in various roles for different athletes. Many newer lifters need help with motivation or getting amped up for big lifts. High level lifters, like Ben, usually benefit from a calming, confident presence. I consider it part of my job to appear calm (even if I'm anxious or worried), because my lifter will feed off of that energy. This takes prep and practice, especially when a lot is on the line, but you can't fake confidence in your lifter – you have to truly believe they can get the weight you are calling for them.
Of course, the reality is that the most important part of being a meet-day coach is to call the right numbers. For international meets, making the right calls means placing as high as possible, not worrying about personal records or gym lifts. Lifters need someone around them that understands their true strength on that day, in that situation - setting aside ego, dreams, records, or any other bullshit. For a lifter in the heat of the moment, it is extremely difficult to make an ideal attempt call that takes into account your potential, the level/strategy of your competition, Wilks calculations, etc. Luckily, Ben and I have a lot of experience to draw on for this meet – including some lessons learned the hard way.
Boss of Bosses 2016 was, at the time, the biggest meet Ben had competed in. Looking back, the cash payout seemed huge, and we both spent a ton of effort preparing. The timing worked out well for me, because I had just coached at IPF Raw Worlds on the Junior/Subjunior team, where I called attempts for a dozen kids who I had never seen lift before, with most of them hitting huge PRs and even WRs. I felt like my "coaching eye" was pretty well tuned going into BOB.
However, all training cycles have ups and downs, and this one ended particularly rough for Ben. His last couple heavy days were a disaster. He had huge numbers in mind for a record-setting total, but failed his final squat and deadlift in training. Then on meet day, he missed his opening squat on depth. Things could have easily gone south if either of us had panicked.
Luckily, we were ready for this worst case scenario. Giving him a vote of confidence, I increased his second attempt squat (despite the miss), looked him in the eye, and told him he was strong enough to still win. He came back and put together a good day, and in the end, Ben walked away with best lifter in an emotional and triumphant win – by less than a Wilks point.
All of our mental prep was what enabled us to keep it together for that win at BOB. Going into this cycle, we did a lot of similar prep, with some extra work based on what we've learned. I made sure to be around for more of his heavy sessions, so I could get used to his bar speed and lift nuances. Ben knew he needed to keep building momentum all the way through the cycle, and to minimize speedbumps and confidence-shaking (and/or potentially injurious) missed attempts, and trained accordingly.
His Instagram may make it seem like he just wants to look like a shirtless superhero, but he spent a lot of time working on his mental game as well – worrying about improving his own numbers, not so much those of other competitors. You have to worry about what you can control.
Ben has grown exponentially as a lifter over the years, but I'm just as impressed with his ability as a coach, and especially, to self-coach. His approach to programming for this meet has gone very well, and even pushing his body as hard as he does, he most definitely has momentum going into the Open. I can't wait to see the result.
---
The Results
All in all, I think I did a great job of correcting the issues I struggled with last year.  This has been a solid, low-stress training cycle, and instead of feeling stressed or anxious, I'm excited about the US Open.  Regardless of the outcome, it'll be an honor to compete with the best of the best, and I can't wait to see what kind of numbers some of the other lifters put up.  Make sure you go check out Joe Sullivan's training log too — I'm pulling for him in the 220s!
Until then, I'm going to leave y'all with this clip from my first week of meet prep:
Looking forward to seeing what I can put up on the platform.

Loading Comments...