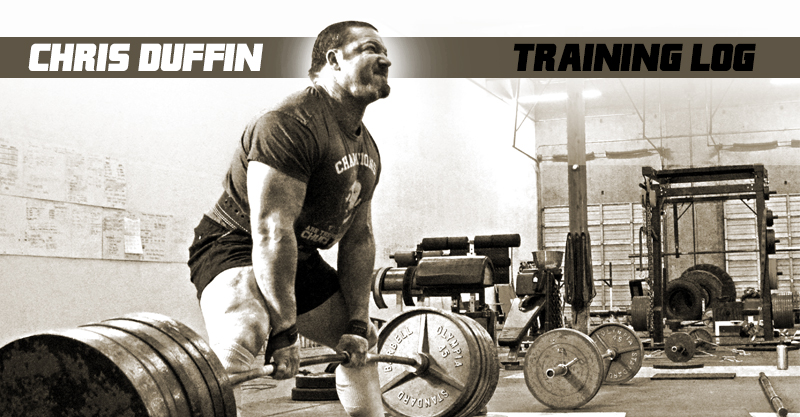 My schedule and life has been quite hectic as of late. But I guess that's nothing new as I find myself saying that frequently. I do love a spice of chaos at all times.
I recently finished up an aggressive diet phase that I have posted about already. During that time I was to busy to detail my training and in the end it wasn't that spectacular the final few weeks. Lots of BB style training sessions. What I did find however was that I could train with much higher frequency than I have in the past and still recover with the intra-workout nutrition I've been using the last few years. This was the first time I had tested it in this fashion and I decided it was time to play with it my normal training going forward. The increased volume that is. Not sure at this point if I will be able to continue with this with my schedule but will try and find a way.
Currently over the next 7 weeks I'll be in China and Taiwan for 2 weeks, travel to other areas in US for 4 weeks, hosting 1 meet locally, and attending TWO separate 2 day seminars, and Hosting a multiple birthday weekend at my house. That Schedule pretty much continues through till September… I have some challenges ahead in figuring out how to maintain momentum and move forward.
I will figure out a way. I always do.
MONDAY
SESSION 1
Shoulderok Swings
Bench Press
135x20
225x10
315x20
365x10,8 no spotter
Weighted Dips
180x12,12,12
Guilotine Press
185x12,12,12,12
Pec Flys
Stack x20,20,20,20
BW Skull Crushers
BW x16,16,16
MONDAY
SESSION 2
Bottoms Up KB Walking
53x12x12x12x12
Bottoms Up KB Standing
72x8
Machine Military Press
Stack x15,15,15
TUESDAY
One arm Db Rows
200x20
Rear Delt Flys
75x16,16,16,16
Side Delt Raises
45x12,12,12,12
Shrugs
150x25,25
Curls
55z10
75x10
100x10
Calf Machine
600x30,25,25,20
Single Arm hangs
25,20,20 per side
Dual arm hangs
60,60
WEDNESDAY
Shoulderok Swings
Squat w/Mastadon Bar
60x10
281x5
391x5
501x2
612x2
722x2
810x2
Super Set – 3-4 times
Narrow Stance Belt Squat x20
Marching x50
Hip thruster x20
Let Extensions 20,20,20,20
Band Bad girls
#3x25,25,25
THURSDAY
Guilinte Press
45x12
135x12
225x12
275x6
225x12,12
Incline DB Press
120x8,8,8,8
Machine OH Press
Stack x25,16,16,16
Curls
60x 12,12,12,12
Superset – 4 times
BW Skull Crushers x16
Machine curls x12
FRIDAY
Belt Squat Squats x20,20,20
Belt Squat Marching x50,50
Leg Press (wide knees)
550x16,16,16
Single Leg Ham Curl on ball
Bwx10,10
Single Leg Glute Bridge
Bw x10,10,10,10
Standing Calve Raise
600x25,25,25,25
Machine Ham Curls
225x16,16,16,12
SATURDAY
Deads were moving very slow…. Did you see my week. LOL. Woke up with adductors cramping 3 times before coming in to pull. Used straps as hands sore.
Deads
155x5
265x3
375x3
485x3
595x2
705x5,5
One Arm Dumbell rows
175x25
200x20
BREAK FOR 2.5 HRS FOR SHOULDEROK SEMINAR
Pullups
BWx 16,16,14,14
Rear Delt Flys
75x14,14,14,14
SUNDAY
OFF… maybe… we will see.
[youtube=https://www.youtube.com/watch?v=3c135y3u9Z8]