WHEN THAT POWERLIFTING CHICK OUT SQUATS THE GYM 'BROS': [HD VIDEO INCLUDED]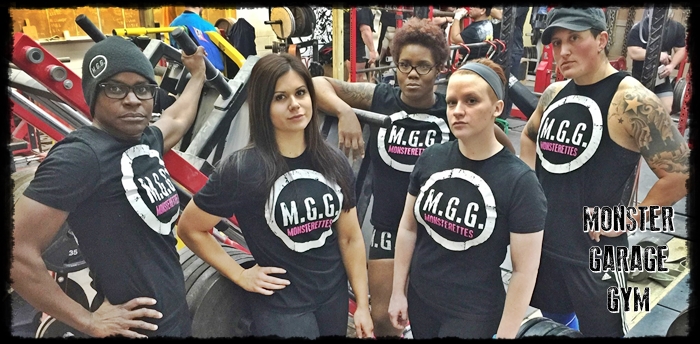 The MONSTER GARAGE GYM/MAROSCHER COACHING LOG is a weekly Coaching Log by MGG owner, 2-Time WPC World Powerlifting Champion, Eric Maroscher, and is one of the Featured Coaching Logs at EliteFTS.
LIVE, LEARN and PASS ON.
MONSTER GARAGE GYM is one of the premier powerlifting gyms in the US.
Monster Garage Gym/Maroscher Coaching Log: (Log number XLVII). "WHEN THAT POWERLIFTING CHICK OUT SQUATS THE GYM BROS"
________________________________________
This Coaching Log features RAW with wraps squat training with Monster Garage Gym, Monsterette Crystal Tate. Crystal currently has a 523LBS RAW with wraps competition squat, has been a RUM competitor, pulls 540LBS RAW and has a 1300LB RAW total (198 weight class) third largest total on the ALL TIME rankings list.
The purpose of this training log is to take a look a squat training session of one of the best RAW women powerlifters on the scene today.
Crystal is prepping for an RPS meet in December where she hopes to qualify for the XPC at the ARNOLD's. In this training session Crystal starts out with some mobility work with the EliteFTS bands, then begins to warm up. She uses the 55LB Pasanella bar and squats out of one of the EliteFTS monolifts. For her warm ups she goes RAW, for her final warm up (415LBS) she uses some knee sleeves and for her working sets she trains RAW w/wraps. Her four working sets are 465LBS x 3 x 4.
________________________________________
*The footage in this video (filmed in HD, let load to 720 or 1080 for HD quality).
We hope you find this coaching log as a whole of use to you in your training. Please let us know by your comment(s) if these logs are useful to you and what we can do to make the better. If you like them, we would appreciate it if you would share them. As always, thank you for following the Monster Garage Gym/Maroscher coaching log. Ever Onward, Eric Maroscher.
________________________________________
MONSTER GARAGE GYM and Monsterette shirts available at: http://shop.monstergaragegym.com/
You can follow Monster Garage Gym at:
https://www.facebook.com/pages/MONSTER-GARAGE-GYM/122378057784944
https://twitter.com/MonsterGarageGy
http://instagram.com/monstergaragegym
https://www.youtube.com/user/MPTPowerlifting
http://www.monstergaragegym.com/
http://shop.monstergaragegym.com/
Loading Comments...